Published on:
23:52PM May 30, 2017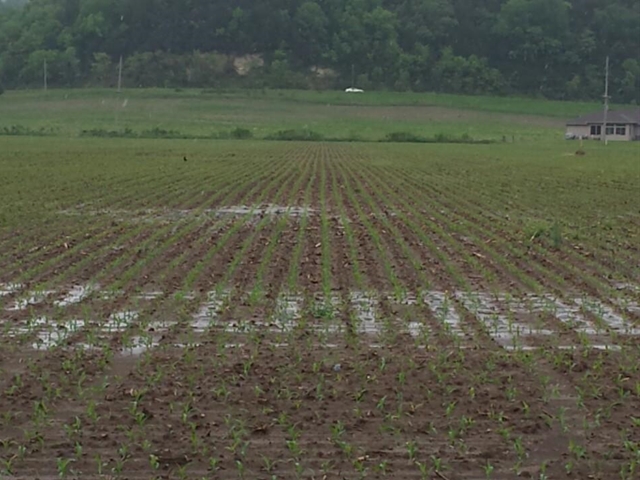 TRADING COMMODITY FUTURES AND OPTIONS INVOLVES SUBSTANTIAL RISK OF LOSS ANDMAY NOT BE SUITABLE FOR ALL INVESTORS. YOU SHOULD CAREFULLY CONSIDER WHETHER TRADING IS SUITABLE FOR YOU IN LIGHT OF YOUR CIRCUMSTANCES, KNOWLEDGE AND FINANCIAL RESOURCES.
It has been one of the wettest springs on record in many areas making corn planting difficult and flooding previously planted acres. Yet, the corn market has been reluctant to embrace the weather concern and rally. Why is this and will corn ever rally?
Time after time huge amounts of rain has fallen, especially in the eastern half of the corn belt creating a huge mess for farmers. There has been a massive amount of acres that have needed to be or will need to be replanted and in some areasemergence has been slow at best. This has lead many to believe that corn prices should be going higher here and now. However that has not really been the case so far.
For one I would like to say (and have been saying for some time) that this is a year where the grain markets seem very reluctant to build in much weather premium. We have massive old crop stocks and the market was fooled into pricing ina significant amount of weather premium last year only to have to take it all away in the second week of June. Fool me once...
Sign up for our Morning Ag Hedge newsletter! Sign up here: http://www.zaner.com/landing/ag_hedge_newsletter.asp
But, it is more than that. Pro traders have been told many times that "rain makes grain" and "don't buy a "too wet" rally". And, there is a point here. Rarely is "too wet" a good reason for grain prices to go higher. It is simply too early to get concerned about yields in May, there is a lot that can happen to turn things around this early in a growing season. Take Argentina's last growing season for example. They had tremendous flooding early on, but ended up with a crop very close to what expectations were before the rain started to fall.
The year 2013 is another good example of why it is difficult to get too excited. Before the 2013 crop was planted the USDA was using a 158 trend-line national average yield. (side note - it is amazing to me that trend-line yields in corn have jumped 13 bushels an acre in 4 years) The spring of 2013 was one of (may the) wettest on record and we had a terrible time getting the crop planted. However, at the end of the growing season the USDA reported a 158.8 as their final yield. So, we have proven that a very wet spring does not necessarily mean below trend yields. However, what did suffer in 2013 was acreage.
This is why weatherwas so important to the corn market returning from the Memorial Day holiday weekend. If we had gotten the soaking rains over the weekend and walked into another soggy forecast we could have been legitimately concerned about not getting a chunk of the corn acres planted. However, with less rain than expected and a better forecast that concern softened.
In the long run I do think the stage is set for strength in corn. I am not surprised it didn't come in the spring, however. There will be adverse effects from this wet planting season that can only be covered up by near perfect weather going forward. I also think the expectations of a 171 national average yield (would tie second best on record)are lofty. Export demand could also be understated by the USDA give the recent issues in Brazil. So, the stage may be set for a rally in corn at some point later in the growing season. But, there may be a lot of producers that get frustrated and throw in the towel on selling corn first. In fact this could be part of it all. It might be a good year to think of ways to capture upside potential on sold bushels.
We have complimentary 2017 commodity reference calendars available. They are a little bigger than pocket sized and very useful if you follow markets. You can sign up for yours here - http://www.zaner.com/offers/calendar.asp (Shipping to the US only)
Give us a call if you would like more info on the strategies we are using or if you would like to set up an account to put a plan in action. Ted Seifried - (312) 277-0113. Also, feel free to give me a call or shoot me an email if you would like to talk about your marketing plan, the markets, weather, or just to visit.Follow me on twitter @thetedspread if you like.
JulyCorn Daily chart:
JulySoybeans Daily chart:
JulyWheat Dailychart:
Producers looking to hedge all or a portion of their production may be rather interested in some of the options / options-futures strategies that I am currently using.
In my mind there has to be a balance. Neither technical nor fundamental analysis alone is enough to be consistent. Please give me a call for a trade recommendation, and we can put together a trade strategy tailored to your needs. Be safe!
Ted Seifried (312) 277-0113 or [email protected]
Additional charts, studies, and more of my commentary can be found at: http://markethead.com/2.0/free_trial.asp?ap=tseifrie
Futures, options and forex trading is speculative in nature and involves substantial risk of loss. This commentary should be conveyed as a solicitation for entry into derivitives transactions. All known news and events have already been factored into the price of the underlying commodities discussed. The limited risk characteristic of options refers to long options only; and refers to the amount of the loss, which is defined as premium paid on the option(s) plus commissions.
FOR CUSTOMERS TRADING OPTIONS, THESE FUTURES CHARTS ARE PRESENTED FOR INFORMATIONAL PURPOSES ONLY. THEY ARE INTENDED TO SHOW HOW INVESTING IN OPTIONS CAN DEPEND ON THE UNDERLYING FUTURES PRICES; SPECIFICALLY, WHETHER OR NOT AN OPTION PURCHASER IS BUYING AN IN-THE-MONEY, AT-THE-MONEY, OR OUT-OF-THE-MONEY OPTION. FURTHERMORE, THE PURCHASER WILL BE ABLE TO DETERMINE WHETHER OR NOT TO EXERCISE HIS RIGHT ON AN OPTION DEPENDING ON HOW THE OPTION'S STRIKE PRICE COMPARES TO THE UNDERLYING FUTURE'S PRICE. THE FUTURES CHARTS ARE NOT INTENDED TO IMPLY THAT OPTION PRICES MOVE IN TANDEM WITH FUTURES PRICES. IN FACT, OPTION PRICES MAY ONLY MOVE A FRACTION OF THE PRICE MOVE IN THE UNDERLYING FUTURES. IN SOME CASES, THE OPTION MAY NOT MOVE AT ALL OR EVEN MOVE IN THE OPPOSITE DIRECTION.