Published on:
21:20PM Apr 14, 2015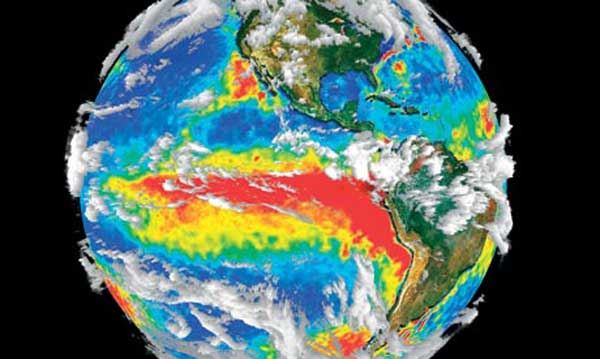 Parts of Texas, the Southwest, the Great Plains and California have suffered from a prolonged drought. Everyone was relieved last winter when they were told that there might be El Niño conditions. El Niños, warm water and air in the Tropical Pacific, bring heavy rainfall to the West. Right?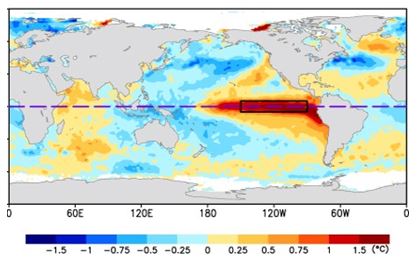 A Standard El Niño – it brings good rainfall. Source: The Japan Agency for Marine-Earth Science and Technology (JAMSTEC)

Errrrr – not always. Sometimes you get "peek-a-boo" El Niños! Now it rains, now it's dry.
According to global satellite observations, we have had El Niño warmth in the Pacific since autumn. California saw good rain in December, drought in January, February, and March. The rest of the western drought regions got only average rainfall. There is some West Coast rainfall now, but at the Western rainy season is almost over.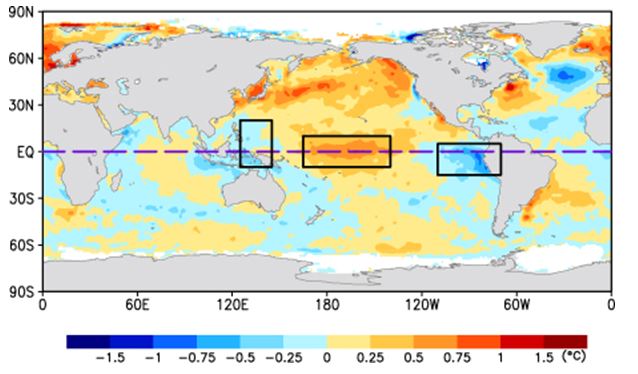 A cool pool of water made this winter's condition more like a Central Pacific El Niño. Source: JAMSTEC
Here's what is happening. There are a lot of cycles in the oceans, including several in the Pacific. One of these are cold MJOs (Madden-Julian Oscillations), small pools of cool water that race through tropical waters. They can really mess up the large warm El Niño. If they are in the wrong place, they keep El Niño from bringing tropical rain to the West.
This winter's El Niño was messed up. It started to bring rainfall, then a cool MJO moved into the wrong place. When the cool water is off the coast of South America, the El Niño becomes a Central El Niño or what the Japanese call an El Niño Modoki. It stops the Western rain and brings hot temperatures to evaporate what little water there is. It also shifts global wind patterns encouraging a high pressure to form in the North Pacific that blocks cool North Pacific storms.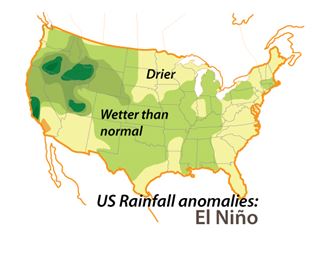 US rainfall during a standard El Niños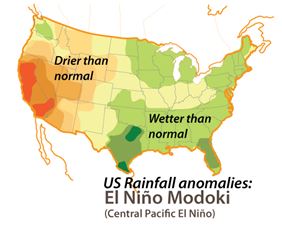 US rainfall during a Central Pacific El Niño/El Niño Modoki
Source: The Browning Newsletter, based on information from (JAMSTEC)
The Japan Agency for Marine-Earth Science and Technology (JAMSTEC) predicted Central El Niño conditions starting at the beginning of this year. They were right. The standard conditions shifted to the Central Pacific conditions. The rains stopped falling in California.
It was peek-a-boo El Niño conditions. It created peek-a-boo rainfall for all the Western states. It's not a nice game.