Published on:
16:24PM Nov 12, 2015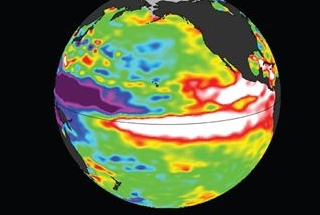 If you are going to have a friend on your side, it's nice to have a big, strong one. With more than 19 million square miles of heated water, the El Niño is the American farmer's biggest friend. With temperatures averaging 3°F (1.7°C) warmer than average – this year's event is strong. As the harvest reports pour in, it is obvious that this big, strong friend has been an enormous help to this year's corn and soy crop.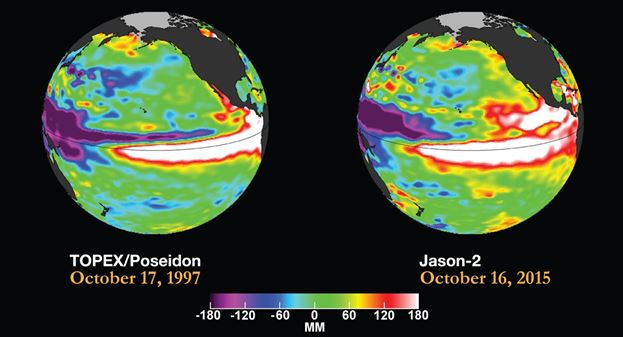 The current El Niño is similar to the giant 1997 – 1998 El Niño. Source: NASA
Summertime El Niños historically bring excellent growing conditions for most of the US croplands east of the Rocky Mountains. Typically, the rainfall may be spotty, but there is usually enough and it typically is timely. When combined with average to slightly below average temperatures, crop production is usually outstanding. It has proved true for this year as well.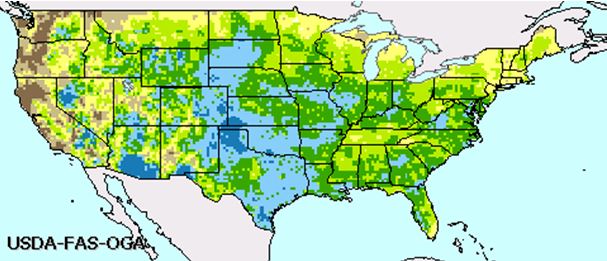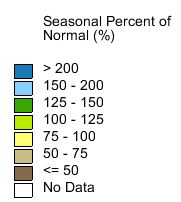 Seasonal Percent of Normal Precipitation for the Summer Growing season 03/01/2015 - 11/10/2015 
The November USDA report raised the US corn yield to 169.3 bushels per acre, raising overall corn production to 13,654 million bushels, the third largest crop in history. Iowa, Minnesota, and Nebraska were the biggest winners. The report also raised the outlook for U.S. soybean production to a record 3.981 billion bushels. Finally, the USDA increased the 2015/16 World Corn Carryout by 24.1 MMT (948 million bushels). The El Niño weather was kind to crops. Unfortunately, US farmers are trying to sell their crops with a glut of supplies and a strong U.S. dollar, which makes American commodities more expensive for foreign buyers.
The El Niño will continue through winter and probably will last another six or seven months. It is equally kind to South American crops, typically bringing plentiful rain and good conditions to Argentina and Southern Brazil. Newer Brazilian planting areas to the north are typically dry and the Amazon historically has huge fire problems, but the established crop regions usually do well. Experts are already projecting high yields, as well as record corn and soy crops. World prices should stay lower.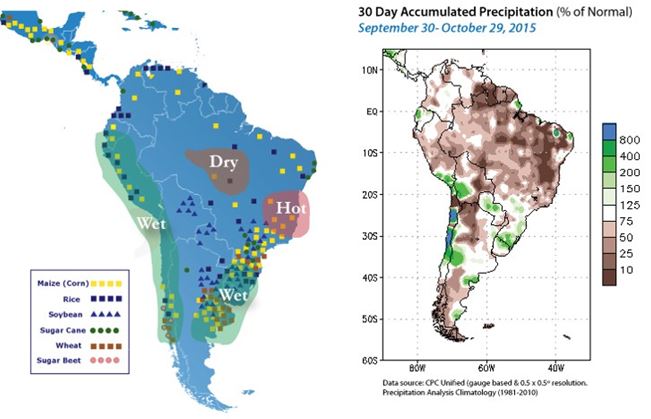 South American crops and the Browning World Climate Bulletin's October climate forecast and the results. El Niño is good for soybean and grain production.
Overall, it looks great for ranchers looking for good feed prices. It was great for farmers trying to grow a good crop. Now comes the difficulties as the farmers try to find a fair price for their yield. Remember, the El Niño is a big, strong friend. It never claimed to be a sales clerk!