Published on:
11:26AM Nov 20, 2014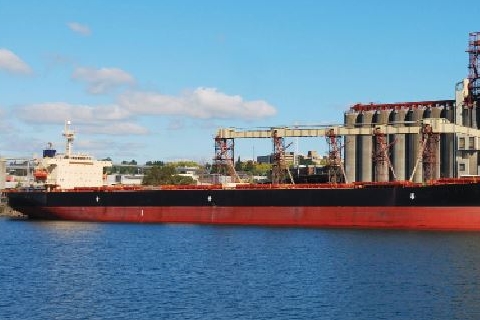 Good Morning! Paul Georgy with the early morning commentary for November 20, 2014 at 4:15 am.
Traders Focus: Export data, Technical support in grains and soy complex, and option expiration tomorrow.
Grain futures are mixed in a quiet session. The dollar is higher and outside markets are mostly lower.
Meal basis is slumping as reports are being circulated that eastern processors are sellers $5 to $10 under posted prices. No confirmation yet that several cargoes of meal was switched to South America.
Chinese crush margins have eroded more than $30 since early November to a positive margin of $8.20 per tonne.
Traders are waiting for the weekly export sales data due to be released at 7:30. Estimates are: corn 500,000 to 700,000 tonnes, soybeans 700,000 to 1,000,000 tonnes, soymeal (100,000) to 100,000 tonnes, soyoil 5,000 to 20,000 tonnes and wheat 300,000 to 500,000 tonnes.
Ethanol processors were busy last week as they averaged 970,000 barrels per day compared to 946,000 barrels per day the previous week. With the bump in production, ethanol stocks declined last week.
Ethanol prices have surpassed gasoline prices in the US therefore getting some push back by blenders, however, export demand has been hot. There are rumors of 4 cargoes of ethanol coming to the US from Brazil most likely arriving in Florida in December.
The EPA is expected to release their decision on the mandate for biofuels any day, the comment period is ending today.
Lanworth, a unit of Thomson Reuters, estimated U.S. 2015/16 winter wheat plantings at 40.790 million acres, down from the U.S. Department of Agriculture's 2014/15 figure of 42.4 million. Lanworth attributed the decline to planting delays and low profitability of wheat relative to other crops.
Archer Daniels Midland Co sued seed company Syngenta AG on Wednesday over sales of a genetically modified corn variety not approved for import by China, joining more than 100 farmers and exporters in pursuing damages from the Swiss-based company. (Reuters)
Update - Morning Coffee Commentary:
Trade estimates for Friday's Cattle on Feed report are: On-Feed 99.8%, Placed 96% and Marketed 93%. USDA will also release cold storage data on Friday.
Wednesday's production was 106,000 head of cattle which was 4,000 under the average analyst estimate for the day. Packers are doing their best to deal with both the low numbers being marketed and their negative processing margin. Beef values were firmer on Wednesday with choice up .50 and select up .79. The CME Feeder Index is 240.10. November feeder cattle's last trading day in today.
We have not heard of any further expansion in the H5N8 (bird flu) that has hit Britain, Germany, and the Netherlands. Keep in mind this is the low pathogenic variant. The strains that would excite the market are the H5N1 or H7N9. No humans have been infected with bird flu in the current EU outbreak.
According to China's Ministry of Agriculture their hog inventory for Oct 2014 was down 0.2% vs a month ago and down 6.5% vs year ago; including breeding hog inventory down 1.3% vs a month ago and down 11.3% vs a year ago.
Pork cutout values were down 1.52.
Markets as of 4:15 AM CDT           
Dec Corn   3/4      
Jan Beans   3 1/2     
Dec Wheat   -4
Dec Soymeal -3.70
Dec Dlr     .18
Dec S&P   -7.75
Dec Crude   -.16
Dec Gold   -1.30
Technical Chart of the Day
If you have any questions on any of our material, give us a call at 800-262-7538 or email us at [email protected]