Published on:
15:04PM Nov 07, 2014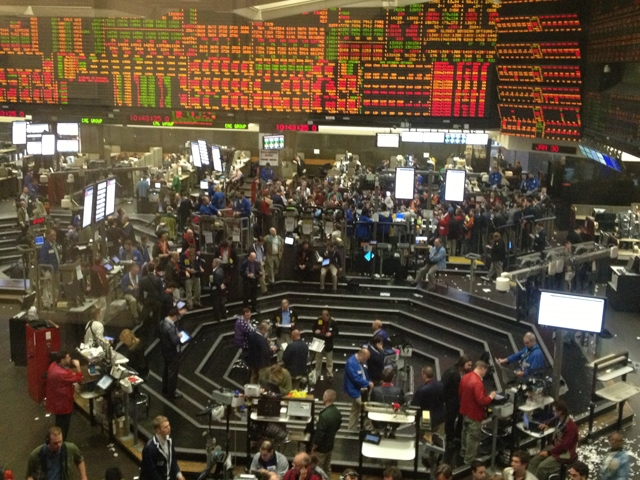 www.thehueberreport.com/freetrial
Wheat
While I am generally never one for a lack of words but I have this secret fear that some morning try as I may, will be unable to actually find anything or at least anything new and noteworthy to say about the markets.  It would seem that we are very close to that situation today with the wheat market.  Futures are under pressure once again this morning and so far this week we have closed lower each day with the exception for Monday.  In fact, if we close lower again today we will have been down 6 out of the past 7 sessions. 
Concerns about the abnormally cold temperatures in Russia and Eastern Europe have faded from traders collective memories but what has not is the fact the U.S. wheat is just not competitive on the world stage right now.  We were reminded of that on the export sales figures yesterday. A portion of this of course has been due to the continuing escalation in the U.S. Dollar index, which reached to the highest level witnessed since the last significant high in June 2010.  Consider that just in the past year the Canadian Dollar has lost 10% against the U.S. Dollar, the Australian Dollar 12%, the Euro between 11 and 12% and now the Russia Ruble over 30%. It does not take long to determine why we are the supplier of last resort. 
I would not expect to see much interest in new positions in wheat today and considering the rally witnessed over the past month, if there are any needing to liquidate and step aside, I imagine it will be the long.  The average trade estimate for domestic ending stock on Monday is between 657 and 660 million bushels.
Corn
The trade is looking quite uninspired in the corn market this morning as we countdown the hours until the November crop production report.  Prices were able to hang on for a fractionally higher close yesterday but we have surrendered that and then some this morning so far.  Just gauging from the position of the indicators I use, this market looks very weary and top heavy and unless Uncle Sam can provide a shot of positive adrenaline next week, I suspect it will be a real challenge to hold these prices. 
Yesterday the Wall Street journal released their survey, of which was are a part of and came up with an average yield of 175 b/p/a.  This would be 8/10th of a bushel higher than last month.  I suspect that many are not looking for much of a change due to the fact that supposedly 80% of the test plots they use had been harvested when they collected data for the October report.  I still have a hard time choking that down as only 12% of the nations' corn had been harvested at that time.  Regardless this survey came up with a production figure of 14.528 billion, which would be up 53 million from October. 
Considering that the trade is expecting higher numbers, even though the changes are not overly significant, there is the possibility that the government could provide a positive surprise next week but I do not imagine even that could be significant either.  As always, once the dust settles a bit, the real number to watch will be the ending stocks category and if that continues to climb, it will be a drag on any real price recovery.  The average estimate from this last survey is looking for the carryout to climb 51 million bushels to 2.132 billion.  Keep in perspective as well, this would be with some pretty optimistic usage numbers already factored in. 
Soybeans
Beans and meal led the advance yesterday stimulated by the solid export sales in beans and strong domestic basis levels for meal.  I already commented yesterday that without China these bean sales numbers would be zilch and even with them, we are basically running in line with meeting the USDA target of 1.7 billion bushels which would set a new record.  Keep in mind in the meal that while domestic prices have climbed, basis levels in South America have been diving lower.  It is economically viable again to bring meal into the eastern US. 
Outside of the slower than normal planting pace, there is nothing alarming coming out of Brazil.  Rains are forecast to continue well into next week. Celeres released updated forecasts for the 2014/15 crop, which did not require much updating as they remained unchanged at 91.35 MMT.  The USDA actually has Brazil pegged at 94 MMT for the coming year. 
The Wall Street Journal survey came up with an average yield estimate of 47.5 b/p/a and production of 3.958 billion.  This compares with the October report estimates of 47.1 and 3.927 billion.  The average estimate for ending stock is 441 million, which would be 9 million lower than October.  While I am not sure if it is just piling on or trying to out yield guess the next guy but it is interesting to note that I have seen several comments recently about an average beans yield of 50 or above.  As incredible as that may sound, this is coming from sources with boots on the ground, so maybe should not be taken lightly. 
All that said, we have nearby beans holding above the 10.00 level and indicators that look very top heavy.  I suspect we are going to need something pretty positive to hold these levels after Monday.