Published on:
16:08PM Nov 14, 2014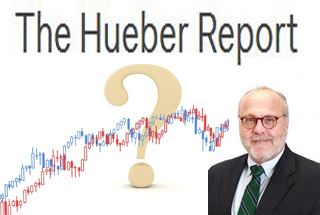 www.thehueberreport.com/freetrial
This has surprisingly turned out to be an active and large volume week in the grain and soy complex and we have seen corn, wheat, beans and meal all pressing into higher highs for the rebound.  As I commented earlier this week, the market has the feel of an orchestral piece that has been building and building into a crescendo, which often leads to the end of the performance.  While the premise for these moves originated with fundamental rationale, the most recent activity has been technical/fund buying inspired and those factors that originally lifted us higher have larger been corrected.  I am not sure if we can sustain the strength for another week but it would appear that we have the classic case where the bull gets to eat the Turkey for Thanksgiving, which can then mean the bear will feast on it for Christmas.  
Wheat
The wheat market did receive an extra boost from stories yesterday that Russia was amassing additional troops along the Ukraine border and according to Ukraine across the border, which of course Russia denies.  It is interesting to note that this is occurring while President Putin is meeting with the other G20 members in Australia.  If you recall, the riots that began in Ukraine this year erupted during the winter Olympics in Sochi leaving Putin in a position where he could do nothing and it would almost appear that this latest maneuver during the G20 summit is his way of thumbing his nose back at the west.  Regardless. It has unsettled the wheat market but considering this is about the 5th or 6th time this has happened since February, I do not suspect we will get much traction.
Exports sales did rebound from the prior weeks' terrible numbers but basically has just returned to the average pace thus far.  For the week ending November 6th we sold 417,700 MT or 15.3 million bushels.  This number was 57% higher than last week but still above 5% below the 10-week average.  The top purchasers were South Korea with 60.3k MT, the Dominican Republic taking 49k MT and unknown destinations buying 46.7k MT. 
Even with the overnight pressure December wheat is holding above the October reaction high of 5.45 ½.  If we can sustain above this level into the close, it should keep the door open for possible gains again next week but keep in perspective that resistance will be dense from here up to 5.80 and the further we press higher at this point, the less competitive we become in the world market unless the dollar crashes which it most certainly is not doing today.
Corn
We witnessed a solid push into higher highs again yesterday and this time we did a much better job of holding the gains for the close.  Once again, it would appear that the buying was fund/technical inspired and the disconnect between cash/fundamentals and technical activity grows ever wider.  This is a normal occurrence in markets but can only exist temporarily. 
The weekly ethanol production number fell in line with expectations yesterday and remains solid.  We produced 278,124,000 gallons for the week, which should be just over 100 million bushels of corn.  The only note of possible concern was the 23 million gallon build in inventories. 
Export sales were right at expectations but not surprising, uninspiring.  For the week we sold 505,400 MT of corn or 19.9 million bushels.  This number was 6% higher than the previous week but 49% lower than the 4-week average and 36% below the 10-week average.  The top purchasers were Japan at 189.3k MT, Mexico for 88.3k MT and Saudi Arabia taking 71.5k MT.  Year to date we have now sold 776.6 million bushels which is almost 15% behind that pace a year ago at this time. 
Corn has struggled a bit overnight and into this morning but has really surrendered little of yesterday's gains at this point.  If that remains the case through the close, it should leave us with a positive technical bias again into next week.  Note that on the spot continuation chart we have pushed to within a penny of closing a gap at 3.90 that was left when the July contract expired.  We may be able to stretch this rally out towards Thanksgiving but I believe once the spec buying has exhausted, so has this market.
Soybeans
The bean market appeared to take a back seat to the corn and wheat trade and prices are struggling here this morning.  November futures do expire today but note that after all the excitement and push into higher highs for the swing that was witnessed this week, January futures are currently trading lower for the week.  For those that want to keep track for the close today, this contract finished at 10.38 ¾ last Friday. 
For all intents and purposes the nearby supply issues with meal have been rectified at this point and as I have commented previously, this explosion could come back and haunt prices longer term as we may now be faced with a near-term oversupply.  This is not to say that a weather hiccup that would adversely effect the already late planting South American crop could bring in a resurgence of new buying but outside of that, I see little that would be considered supportive.  On the world market, US beans and products are not competitive.
It is tough to call export sales in excess of 1 MMT disappointing but note, this was the third week in a row of declining numbers and actually fell in below the trade estimates.  For the week we peddled 1.074 MMT or 39.5 million bushels.  This number was 33% below last week, 28% under the 4-week average and 23% below the 10-week average.  Now I recognize this is going to shock everyone but 72% or 773k MT of the sales were to China followed by Mexico taking 110k MT and Thailand with 85.6k MT.  At least meal sales were not negative this week but they were 67% below the 10-week average. 
This market is looking and acting very much like a tired bull and without fresh feed again next week, I do not believe it can hold up under it own weight.