Published on:
15:00PM Nov 06, 2014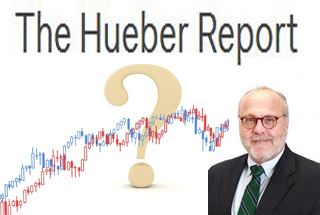 www.thehueberreport.com/freetrial
Wheat
The generally dour action in commodities and the rising dollar were at least two of the factors conspiring to push wheat lower yesterday but even with a little softness in the dollar this morning, we have continue lower.  The wheat market can probably be best summed up with two words right now; not competitive.  The world's largest importer of wheat, Egypt purchased another 235k MT yesterday comprised of French and Ukraine wheat.  At the FOB level U.S. wheat stands anywhere from $10 to $20 a tonne above the others.  This is not a good position when world supplies are adequate to abundant. 
We will of course see the updated USDA estimates next week and according to a survey released by Reuters yesterday the trade is expecting to see domestic ending stocks raised around 6 million bushels to 660 million.  Not a huge shift but if correct, higher nevertheless.  The International Grain Council already bumped up world production estimates and now the FAO has increased the world 2014/15 production by 4.1 MMT.  According to the Reuters survey, the trade is expecting the USDA to reflect little change for either the 2013/14 or 2014/15 ending stock with average estimates of 185.53 and 192.15 MMT respectively. Can that leave us susceptible to a surprise in light of the others?
While not unexpected, export sales did not provide much in the way of support this morning.  We recorded sales for the 2014/15 marketing year of 265,800 MT 9.77 million bushels.  This number is 40% below last week and 32% below the 4-week average.  The top purchasers were Mexico for 52.1k MT, the Philippines with 50k MT and Yemen taking 45k MT.
In many respects, none of this is fresh or surprising news for the wheat market so should be already reflected into recent trade.  That said, with no major growing threats on the horizon, we could be dealing with a market that has moved into an extended sideways pattern with limited potential both higher and lower. 
Corn
The corn market did experience a nice little bounce after reaching down into support yesterday but the turn around did little of nothing to shift the current picture.  It appeared to be market noise.  Prices have been soft overnight and the lackluster export sales did little to shore up the confidence of the bull. 
For the week ending October 30th we sold 478,200 MT or 18.83 million bushels of corn.  This number was just 2% below last week, which of course was not good and is 55% below the 4-week average.  For a point of reference, last year for this same week we sold 66.9 million bushels.  The top purchasers were unknown destinations at 195.7k MT, Peru with 76.5k MT and Mexico at 69.1k MT. 
While maybe not much more than a footnote at this time, Bloomberg News commissioned SGS SA to conduct a survey of Chinese farmers as to crop production that past year and according to the number released, drought in many regions has created the first drop in corn production in the past four years. Now we need to keep in perspective that China has boosted production over 30% during this decade and if anything has been having difficulty managing the inventory, but they are also the worlds second largest user of corn.   This should not pose any problems this year but if they have trouble again next season, who knows, they may just see fit to want to approve more GMO varieties.
Markets could now be in a state of limbo as we look out to the reports on Monday.  According to the Reuters survey the average estimate for yield is 175.23 with production of 14.551 billion.  As you might suspect, this is virtually identical to the Bloomberg survey we reported yesterday.  Realistically the number to really watch will be carryout of which the average projection stands at 2.135 billion.  If we do not see export sales pick up a little momentum, even that may be optimistic.   
Soybeans
After testing the 10.00 level early yesterday the bean market did catch a nice rebound with funds estimated to have purchased around 6,000 contracts.  I am not sure if beans were leading meal or if it were the other way around but we were able to extend the gains a bit into this morning but holding on may be challenging.
Bean export sales were solid once again as we peddled 1,609,800 MT or 59.2 million bushels.  This figure was 28% above the previous week and 22% higher than the 4-week average.  I might was well just say the buyer was China as they purchased 1,604,200 MT.  As I have commented before, you have to ask what will happen when they step away?  There is always the chance that South America will experience weather issues and the buying will continue, but right now that does not appear to be on the radar, physically or figuratively.  Note that while the meal market is still a bit higher this morning, we posted a negative export sales figure for that commodity. 
Looking out to Monday the survey du jour from Reuters has the average yield at 47.6 and total production of 3.967, still just below that 4 billion mark.  The average estimate for carryout is 442 million bushels, which would be a reduction of 8 million bushels from the October USDA estimate.  2014/15 World ending stocks are expected to come in at 90.37 MMT which would also be a slight reduction but keep in perspective, that is still a new record for raw inventory and as a stocks to usage ratio by quite a large margin.  I suspect we have market chop in line between now and Monday.