Published on:
14:52PM Nov 05, 2014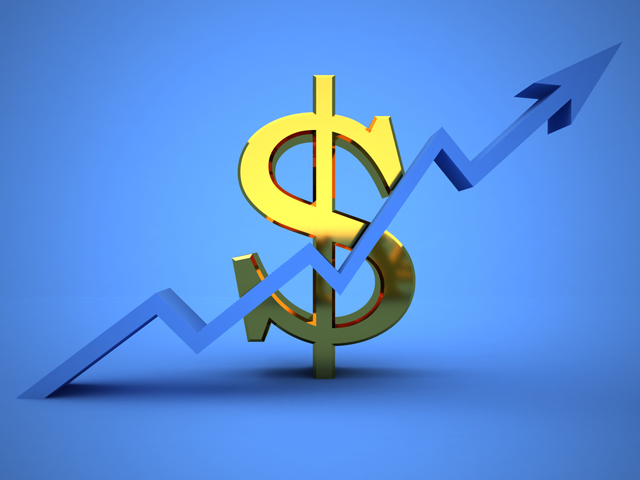 www.thehueberreport.com/freetrial
While we did take a little breather yesterday, with the election results and the Republicans taking control of both the House and the Senate the U.S. Dollar has spiked higher once again this morning reaching up to the highest levels since the middle of 2010.  We are now up over 11% since the lows post this past spring and just over 20% from the lows posted in 2011.  If something sounds vaguely familiar with this it should as commodity markets have been the mirror image of this move and as would be expected, we have been tracking lower as the dollar advances.  There are always exceptions such as the livestock markets but note that grains, metals and energies have all be tracking lower since spring, right when the dollar turned higher.   I read this morning that even iron and lead have dropped to the lowest levels in four to five years all of which are reflected in commodity indexes that are now at the lowest levels witnessed since 2010.  The Goldman Sachs commodity index actually sits just below the mid point of the extreme low posted in late 2008 and early 2009 and the last major high in the spring of 2011. 
I intend to cover this a bit more in-depth in the weekly newsletter but this would appear to be the classic case of everyone thinking the same way and all rushing the one side of the ship.  While the bad news is there is nothing to say we have completed the bear move, when just about every publication feature stories about the rising dollar and falling commodities, I have to believe we are getting very close. 
Wheat
This seems to becoming akin to Chicken Little yelling that the sky is falling but there are reports once again that there could be an El Nino developing.  It seems that since about January/February this year there have been occasional but consistent predictions that sea surface temperatures in the Pacific are rising but so far never turned into anything but a neutral condition.  The latest updates are giving basically a 50/50 chance of this developing into something more.  At this time of the year, I am not sure that would be particularly bullish.  We are beyond the monsoon season in Southeast Asia and the wheat crop is on the way in Australia so an event right now should not create major disruptions unless it intensified and lasted will into next year. In South American, such an event generally brings above average rainfall.  Regardless, it will provide us with something to talk about in the months ahead. 
More immediate for our concern is the winter ahead.  A good friend who is a meteorologist sent me an article this week that explained that the newest "hot" topic (no pun intended) in the weather world is to talk about the "Siberian Snow Cover."  The theory is that heavy snow cover in Siberia produces higher surface pressure patterns that in turn can drive the Artic Oscillation into a negative phase which can then produce more frequent Artic outbreaks in the central and eastern U.S.  This is what occurred last year, which you will recall was one of the coldest and snowiest winters in years.  In case you are wondering, the October Siberian Snow Cover is near record levels.  If the theory is correct, you might want to buy a few more blankets for the season ahead.
There is not much else that I can report for the wheat market this morning.  The domestic numbers next week for this commodity will basically be a footnote.  The trade will be looking for a slight increase, maybe 5 million bushels for ending stock and for the world figures, possibly a slight decrease. 
Corn
Corn has been under pressure through most of the evening and has pressed back down against key support around 3.60 and so far appears to have held.  The bigger question is of course if it can continue to do so in the days ahead?  Yesterday funds sold around 11,000 contracts. 
With nothing threatening in the domestic weather outlook it would appear this harvest will be basically wrapping up in good order during November so the only topic of discussion right now pertain to what the government might say next week.  As you have probably read at this point, Informa released their estimates yesterday and while not nearly as large a FC Stone, they were still higher than the October USDA estimate, coming in with a yield of 174.4, and production of 14.493.  This compares with 174.2 and 14.475 from Uncle Sam.  Bloomberg released a trade survey they had taken which uncovered averages of 175.3 and 14.556.  In the greater scheme of things, production increases of 20 to 70 million bushels are not all that significant but with the USDA already posting very optimistic usage numbers, any increases could go right to the bottom line and higher ending stocks are not a positive. 
Outside of this, we have little else to focus on.  Weekly ethanol numbers later today and export sales in the morning but we should not see anything out of the ordinary.  Support in December futures should be relatively solid from 3.60 all the way down to 3.50 but without something positive next Monday, we could see an exodus of the recent buyers. 
Soybeans
Nearby bean futures have returned to the 10.00 level once again but there would not appear to be much for the bull to hang onto at this point.  China has reported that they are expecting over 5.8 MMT of beans to arrive at their ports in November and then another 6.8 MMT in December so there should be no issues with availability there.  The bigger concern may be Avian Flu and the negative impact that could have on feed usage over the winter months.  As I have commented previously, with China regularly representing 70 to 80% of the weekly bean sales, you have to believe they have heavily front loaded their purchases and unless we see a problem develop in South America, they will divert that business their once they are comfortable with availability. 
Informa published a bean yield estimate of 47.9 b/p/a, which is 8/10th of a bushel higher than the October USDA figure.  This would project a crop of 3.991 billion according to their estimate.  The Bloomberg survey came up with a yield of 47.6 and crop of 3.969 billion.  Keep in perspective that a higher yield will produce a larger record setting number but as I have commented previously, I believe the 4 billion mark which if breeched, would be the psychological kiss of death to the bull. 
The action between now and Monday may produce little more than market noise. 
www.thehueberreport.com/freetrial