Published on:
15:31PM Dec 05, 2013
TRADING COMMODITY FUTURES AND OPTIONS INVOLVES SUBSTANTIAL RISK OF LOSS AND IS NOT BE SUITABLE FOR ALL INVESTORS. YOU SHOULD CAREFULLY CONSIDER WHETHER TRADING IS SUITABLE FOR YOU IN LIGHT OF YOUR CIRCUMSTANCES, KNOWLEDGE AND FINANCIAL RESOURCES.        
On Tuesday December 10th the USDA will issue fresh domestic and world supply and demand estimates.  Many burning questions about US production figures were addressed in the November report but the December report will focus more on the demand side of the US balance sheet as well as world production estimates. The biggest question will be how the USDA handles the soybean export situation.  
Corn could have a fairly quiet report.  Export and ethanol demand has been good to start the marketing year and the USDA could choose to increase demand in one or both of those categories.  Feed demand could need to be moved higher at some point as well as an arctic cold blast takes hold of the nation and sparks the need to increase feed but it may be too early to tell if this cold blast is a one off situation or if we are in store for a colder then normal winter.  World production and carry over numbers will be looked at as well.  US and World carry over numbers could come down as global demand slowly increases at lower prices, but neither the US or global balance sheet will be in a tight situation.  This USDA will not likely trigger a bull market in corn, but may rather allow for higher prices in the short to mid term as the biggest USDA carry over estimates may be behind us at this point.  It is important to temper expectations for higher corn prices however.  Short of a major production issue next US growing season corn prices could still need to stay low for some time to encourage demand.  
CME Options On Futures: The Basics: http://www.zaner.com/offers/?page=9&ap=tseifrie
As far as wheat is concerned the trade will be focused on South American production.  A wet spring for Brazil and Argentina has caused some quality concerns for wheat and has suggested that there may be a bigger need for US exports to fill the void.  If this were the case it could cause domestic prices to rise until South America's needs are met.  On a global scale ending stocks could come down due to lower South American production but global ending stocks are still very large.  
Soybeans may have the most interesting report on Tuesday.  Export sales have been on record pace to start this marketing year.  On the November WASDE report the USDA increased export demand by 80 million bushels to 1.4 billion.  As of the last export sales report we will see before this report sales had reached 1.381 billion bushels for the current marketing year.  Seeing that the marketing year just started in September this would suggest that exports are going to blow the doors off the current USDA estimate.  In fact we are now only 18.7 million bushels in sales away from hitting the current USDA mark.  Considering that we have been averaging nearly 50 million bushels a week in sales (not including the Thanksgiving holiday week) we likely will have sold more then the current USDA projection by next week, and it would only take 4-5 weeks to sell the other 170 million bushels the USDA is estimating for ending stocks.  This would suggest that if all of the sales on the books were delivered the US could very well run out of soybeans this year and would also suggest that sharply higher prices are needed to price ration demand.  
On the other hand, export shipments for soybeans so far have been 635 million bushels compared to 602 million at this time last year.  The 33 million bushel increase in shipments year over year could suggest that the USDA is right on or even slightly high on their current export estimate.  The key will be how the USDA sees this export sales/shipments relationship and what they do with their demand figure.  It is very possible that a good amount to the sales we have seen this year are other countries "hedging" the South American crop and will likely cancel or redirect shipments.  
This puts soybeans and the USDA in an awkward position.  You could certainly make the argument that the USDA should show a sharp increase in export demand and a sharp decrease in ending stocks.  This would likely trigger higher prices as well and could slow the current sales pace.  However, you could also argue that the South American crop looks good right now and that shipments are lagging behind the record pace of sales suggests cancellations down the road.  So if the USDA increases export demand and tightens the US balance sheet it could be setting the market up for failure down the road, if they do not increase exports and export sales stay strong then the US could run out of soybeans if South America has a major issue with production.  So, I would not want to be the USDA right now (or anytime really), but if it were me I might just punt till next month.      
Sign up for our Morning Ag Comments: http://www.zaner.com/offers/?page=17
Zaner Ag Hedge Dec WASDE estimates:  
US Ending Stocks (Billions of Bushels)  
Corn - 1.862
Wheat - 0.551
Soybeans - 0.170  
Global Ending Stocks (Millions of metric tonnes)  
Corn - 163.2
Wheat - 176.3
Soybeans - 72.4  
Feel free to give me a call or shoot me an email if you would like to talk about your marketing plan, the markets, weather, or just to visit.     
March Corn Daily chart: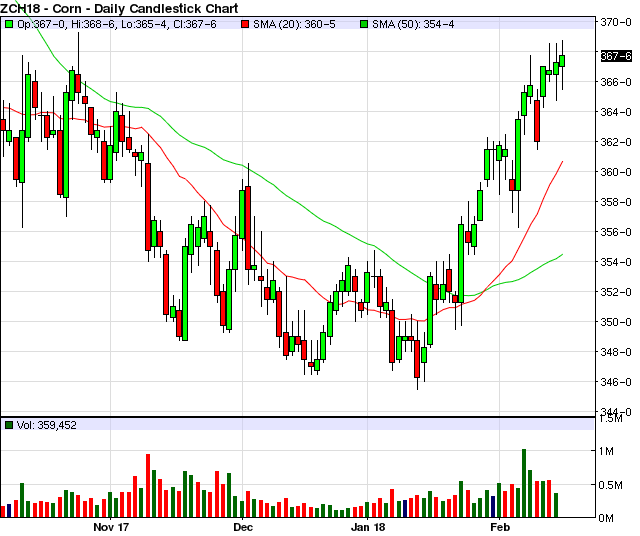 January Soybeans Daily chart:
March Wheat Daily chart:
All this means that speculators should be looking for opportunities and producers need to look to lock up some prices. Give me a call for some ideas. In particular, producers looking to hedge all or a portion of their production may be rather interested in some of the options / options-futures strategies that I am currently using.
In my mind there has to be a balance. Neither technical nor fundamental analysis alone is enough to be consistent. Please give me a call for a trade recommendation, and we can put together a trade strategy tailored to your needs. Be safe!
Ted Seifried (312) 277-0113 or [email protected]
Additional charts, studies, and more of my commentary can be found at: http://markethead.com/2.0/free_trial.asp?ap=tseifrie
Sign up for our Morning Ag Comments: http://www.zaner.com/offers/?page=17
Futures, options and forex trading is speculative in nature and involves substantial risk of loss.  This commentary should be conveyed as a solicitation for entry into derivitives transactions.  All known news and events have already been factored into the price of the underlying commodities discussed.  The limited risk characteristic of options refers to long options only; and refers to the amount of the loss, which is defined as premium paid on the option(s) plus commissions.
FOR CUSTOMERS TRADING OPTIONS, THESE FUTURES CHARTS ARE PRESENTED FOR INFORMATIONAL PURPOSES ONLY. THEY ARE INTENDED TO SHOW HOW INVESTING IN OPTIONS CAN DEPEND ON THE UNDERLYING FUTURES PRICES; SPECIFICALLY, WHETHER OR NOT AN OPTION PURCHASER IS BUYING AN IN-THE-MONEY, AT-THE-MONEY, OR OUT-OF-THE-MONEY OPTION. FURTHERMORE, THE PURCHASER WILL BE ABLE TO DETERMINE WHETHER OR NOT TO EXERCISE HIS RIGHT ON AN OPTION DEPENDING ON HOW THE OPTION'S STRIKE PRICE COMPARES TO THE UNDERLYING FUTURE'S PRICE. THE FUTURES CHARTS ARE NOT INTENDED TO IMPLY THAT OPTION PRICES MOVE IN TANDEM WITH FUTURES PRICES. IN FACT, OPTION PRICES MAY ONLY MOVE A FRACTION OF THE PRICE MOVE IN THE UNDERLYING FUTURES. IN SOME CASES, THE OPTION MAY NOT MOVE AT ALL OR EVEN MOVE IN THE OPPOSITE DIRECTION.