Published on:
17:00PM Apr 10, 2012
TRADING COMMODITY FUTURES AND OPTIONS INVOLVES SUBSTANTIAL RISK OF LOSS AND MAY NOT BE SUITABLE FOR ALL INVESTORS. YOU SHOULD CAREFULLY CONSIDER WHETHER TRADING IS SUITABLE FOR YOU IN LIGHT OF YOUR CIRCUMSTANCES, KNOWLEDGE AND FINANCIAL RESOURCES.   
In the wake of the 4/10 Monthly USDA Supply / Demand Report
The USDA produced a rather uneventful Monthly Supply / Demand report today, leaving corn ending stocks unchanged and lowering soybean ending stocks to just above the average trade guess.  However, the markets responded with a sharp sell-off.  This was partially due to an overall negative day for commodities.  But even with commodities under pressure when the grains opened the pit session, the first half of the trade day looked like we could be shrugging off the unchanged corn ending stocks and embracing the widely expected bullish soybean numbers.  Early on it seemed that the attitude of the trade was that even though the USDA left corn stocks unchanged, they certainly would have to lower their number in months to come.  Then the day truned.  I would suggest that there are a number of factors that have been growing behind the scenes of the bullish old crop corn and new crop soybean stories.
First off the IMF warned this morning that global exporters should be weary of lower prices in the next year due to slowing global demand.  This could be suggesting that our seemingly tight new crop soybean balance sheet could be less of a concern, and with this expectedly bullish report I ask what new bullish news will we see for soybeans in the near future?  Weather sure looks good and although some years that may suggest more corn planted, this year I think we have stretched that rubber band as far as it will go.
Secondly we saw a planting progress report from the USDA NASS yesterday evening showing corn planting at 7%, about a week and a half ahead of time.  But that's only part of the story, some of that early planting progress is coming from very good ground.  Its not just that areas on the fringe of the corn belt are rolling forward faster then usual, but Illinois is 17% planted, Indiana 6% and Missouri is 23% planted.  So, looking at today's board it would be a very valid question to ask - then why is old crop corn having a tougher day then new crop?  Because early planting generally means early harvest and we may not need to carry old crop supplies as far.  And the USDA leaving the ending stocks unchanged suggests that there is no more price rationing needed to control old crop supplies.  This weighed heavily on old crop corn today, and could continue to do so into the near future.
See Corn Daily chart: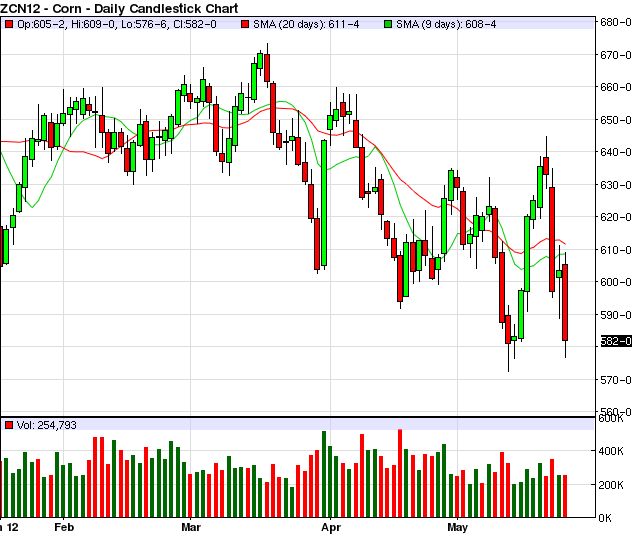 See Soybean Daily chart: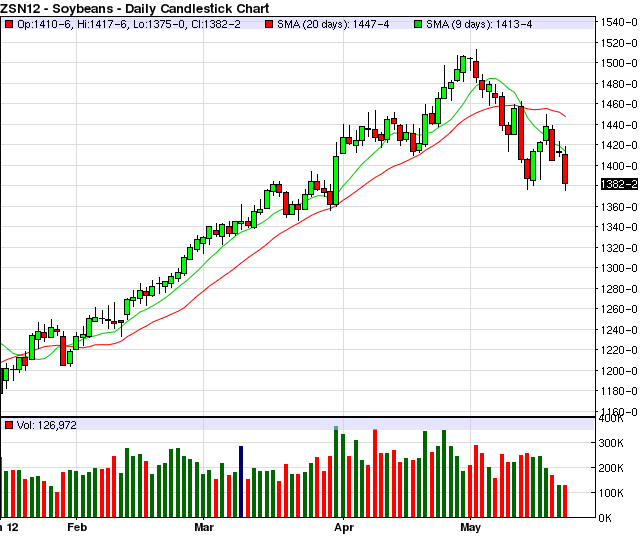 This means that speculators should be looking for opportunities and producers need to look to lock up some prices while we have new crop corn in the $5.50 range. Give me a call for some ideas. In particular, producers looking to hedge all or a portion of their production may be rather interested in some of the strategies that I am currently using.
In my mind there has to be a balance. Neither technical nor fundamental analysis alone is enough to be consistent.
Please give me a call for a trade recommendation, and we can put together a trade strategy tailored to your needs.
Be safe!
Ted Seifried (312) 277-0113 or [email protected]
Please check out my Blog at: http://tedseifriedfutures.com/
Additional charts, studies, and more of my commentary can be found at: http://markethead.com/2.0/free_trial.asp?rid=Seifried
Futures, options and forex trading is speculative in nature and involves substantial risk of loss. All known news and events have already been factored into the price of the underlying commodities discussed. The limited risk characteristic of options refers to long options only; and refers to the amount of the loss, which is defined as premium paid on the option(s) plus commissions.
FOR CUSTOMERS TRADING OPTIONS, THESE FUTURES CHARTS ARE PRESENTED FOR INFORMATIONAL PURPOSES ONLY. THEY ARE INTENDED TO SHOW HOW INVESTING IN OPTIONS CAN DEPEND ON THE UNDERLYING FUTURES PRICES; SPECIFICALLY, WHETHER OR NOT AN OPTION PURCHASER IS BUYING AN IN-THE-MONEY, AT-THE-MONEY, OR OUT-OF-THE-MONEY OPTION. FURTHERMORE, THE PURCHASER WILL BE ABLE TO DETERMINE WHETHER OR NOT TO EXERCISE HIS RIGHT ON AN OPTION DEPENDING ON HOW THE OPTION'S STRIKE PRICE COMPARES TO THE UNDERLYING FUTURE'S PRICE. THE FUTURES CHARTS ARE NOT INTENDED TO IMPLY THAT OPTION PRICES MOVE IN TANDEM WITH FUTURES PRICES. IN FACT, OPTION PRICES MAY ONLY MOVE A FRACTION OF THE PRICE MOVE IN THE UNDERLYING FUTURES. IN SOME CASES, THE OPTION MAY NOT MOVE AT ALL OR EVEN MOVE IN THE OPPOSITE DIRECTION