Published on:
15:32PM Jan 16, 2014
TRADING COMMODITY FUTURES AND OPTIONS INVOLVES SUBSTANTIAL RISK OF LOSS AND IS NOT BE SUITABLE FOR ALL INVESTORS. YOU SHOULD CAREFULLY CONSIDER WHETHER TRADING IS SUITABLE FOR YOU IN LIGHT OF YOUR CIRCUMSTANCES, KNOWLEDGE AND FINANCIAL RESOURCES.        
Since November of last year I have been saying that I did not think corn would trade below $4.00 for an extended period of time.  When I was saying that last September guys gave me really nasty looks for suggesting that corn would get anywhere near $4.00.  Last Friday, just before the January USDA report, March corn put in a low of $4.06 1/4.  Is this the low for corn going forward?  
It is tough to make a bull case for corn to rally back to $5.50 plus with a 1.631 billion bushel carry over this year.  But, it does seem that we may have already seen the biggest carry over estimate that the USDA is going to throw at us.  So, now that the ideas of a 2 plus billion bushel carry over are behind us shouldn't we now start to see higher prices?  Well, maybe.  
On a very positive note, demand seems to be coming back well at current price levels.  Export demand has been strong and has continued to grow even after a bullish surprise of a USDA report.  Ethanol profit margins are good and corn used for ethanol is running near current USDA projections while ethanol stocks are near the lowest levels they have been in three years.  This means that ethanol demand is good and has potential to grow.  Feed demand is picking up as well.  While there may still be a smaller heard then in years past, weights are picking up and it takes a lot of grain to make that happen.  A colder the usual winter is also increasing the need for feed.  So, demand is growing in all three sectors and chipping away at the large stocks of corn we have at current prices.  
The key to that last statement is at current prices however.  Export demand may stay strong or even get stronger at first on a rally, but feed and ethanol demand are very dependent on low corn prices and may quickly drop off on much of a rally.  Cattle margins are thin and after a couple years of rough times cattlemen will be quick to reduce production if input costs pick up.  Ethanol demand is good because profit margins are good, not because of any mandate.  If corn prices were to really get going to the upside it would dramatically cut into profit margins unless crude prices were sharply higher as well.  Lower profit margins would very likely mean less corn used for ethanol production.  
CME Options On Futures: The Basics: http://www.zaner.com/offers/?page=9&ap=tseifrie
So, the worst of the old crop corn news might be behind us unless corn were to rally significantly.  Higher prices are certainly possible, and maybe likely but within reason.  Too much strength could kill off some demand and put us right back to the 2 billion bushel plus conversation (which breeds the darn $3.33 conversation again).  Corn demand could probably withstand a 30-40 cent rally all other things (crude, China economy, US economy) remaining equal.  
The wild card or potential fly in the ointment here could be soybeans.  Soybean prices have held on to strength as the US old crop soybean balance sheet has remained tight, export sales have been strong and there has been concerns about Argentina's crop.  However, short of a catastrophic event in South America at this point it looks likely that we will see a huge world carry over number this year that could put significant pressure on soybean prices.  If this were the case corn would have to weather this storm.  To some extent I think it could do a good job of it.  The corn-bean spread might have quite a bit of room for corn to gain on soybeans.  And, we have seen soybeans have independent strength from other grains in recent history, so why not corn?  Maybe this is wishful thinking, but I certainly like it better then the alternative.  
Finally, a lot will depend on cash movement.  Coming into this year there was a lot of open storage and guys have come off a string of good profit years so we are not all in a huge rush to sell corn right now.  To an extent that is a good thing as a tight cash market could cause corn prices to rally to buy bushels out of the bin.  However, if a rally doesn't buy bushels the plan b is a nasty one.  Many times if better prices doesn't get cash to move the market will break violently to scare producers into selling.  Hopefully this will not have to happen this year.  The best thing to do might be to sell small amounts on bounces.  
Feel free to give me a call or shoot me an email if you would like to talk about your marketing plan, the markets, weather, or just to visit.     
March Corn Daily chart: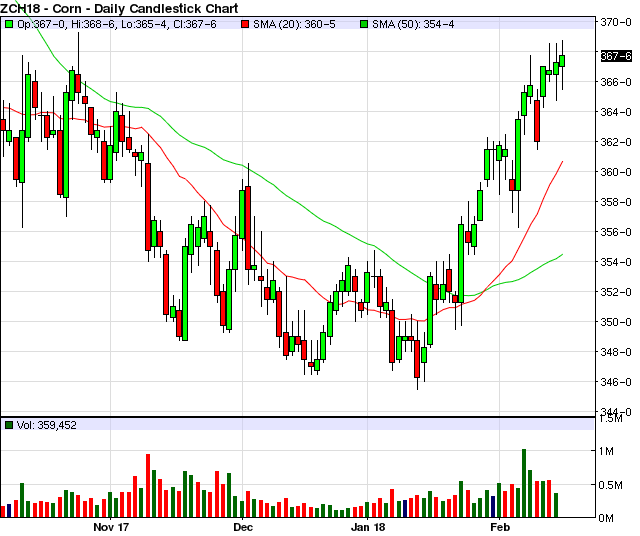 March Soybeans Daily chart: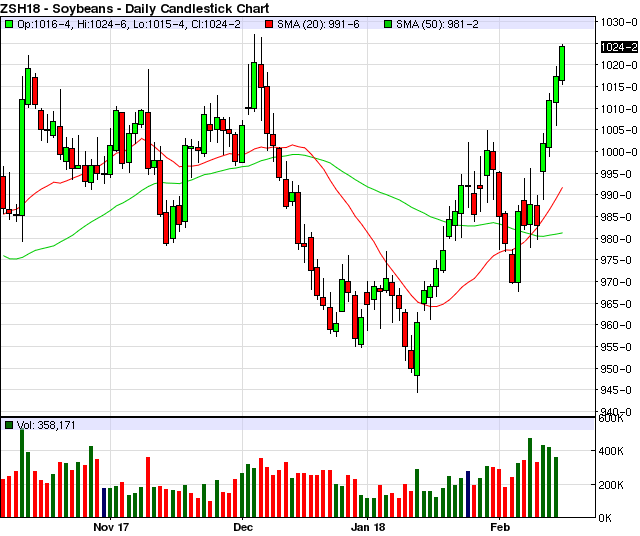 March Wheat Daily chart: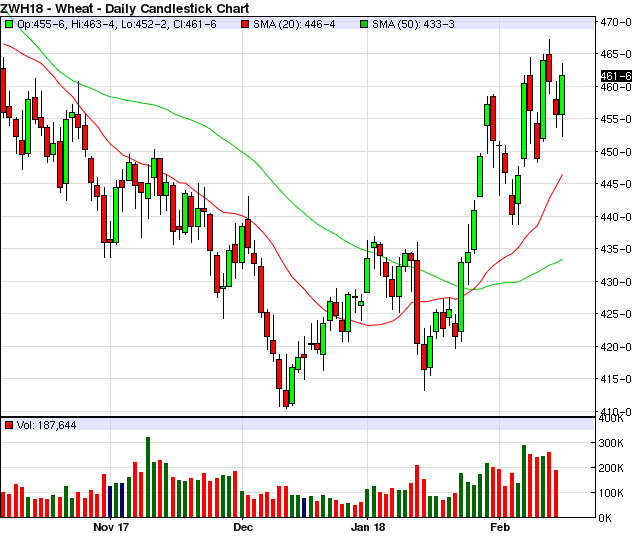 All this means that speculators should be looking for opportunities and producers need to look to lock up some prices. Give me a call for some ideas. In particular, producers looking to hedge all or a portion of their production may be rather interested in some of the options / options-futures strategies that I am currently using.
In my mind there has to be a balance. Neither technical nor fundamental analysis alone is enough to be consistent. Please give me a call for a trade recommendation, and we can put together a trade strategy tailored to your needs. Be safe!
Ted Seifried (312) 277-0113 or tseifried@zaner.com
Additional charts, studies, and more of my commentary can be found at: http://markethead.com/2.0/free_trial.asp?ap=tseifrie
Sign up for our Morning Ag Comments: http://www.zaner.com/offers/?page=17
Futures, options and forex trading is speculative in nature and involves substantial risk of loss.  This commentary should be conveyed as a solicitation for entry into derivitives transactions.  All known news and events have already been factored into the price of the underlying commodities discussed.  The limited risk characteristic of options refers to long options only; and refers to the amount of the loss, which is defined as premium paid on the option(s) plus commissions.
FOR CUSTOMERS TRADING OPTIONS, THESE FUTURES CHARTS ARE PRESENTED FOR INFORMATIONAL PURPOSES ONLY. THEY ARE INTENDED TO SHOW HOW INVESTING IN OPTIONS CAN DEPEND ON THE UNDERLYING FUTURES PRICES; SPECIFICALLY, WHETHER OR NOT AN OPTION PURCHASER IS BUYING AN IN-THE-MONEY, AT-THE-MONEY, OR OUT-OF-THE-MONEY OPTION. FURTHERMORE, THE PURCHASER WILL BE ABLE TO DETERMINE WHETHER OR NOT TO EXERCISE HIS RIGHT ON AN OPTION DEPENDING ON HOW THE OPTION'S STRIKE PRICE COMPARES TO THE UNDERLYING FUTURE'S PRICE. THE FUTURES CHARTS ARE NOT INTENDED TO IMPLY THAT OPTION PRICES MOVE IN TANDEM WITH FUTURES PRICES. IN FACT, OPTION PRICES MAY ONLY MOVE A FRACTION OF THE PRICE MOVE IN THE UNDERLYING FUTURES. IN SOME CASES, THE OPTION MAY NOT MOVE AT ALL OR EVEN MOVE IN THE OPPOSITE DIRECTION.