Published on:
21:29PM Nov 06, 2014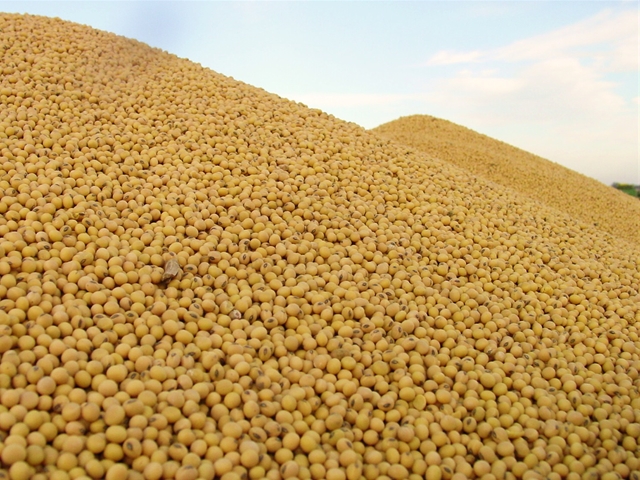 ~~TRADING COMMODITY FUTURES AND OPTIONS INVOLVES SUBSTANTIAL RISK OF LOSS AND MAY NOT BE SUITABLE FOR ALL INVESTORS. YOU SHOULD CAREFULLY CONSIDER WHETHER TRADING IS SUITABLE FOR YOU IN LIGHT OF YOUR CIRCUMSTANCES, KNOWLEDGE AND FINANCIAL RESOURCES.      
After a weak start to the week Soybean prices have bounced back mostly on strength in the soybean meal.  While soybeans are still lower for the week soybean meal is now higher.  This continued strength in meal has supported soybean prices despite a record crop coming out of fields.  In the short term this strength in soybean meal has been beneficial for the soybeans, but is it good for the long run?  
Soybean meal has rallied sharply since the beginning of October due to tight supplies coming from a tight old crop soybean balance sheet and early delays in harvest.  In the last two months these two factors contributed to some of the lowest soybean crush numbers in recent history.  The slow pace of crush was not a reflection of slow demand but rather crushers inability to source soybeans.  This has caused a domestic shortage in soybean meal and commercials have had to bid up to fill their needs.  
In the short term this has been very beneficial to soybeans as the strength in soybean meal has helped soybeans to rally almost $1.50 off of lows right into a record harvest.  This has provided producers an opportunity to sell soybeans higher as harvest has progressed.  However, the long term effects may not be as positive.  
We have awesome CRB wall charts to give out!  They are weekly bar charts that go back 10 years to Oct, 2003 and are about the size of a poster.  If you'd like one sign up here - Soybeans: http://www.zaner.com/offers/index.asp?page=21
The soybean meal market has a strong agenda and when markets have a strong agenda they use price to get what they want.  In the case of soybean meal the market actually has two tools to motivate produces since soybean meal is a derivative of another traded commodity - soybeans.  The tools the meal market has are price and crush margin.  Crush margin is the potential profitability of taking soybeans and crushing them to make soybean meal and oil.  Right now, not only has soybean meal prices risen significantly to draw stocks away from crushers but also the crush margin is higher then I have seen in my career as well enticing producers to crush more soybeans going forward.  
With the crush margin getting up to $2.17 last week and back to $1.88 1/2 on Thursday this is giving crushers a significant incentive to aggressively ramp up soybean crush at the moment.  While soybean supplies had gotten tight at the end of September as we all but ran out of soybeans and into October as harvest delays kept beans from filling needs soybean supplies are now becoming readily available with harvest wrapping up.  So with significant incentive to crush soybeans and the soybeans to get the job done crushes may soon catch up to meal demand and at some point may overshoot the mark.  Because of this the tight soy meal situation seems like it should be very temporary at this point unless there is a major issue with South American production.  
Soybean meal demand is another interesting topic.  With a sharp increase in prices back to levels we have not seen since June of last year there is likely a significant amount of demand destruction here as end users look for alternatives.  On an international level we look to export sales to paint the picture and export sales have been slow in the last few weeks with a large net negative number this week.  At this point global end users are looking elsewhere to fill their needs.  On the domestic front there has been an increase in DDG demand in recent weeks suggesting that end users are looking for alternatives for soybean meal.  With good ethanol production and large corn stocks DDGS should be available going forward.  
So, while the sharp rally in soybean meal and the crush margin since October 1st has been beneficial for soybeans in the short term this could have a negative impact on the market in the long run.  While the demand for soy meal will increase crush in the near term lower demand for meal as end users seek out substitutes could slow crush numbers in the long run.  Still, a higher crush number could have an impact on ending stocks but not likely anywhere near enough to put us in a tight ending stocks situation.  If South America has a good growing season soybean meal and soybeans may need to go significantly lower to buy back demand that has been effected by the sharp rally in soy meal.  This might mean new lows for soybeans at some point and could be dangerous for producers who have gotten a sense of security from this rally on their un-priced bushels of soybeans.  
Sign up for our Morning Ag Hedge newsletter!  Sign up here: http://www.zaner.com/offers/?page=17 
Feel free to give me a call or shoot me an email if you would like to talk about your marketing plan, the markets, weather, or just to visit.  Also, follow me on twitter @thetedspread if that is your thing.   
December Corn Daily chart: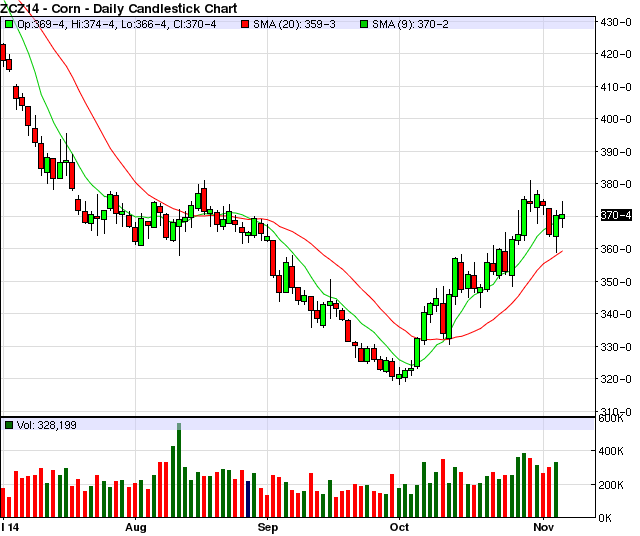 November Soybeans Daily chart: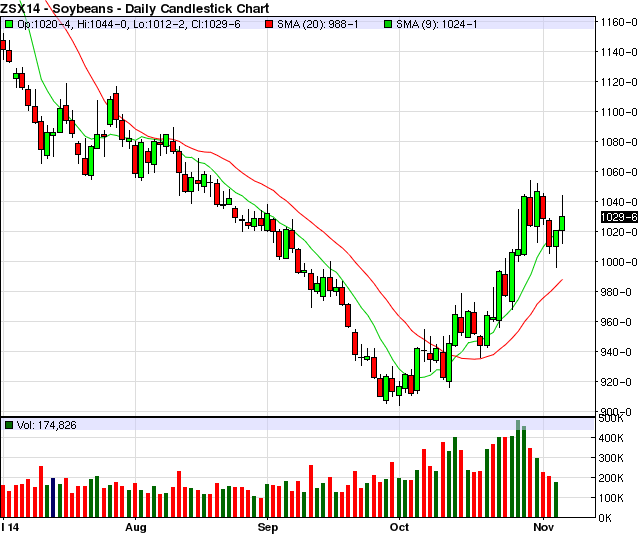 December Wheat Daily chart: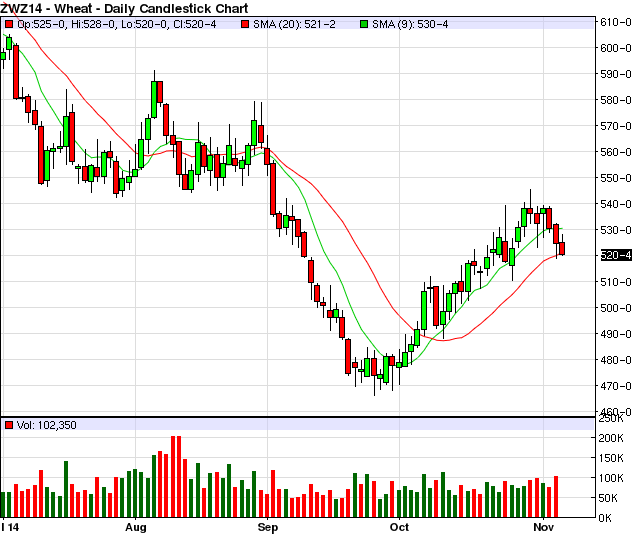 All this means that speculators should be looking for opportunities and producers need to look to lock up some prices. Give me a call for some ideas. In particular, producers looking to hedge all or a portion of their production may be rather interested in some of the options / options-futures strategies that I am currently using.
In my mind there has to be a balance. Neither technical nor fundamental analysis alone is enough to be consistent. Please give me a call for a trade recommendation, and we can put together a trade strategy tailored to your needs. Be safe!
Ted Seifried (312) 277-0113 or tseifried@zaner.com
Additional charts, studies, and more of my commentary can be found at: http://markethead.com/2.0/free_trial.asp?ap=tseifrie
Futures, options and forex trading is speculative in nature and involves substantial risk of loss.  This commentary should be conveyed as a solicitation for entry into derivitives transactions.  All known news and events have already been factored into the price of the underlying commodities discussed.  The limited risk characteristic of options refers to long options only; and refers to the amount of the loss, which is defined as premium paid on the option(s) plus commissions.
FOR CUSTOMERS TRADING OPTIONS, THESE FUTURES CHARTS ARE PRESENTED FOR INFORMATIONAL PURPOSES ONLY. THEY ARE INTENDED TO SHOW HOW INVESTING IN OPTIONS CAN DEPEND ON THE UNDERLYING FUTURES PRICES; SPECIFICALLY, WHETHER OR NOT AN OPTION PURCHASER IS BUYING AN IN-THE-MONEY, AT-THE-MONEY, OR OUT-OF-THE-MONEY OPTION. FURTHERMORE, THE PURCHASER WILL BE ABLE TO DETERMINE WHETHER OR NOT TO EXERCISE HIS RIGHT ON AN OPTION DEPENDING ON HOW THE OPTION'S STRIKE PRICE COMPARES TO THE UNDERLYING FUTURE'S PRICE. THE FUTURES CHARTS ARE NOT INTENDED TO IMPLY THAT OPTION PRICES MOVE IN TANDEM WITH FUTURES PRICES. IN FACT, OPTION PRICES MAY ONLY MOVE A FRACTION OF THE PRICE MOVE IN THE UNDERLYING FUTURES. IN SOME CASES, THE OPTION MAY NOT MOVE AT ALL OR EVEN MOVE IN THE OPPOSITE DIRECTION.