Published on:
15:29PM Jun 26, 2014
TRADING COMMODITY FUTURES AND OPTIONS INVOLVES SUBSTANTIAL RISK OF LOSS AND MAY NOT BE SUITABLE FOR ALL INVESTORS. YOU SHOULD CAREFULLY CONSIDER WHETHER TRADING IS SUITABLE FOR YOU IN LIGHT OF YOUR CIRCUMSTANCES, KNOWLEDGE AND FINANCIAL RESOURCES.       
For the week ended June 19th the USDA reported  317,000 metric tons, or 11.7 million bushels of old crop soybeans sold for export.  This number surprised the market as expectations were around 50,000 metric tons.  The unexpectedly high weekly export sales number was bullish as the USDA is already estimating a tight balance sheet and is still estimating soybean exports well behind total commitments.  This re-ignites the question - is the US going to run out of soybeans this year?  
The USDA is currently estimating soybeans exports for the 2013/2014 marketing year at 1.6 billion bushels.  After the 11.7 million bushels sold last week total commitments are now 1.671 billion bushels, 71 million bushels above the current USDA estimate.  If all of the total commitments were shipped this marketing year it could cut the already tight USDA ending stocks estimate in less then half.  The current USDA ending stocks estimate is 125 million bushels and if export shipments are in fact 1.671 billion bushels as opposed to the current USDA estimate of 1.6 billion this would leave us with ending stocks of only 54 million bushels.  This would be the tightest soybean ending stocks on record.  If this were the case it could suggest that soybean prices should go sharply higher to cut out any further demand.  
However, there are some disconnects between the USDA's estimates and what is happening in the cash market.  Cash soybeans just are not as strong as they were this time last year and last year ending stocks were estimated at 141 million bushels compared to the current USDA estimate for this year of 125 million bushels and the potential 54 million bushels carry over we could see if all of the export sales commitments on the board ship out.  The other question is - why would we still be selling soybeans if there was really nothing left to sell?  It seems like there could either be more soybeans out there then the USDA knows about or end users are waiting till the last minute to book their needs.  If the later is the case there could still be a sharp rally in soybeans before the new crop is harvested.  
Sign up for our Morning Ag Hedge newsletter!  Sign up here: http://www.zaner.com/offers/?page=17  
The USDA will shed some light on this burning question with the Quarterly Grain Stocks report on Monday, June 30th.  If the soybean situation is as tight as the USDA's numbers are suggesting then the Quarterly Grain Stocks numbers should be well below this time last year.  If, however stocks are near or higher then this time last year it suggests that there were more soybeans out there then the USDA saw.  If this were true it could be the product of the USDA not getting last years production right.  In a way the USDA has a "get out of jail free" card on this because they were closed by the government shut down last year when they needed to be out in the fields collecting yield data.  By the time they were able to get out into fields and collect data it was the tail end of the harvest and they may have only seen the lower producing acres as we generally harvest the best fields first.  
Either way this Quarterly Grain Stocks report is shaping up to be one of the biggest reports of the year, especially for old crop soybeans.  If stocks are tight it could mean that soybean prices still need to go sharply higher to shut down demand.  How high is a great question.  Earlier this year soybeans rallied above $15.30 to try to slow down the record pace of export sales with little effect until South American soybeans became available.  So prices could go even higher yet if the very tight soybean situation verifies.  However, if there are more soybeans out there as the cash market and continued export sales suggest then soybean prices could fall under pressure.  With record planted acreage this year and good weather to start the growing season it may not be so important to have much of a carry in for next year.  This means that as long as the old crop situation isn't dire enough to cause soybeans to sharply rally in order to completely cut out any further demand prices could come down even with the balance sheet being fairly tight.  
We have awesome CRB wall charts to give out!  They are weekly bar charts that go back 10 years to Oct, 2003 and are about the size of a poster.  If you'd like one sign up here - Soybeans: http://www.zaner.com/offers/index.asp?page=21
Feel free to give me a call or shoot me an email if you would like to talk about your marketing plan, the markets, weather, or just to visit.     
July Corn Daily chart: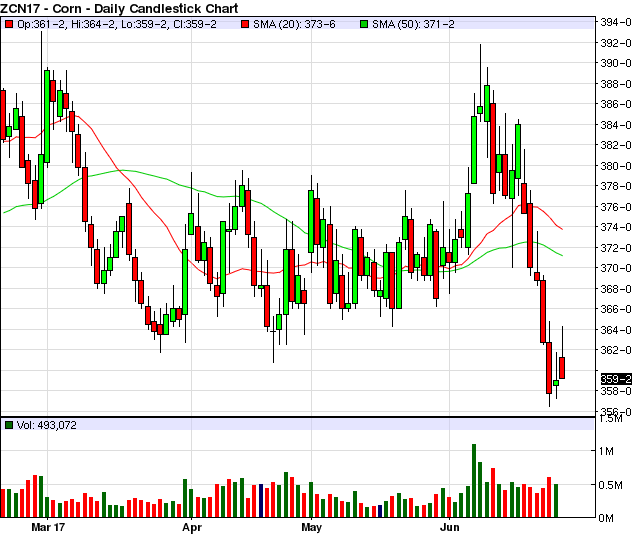 July Soybeans Daily chart:
July Wheat Daily chart: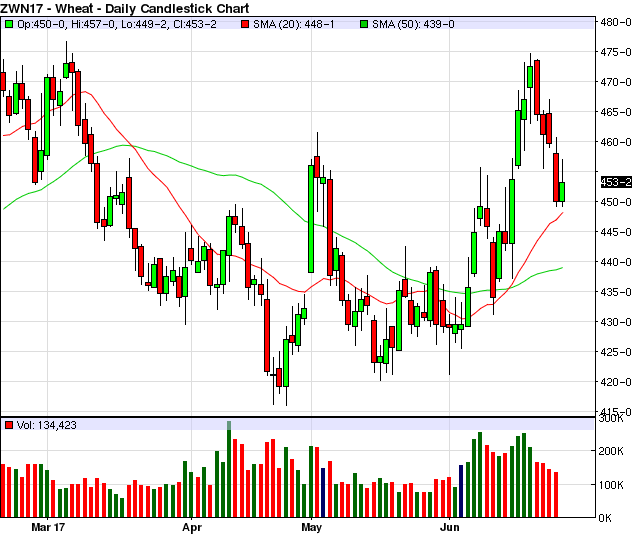 All this means that speculators should be looking for opportunities and producers need to look to lock up some prices. Give me a call for some ideas. In particular, producers looking to hedge all or a portion of their production may be rather interested in some of the options / options-futures strategies that I am currently using.
In my mind there has to be a balance. Neither technical nor fundamental analysis alone is enough to be consistent. Please give me a call for a trade recommendation, and we can put together a trade strategy tailored to your needs. Be safe!
Ted Seifried (312) 277-0113 or tseifried@zaner.com
Additional charts, studies, and more of my commentary can be found at: http://markethead.com/2.0/free_trial.asp?ap=tseifrie
Futures, options and forex trading is speculative in nature and involves substantial risk of loss.  This commentary should be conveyed as a solicitation for entry into derivitives transactions.  All known news and events have already been factored into the price of the underlying commodities discussed.  The limited risk characteristic of options refers to long options only; and refers to the amount of the loss, which is defined as premium paid on the option(s) plus commissions.
FOR CUSTOMERS TRADING OPTIONS, THESE FUTURES CHARTS ARE PRESENTED FOR INFORMATIONAL PURPOSES ONLY. THEY ARE INTENDED TO SHOW HOW INVESTING IN OPTIONS CAN DEPEND ON THE UNDERLYING FUTURES PRICES; SPECIFICALLY, WHETHER OR NOT AN OPTION PURCHASER IS BUYING AN IN-THE-MONEY, AT-THE-MONEY, OR OUT-OF-THE-MONEY OPTION. FURTHERMORE, THE PURCHASER WILL BE ABLE TO DETERMINE WHETHER OR NOT TO EXERCISE HIS RIGHT ON AN OPTION DEPENDING ON HOW THE OPTION'S STRIKE PRICE COMPARES TO THE UNDERLYING FUTURE'S PRICE. THE FUTURES CHARTS ARE NOT INTENDED TO IMPLY THAT OPTION PRICES MOVE IN TANDEM WITH FUTURES PRICES. IN FACT, OPTION PRICES MAY ONLY MOVE A FRACTION OF THE PRICE MOVE IN THE UNDERLYING FUTURES. IN SOME CASES, THE OPTION MAY NOT MOVE AT ALL OR EVEN MOVE IN THE OPPOSITE DIRECTION.