Published on:
15:38PM Jan 23, 2014
TRADING COMMODITY FUTURES AND OPTIONS INVOLVES SUBSTANTIAL RISK OF LOSS AND IS NOT BE SUITABLE FOR ALL INVESTORS. YOU SHOULD CAREFULLY CONSIDER WHETHER TRADING IS SUITABLE FOR YOU IN LIGHT OF YOUR CIRCUMSTANCES, KNOWLEDGE AND FINANCIAL RESOURCES.        
Soybeans have been down sharply this week as concerns over Argentinian weather have faded away.  However, soybeans still have one more shot at a weather rally before the monster South American crop takes the US out of the global export market.  
Concerns over hot and dry weather in Argentina fell to the wayside this week as soaking rains fell over the weekend and early into the week.  Follow up rains came later in the week to further improve soil and crop conditions.  Now, Argentina's forecast looks nearly ideal to finish off the soybean crop so at this point it seems that the bullish weather market for soybeans may be behind us.  
There is one more chance at a weather rally however.  Brazil will now become the focus.  The market will now begin to monitor rain in Brazil's forecast closely.  If Brazil were to start getting too much rains harvest delay would occur.  Any major delays in harvest could cause major delays in getting soybeans to ports and loaded on to container ships for export.  This scenario was a big factor last year.  If South America is slow getting product to port it would likely mean that global end users would need to continue to buy US soybeans to fill their needs.  
CME Options On Futures: The Basics: http://www.zaner.com/offers/?page=9&ap=tseifrie
Last year harvest delays in South America were significant.  This seems to catch China and other global end users empty handed and they scrambled to buy US soybeans.  This put pressure on US ending stocks and caused soybeans to rally.  This could happen again this year - to an extent.  
It does seem that global end users have planned ahead a little this year.  It seems likely that at least some of the US export sales to date may have been booked for precautionary measures in case long delays would cause South America to be slow in filling orders.  So, if this were to happen again this year it may not translate into a large inflow of new export sales for the US, but it could mean that more of the sales on the books actually get delivered rather then canceled or switched to South American origin.  
Right now Brazil's weather looks good and we are not currently expecting any harvest delays for the next two weeks.  We have also been told by our South American contacts that they are in a better position this year to move grain due to river terminals coming on line.  We have heard this before, but we are hearing it from a lot more people this year.  
So, if there are harvest delays in Brazil there could be one more chance to sell soybeans at higher prices before the Monster South American crop hits the global market.  Right now the forecast looks good, but the trade will be watching this situation closely going forward.  
Feel free to give me a call or shoot me an email if you would like to talk about your marketing plan, the markets, weather, or just to visit.     
March Corn Daily chart: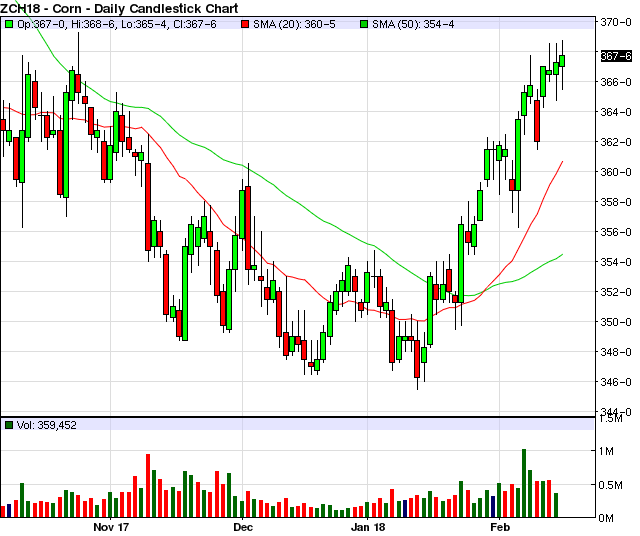 March Soybeans Daily chart: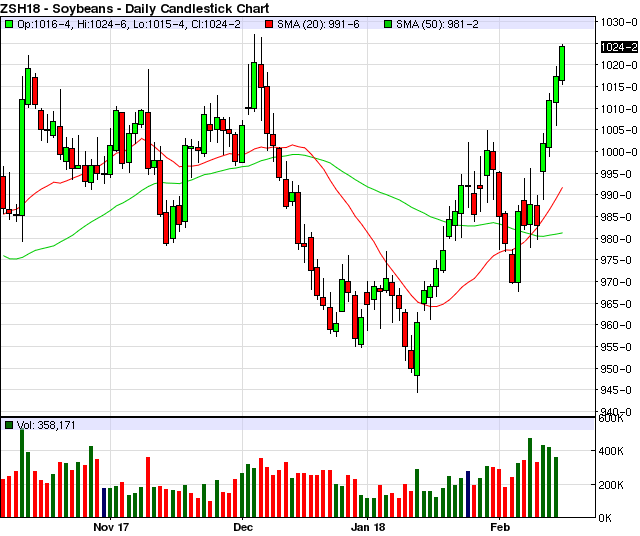 March Wheat Daily chart: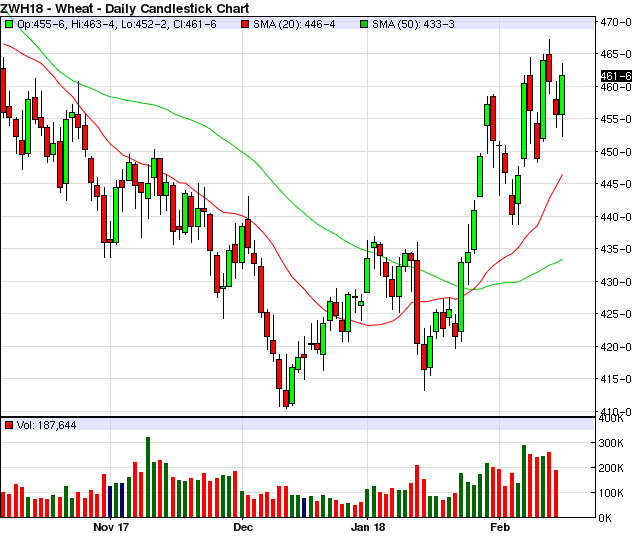 All this means that speculators should be looking for opportunities and producers need to look to lock up some prices. Give me a call for some ideas. In particular, producers looking to hedge all or a portion of their production may be rather interested in some of the options / options-futures strategies that I am currently using.
In my mind there has to be a balance. Neither technical nor fundamental analysis alone is enough to be consistent. Please give me a call for a trade recommendation, and we can put together a trade strategy tailored to your needs. Be safe!
Ted Seifried (312) 277-0113 or tseifried@zaner.com
Additional charts, studies, and more of my commentary can be found at: http://markethead.com/2.0/free_trial.asp?ap=tseifrie
Sign up for our Morning Ag Comments: http://www.zaner.com/offers/?page=17
Futures, options and forex trading is speculative in nature and involves substantial risk of loss.  This commentary should be conveyed as a solicitation for entry into derivitives transactions.  All known news and events have already been factored into the price of the underlying commodities discussed.  The limited risk characteristic of options refers to long options only; and refers to the amount of the loss, which is defined as premium paid on the option(s) plus commissions.
FOR CUSTOMERS TRADING OPTIONS, THESE FUTURES CHARTS ARE PRESENTED FOR INFORMATIONAL PURPOSES ONLY. THEY ARE INTENDED TO SHOW HOW INVESTING IN OPTIONS CAN DEPEND ON THE UNDERLYING FUTURES PRICES; SPECIFICALLY, WHETHER OR NOT AN OPTION PURCHASER IS BUYING AN IN-THE-MONEY, AT-THE-MONEY, OR OUT-OF-THE-MONEY OPTION. FURTHERMORE, THE PURCHASER WILL BE ABLE TO DETERMINE WHETHER OR NOT TO EXERCISE HIS RIGHT ON AN OPTION DEPENDING ON HOW THE OPTION'S STRIKE PRICE COMPARES TO THE UNDERLYING FUTURE'S PRICE. THE FUTURES CHARTS ARE NOT INTENDED TO IMPLY THAT OPTION PRICES MOVE IN TANDEM WITH FUTURES PRICES. IN FACT, OPTION PRICES MAY ONLY MOVE A FRACTION OF THE PRICE MOVE IN THE UNDERLYING FUTURES. IN SOME CASES, THE OPTION MAY NOT MOVE AT ALL OR EVEN MOVE IN THE OPPOSITE DIRECTION.