Published on:
16:45PM Apr 17, 2012
TRADING COMMODITY FUTURES AND OPTIONS INVOLVES SUBSTANTIAL RISK OF LOSS AND MAY NOT BE SUITABLE FOR ALL INVESTORS. YOU SHOULD CAREFULLY CONSIDER WHETHER TRADING IS SUITABLE FOR YOU IN LIGHT OF YOUR CIRCUMSTANCES, KNOWLEDGE AND FINANCIAL RESOURCES.   
Planting Progress
The USDA released the weekly Crop Progress report this afternoon which came a day late due to an electrical fire at the USDA.  No Comment on that.  With ideal weather in most areas through the bulk of March and April Traders were looking for corn to be 18-22% planted at this point, compared to 5% last year.  The USDA is reporting corn plantings at 17% as compared to 7% last week, 5% last year and 5% 5-year average.  The biggest drag on planting was Texas reporting 54% planted vs 56% last year and 59% 5-year average.  Aside from slower then usual plantings in Texas we did see some states post impressive progress numbers.  Some standouts being:  Illinois at 41%!?!, Indiana at 24%, Missouri at 39%, Kentucky at 59%, Ohio at 10% and Tennessee at 80%.
With the USDA reporting planting progress at a slightly slower pace of 17% compared to the trade expectation of 18-22% we could expect to get a slightly bullish reception to this report.  The trade expectations may have been a bit optimistic however.  Texas will get planted, and this report reflects the fact that conditions are nearly ideal.  The simple fact that Illinois is 41% planted compared to 6% 5-year average is pretty bearish long term. 
See December Corn Daily chart: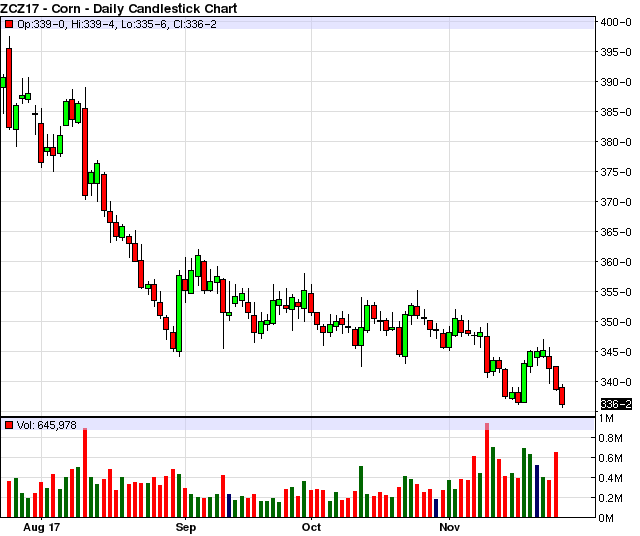 Wheat numbers were slightly bearish with the Winter Wheat crop condition improving to 64% good to excelent compared to 61% last week and 36% last year.  Spring wheat is now 37% planted compared to 21% last week, 5% last year, and 9% 5-year average.
See December Wheat chart: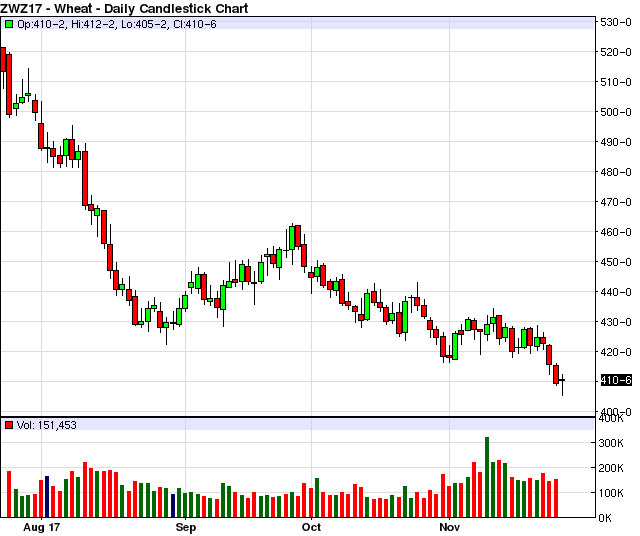 This means that speculators should be looking for opportunities and producers need to look to lock up some prices while we have new crop corn in the $5.00 range and new crop wheat in the $6.50 range. Give me a call for some ideas. In particular, producers looking to hedge all or a portion of their production may be rather interested in some of the strategies that I am currently using.
In my mind there has to be a balance. Neither technical nor fundamental analysis alone is enough to be consistent.
Please give me a call for a trade recommendation, and we can put together a trade strategy tailored to your needs.
Be safe!
Ted Seifried (312) 277-0113 or [email protected]
Please check out my Blog at: http://tedseifriedfutures.com/
Additional charts, studies, and more of my commentary can be found at: http://markethead.com/2.0/free_trial.asp?rid=Seifried
Futures, options and forex trading is speculative in nature and involves substantial risk of loss. All known news and events have already been factored into the price of the underlying commodities discussed. The limited risk characteristic of options refers to long options only; and refers to the amount of the loss, which is defined as premium paid on the option(s) plus commissions.
FOR CUSTOMERS TRADING OPTIONS, THESE FUTURES CHARTS ARE PRESENTED FOR INFORMATIONAL PURPOSES ONLY. THEY ARE INTENDED TO SHOW HOW INVESTING IN OPTIONS CAN DEPEND ON THE UNDERLYING FUTURES PRICES; SPECIFICALLY, WHETHER OR NOT AN OPTION PURCHASER IS BUYING AN IN-THE-MONEY, AT-THE-MONEY, OR OUT-OF-THE-MONEY OPTION. FURTHERMORE, THE PURCHASER WILL BE ABLE TO DETERMINE WHETHER OR NOT TO EXERCISE HIS RIGHT ON AN OPTION DEPENDING ON HOW THE OPTION'S STRIKE PRICE COMPARES TO THE UNDERLYING FUTURE'S PRICE. THE FUTURES CHARTS ARE NOT INTENDED TO IMPLY THAT OPTION PRICES MOVE IN TANDEM WITH FUTURES PRICES. IN FACT, OPTION PRICES MAY ONLY MOVE A FRACTION OF THE PRICE MOVE IN THE UNDERLYING FUTURES. IN SOME CASES, THE OPTION MAY NOT MOVE AT ALL OR EVEN MOVE IN THE OPPOSITE DIRECTION