Published on:
18:50PM Jul 29, 2014
TRADING COMMODITY FUTURES AND OPTIONS INVOLVES SUBSTANTIAL RISK OF LOSS AND MAY NOT BE SUITABLE FOR ALL INVESTORS. YOU SHOULD CAREFULLY CONSIDER WHETHER TRADING IS SUITABLE FOR YOU IN LIGHT OF YOUR CIRCUMSTANCES, KNOWLEDGE AND FINANCIAL RESOURCES.       
Soybeans have seen significant volatility to start the week as the market is watching the weather forecasts and export sales very closely.  Strong export sales have been a positive factor for soybeans lately.  China has stepped back to the export table in a big way.  But strong exports are taking a back seat as we look to weather to give us a clue on how big this soybean crop really is.  
The volatility seen in the first half of this week is a good example of how weather markets can trade.  Really, this may be the first real weather market we have seen this growing season.  With weather looking good, but maybe not as good as it has been, the trade has gotten a little nervous about how soybeans will finish.  This growing season has been mostly ideal so far with the exceptions being too much rain and hail damage.  This is usually a good sign that although some acres may have gotten lost or damages the rest are probably quite good.  Going forward however a cooler dryer pattern has the market wondering how soybeans will fair during the key moisture sensitive growth stage of setting pods.  Looking further out, the cooler temperatures may start to cause frost concerns as well.  
Aside from weather, export sales have been very good in the last few weeks.  The weekly sales total for soybeans last week were almost 100 million bushels.  To put this in perspective, 100 million bushels is pretty close to what a lot analysts thought we would have for a carry over this year.  This is not a small drop in the bucket.  The question is why is China buying so aggressively right now?  The answer may be simply value buying after soybean prices have come down substantially in the last few weeks.  Another possibility is that China and other global end-users are buying a percentage of their needs at this point just in case there were a major weather issue in August.  To me the sharp increase in sales over the past few weeks is likely a combination of lower price and weather risk, but there is a third possibility as well. China could be looking to build reserve stocks of soybeans and if this is the case they could continue to be strong buyers going forward.  
We have awesome CRB wall charts to give out!  They are weekly bar charts that go back 10 years to Oct, 2003 and are about the size of a poster.  If you'd like one sign up here - Soybeans: http://www.zaner.com/offers/index.asp?page=21 
It certainly is a good possibility that global end-users take a break from buying once they have a better idea that the soybean crop is going to make it through August without any major issues.  At that point they may decide that soybean prices are likely to go lower and they could buy cheaper later on.  But, if they continue to buy aggressively despite good weather and a good crop outlook then this could be telling us something else is going on.  Time will tell as it always does.   
For now weather will likely continue to be the key market mover.  As many analysts are now throwing around super sized yield forecasts the markets focus is squarely on production and how big crops could be.  But we are not out of the woods on weather yet.  Less rain in August could rob soybeans of moisture at the worst time.  An early frost could significantly hurt yield potential.  Then next few weeks could still see significant volatility as we hang on every weather forecast.  
Sign up for our Morning Ag Hedge newsletter!  Sign up here: http://www.zaner.com/offers/?page=17  
Feel free to give me a call or shoot me an email if you would like to talk about your marketing plan, the markets, weather, or just to visit.     
December Corn Daily chart: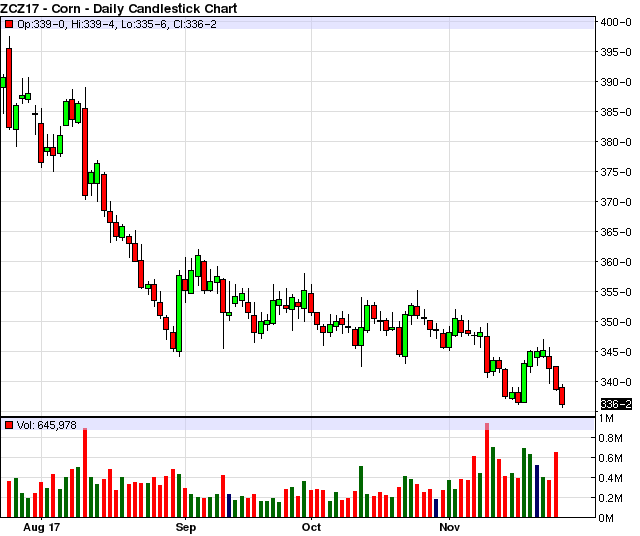 November Soybeans Daily chart: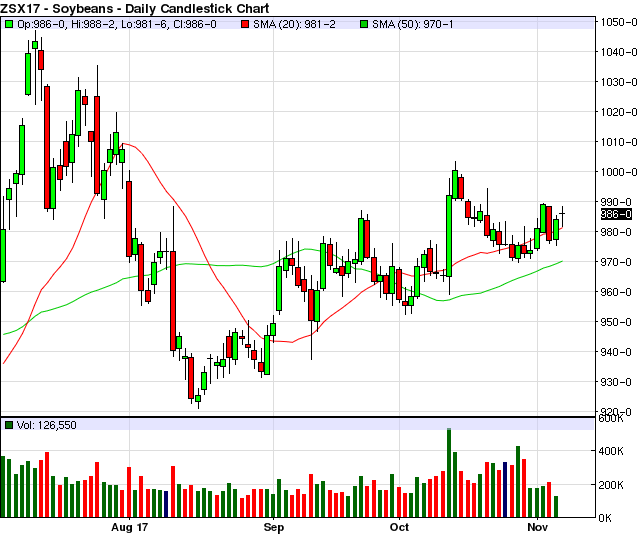 December Wheat Daily chart: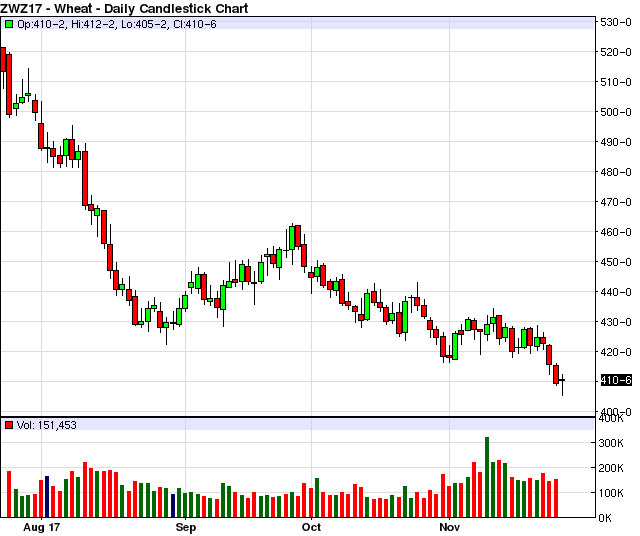 All this means that speculators should be looking for opportunities and producers need to look to lock up some prices. Give me a call for some ideas. In particular, producers looking to hedge all or a portion of their production may be rather interested in some of the options / options-futures strategies that I am currently using.
In my mind there has to be a balance. Neither technical nor fundamental analysis alone is enough to be consistent. Please give me a call for a trade recommendation, and we can put together a trade strategy tailored to your needs. Be safe!
Ted Seifried (312) 277-0113 or [email protected]
Additional charts, studies, and more of my commentary can be found at: http://markethead.com/2.0/free_trial.asp?ap=tseifrie  
Futures, options and forex trading is speculative in nature and involves substantial risk of loss.  This commentary should be conveyed as a solicitation for entry into derivitives transactions.  All known news and events have already been factored into the price of the underlying commodities discussed.  The limited risk characteristic of options refers to long options only; and refers to the amount of the loss, which is defined as premium paid on the option(s) plus commissions.
FOR CUSTOMERS TRADING OPTIONS, THESE FUTURES CHARTS ARE PRESENTED FOR INFORMATIONAL PURPOSES ONLY. THEY ARE INTENDED TO SHOW HOW INVESTING IN OPTIONS CAN DEPEND ON THE UNDERLYING FUTURES PRICES; SPECIFICALLY, WHETHER OR NOT AN OPTION PURCHASER IS BUYING AN IN-THE-MONEY, AT-THE-MONEY, OR OUT-OF-THE-MONEY OPTION. FURTHERMORE, THE PURCHASER WILL BE ABLE TO DETERMINE WHETHER OR NOT TO EXERCISE HIS RIGHT ON AN OPTION DEPENDING ON HOW THE OPTION'S STRIKE PRICE COMPARES TO THE UNDERLYING FUTURE'S PRICE. THE FUTURES CHARTS ARE NOT INTENDED TO IMPLY THAT OPTION PRICES MOVE IN TANDEM WITH FUTURES PRICES. IN FACT, OPTION PRICES MAY ONLY MOVE A FRACTION OF THE PRICE MOVE IN THE UNDERLYING FUTURES. IN SOME CASES, THE OPTION MAY NOT MOVE AT ALL OR EVEN MOVE IN THE OPPOSITE DIRECTION.