Published on:
15:33PM Jul 17, 2014
TRADING COMMODITY FUTURES AND OPTIONS INVOLVES SUBSTANTIAL RISK OF LOSS AND MAY NOT BE SUITABLE FOR ALL INVESTORS. YOU SHOULD CAREFULLY CONSIDER WHETHER TRADING IS SUITABLE FOR YOU IN LIGHT OF YOUR CIRCUMSTANCES, KNOWLEDGE AND FINANCIAL RESOURCES.       
Today, news broke that a Malaysian Airlines 777 was shot down over eastern Ukraine where pro-Russian separatists and the Ukrainian government have been doing battle.  295 lives were lost, 23 of them were US Citizens.  While I certainly do not proclaim to be an expert on Russia or the Ukraine, and bullets and missiles are a long way away from corn kernels and bean pods I find myself trying to predict what comes next and how it affects the grains markets.   
What exactly happened is not very clear.  In the aftermath of this tragedy both the pro-Russian separatists and the Ukrainian government are trading blame for the incident.  What we do know is that a plane full of innocent people was shot out of the sky at 33,000 feet (just over 6 miles high) by a BUK launched surface to air missile near the Ukrainian/Russian boarder.  What is clear is that this situation has come to a head and that when things happen of this nature there will be a reaction.  The question is what and by whom.  What happens next will be of utmost importance, not only for grains markets but for the geopolitical climate.  
This has an impact on grain markets in a few ways, but the most obvious way is Russian and Ukrainian grain production and exports.  Combined Russia and the Ukraine account for 74 million metric tons or 10.5% of the world's wheat production and 28.5 million metric tons or 19% of global wheat exports according the USDA's current estimates for 2014/2015.  The Ukraine also accounts for 27 MMT or about 3% of the world's corn production and 16 MMT or 14% of global exports.  The concern is that if this situation continues to escalate that this export capacity would be significantly reduced or lost and the rest of the world would have to look elsewhere to fill these needs.  Some of this wheat business and a good portion of the corn business could fall to the US and cut into ending stocks for next year.  So, how likely is this?  
Sign up for our Morning Ag Hedge newsletter!  Sign up here: http://www.zaner.com/offers/?page=17  
Again, I am not an expert in these matters but it would seem to me that there are two possible outcomes going forward.  The first, and I believe less likely would be that the US steps in to help the Ukraine fight the pro-Russian separatists and Russia steps in to support the rebels.  This could mean the resumption of the cold war and could mean that Ukrainian and Russian grains are lost to the rest of the world.  The other possibility would be for this thing to be solved politically and peacefully (at least from this point forward).  This could happen in a few ways, but the most logical way would be for Russia to intervene at this point and lead the charge to disband the pro-Russian rebels.  
To this point Russian President Vladimir Putin has politically positioned Russia to look like he is a peace keeper in this engagement.  The annexing of Crimea was justified by a majority population of ethnic Russians and was said to be the best solution to keeping peace.  But, now that innocent international blood has been spilled this is an opportunity for Russia and actually do what they say they are trying to do - make peace.  The ball is in Putin's court to step in and stop the pro-Russian separatists from committing any more violence, or at the very least to allow it to happen.  If this is not the case things could escalate.  
My gut feeling is that this situation will be politically resolved and that it will end up having very little if any impact on the global grain market.  However, I am not sure if this is really the path of least resistance or it is just what I hope to see happen.  Either way this situation has reached its climax and what happens now may have a significant impact on grains markets as well as the geopolitical climate.  
We have awesome CRB wall charts to give out!  They are weekly bar charts that go back 10 years to Oct, 2003 and are about the size of a poster.  If you'd like one sign up here - Corn: http://www.zaner.com/offers/index.asp?page=20  
Feel free to give me a call or shoot me an email if you would like to talk about your marketing plan, the markets, weather, or just to visit.     
December Corn Daily chart: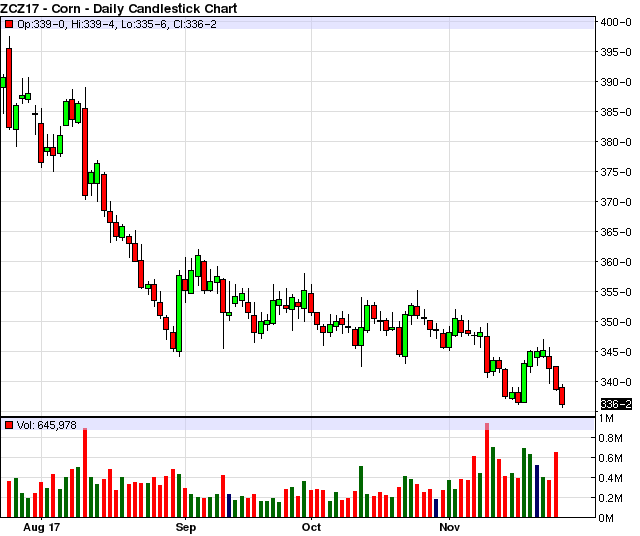 November Soybeans Daily chart: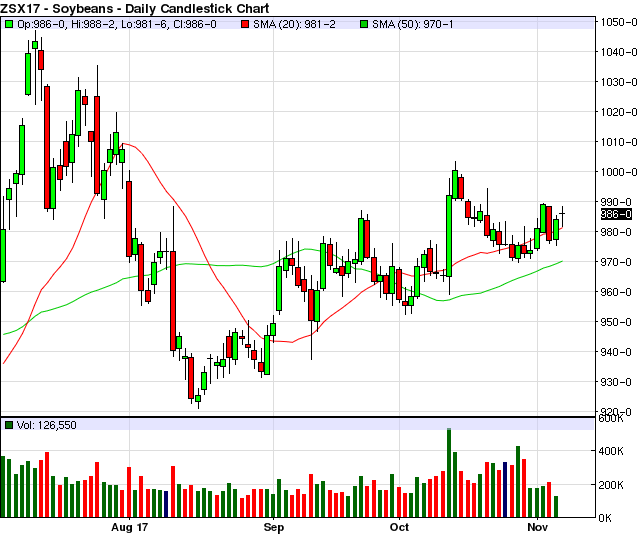 December Wheat Daily chart: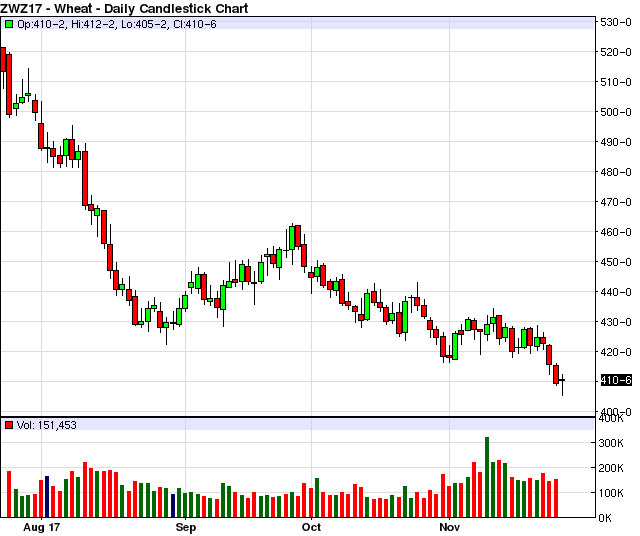 All this means that speculators should be looking for opportunities and producers need to look to lock up some prices. Give me a call for some ideas. In particular, producers looking to hedge all or a portion of their production may be rather interested in some of the options / options-futures strategies that I am currently using.
In my mind there has to be a balance. Neither technical nor fundamental analysis alone is enough to be consistent. Please give me a call for a trade recommendation, and we can put together a trade strategy tailored to your needs. Be safe!
Ted Seifried (312) 277-0113 or [email protected]
Additional charts, studies, and more of my commentary can be found at: http://markethead.com/2.0/free_trial.asp?ap=tseifrie
Futures, options and forex trading is speculative in nature and involves substantial risk of loss.  This commentary should be conveyed as a solicitation for entry into derivitives transactions.  All known news and events have already been factored into the price of the underlying commodities discussed.  The limited risk characteristic of options refers to long options only; and refers to the amount of the loss, which is defined as premium paid on the option(s) plus commissions.
FOR CUSTOMERS TRADING OPTIONS, THESE FUTURES CHARTS ARE PRESENTED FOR INFORMATIONAL PURPOSES ONLY. THEY ARE INTENDED TO SHOW HOW INVESTING IN OPTIONS CAN DEPEND ON THE UNDERLYING FUTURES PRICES; SPECIFICALLY, WHETHER OR NOT AN OPTION PURCHASER IS BUYING AN IN-THE-MONEY, AT-THE-MONEY, OR OUT-OF-THE-MONEY OPTION. FURTHERMORE, THE PURCHASER WILL BE ABLE TO DETERMINE WHETHER OR NOT TO EXERCISE HIS RIGHT ON AN OPTION DEPENDING ON HOW THE OPTION'S STRIKE PRICE COMPARES TO THE UNDERLYING FUTURE'S PRICE. THE FUTURES CHARTS ARE NOT INTENDED TO IMPLY THAT OPTION PRICES MOVE IN TANDEM WITH FUTURES PRICES. IN FACT, OPTION PRICES MAY ONLY MOVE A FRACTION OF THE PRICE MOVE IN THE UNDERLYING FUTURES. IN SOME CASES, THE OPTION MAY NOT MOVE AT ALL OR EVEN MOVE IN THE OPPOSITE DIRECTION.