Published on:
17:50PM May 06, 2014
TRADING COMMODITY FUTURES AND OPTIONS INVOLVES SUBSTANTIAL RISK OF LOSS AND IS NOT BE SUITABLE FOR ALL INVESTORS. YOU SHOULD CAREFULLY CONSIDER WHETHER TRADING IS SUITABLE FOR YOU IN LIGHT OF YOUR CIRCUMSTANCES, KNOWLEDGE AND FINANCIAL RESOURCES.     
On Friday the USDA will release their estimates for new crop soybeans for the first time on a Monthly WASDE report.  This has the trade thinking about what the prospects are for new crop soybeans.  With the potential for record world stocks going in to what looks like record US planted acreage what should we expect for new crop soybeans?  
 As always weather will be the biggest determining factor for the soybean crop.  And, although long term weather forecasts can be very wrong, forecasters are looking for a moderate El Nino summer weather pattern which could be very beneficial to the soybean crop.  If this weather pattern were to verify it could mean good yields for soybeans.  On the other hand, hot and dry conditions in the plains have some weather forecasters drawing comparisons to conditions in 1936 when the US had a major drought year.  If the hot and dry conditions in the plains were to spread to the key soybean growing areas there could be a major production issue.  This situation will need to be watched closely, but for now the vast majority of weather analysis are looking for a good growing season for soybeans.  We are currently estimating the national average soybean yield at 44.9 bushels an acre.  This would be .3 bushels an acre lower then the USDA's trendline yield.  We are looking for a lower then trendline yield even with good weather because some of the acres soybeans will be picking up may be "fringe" acres which could have a slightly negative impact on the national average yield.  
CME Options On Futures: The Basics: http://www.zaner.com/offers/?page=9&ap=tseifrie   
Acreage will be the other big determining factor in soybean production this year.  According to the USDA Prospective Plantings report we are looking for 81.5 million acres of soybeans to get planted.  This would be a record number of acres planted to soybeans in the US.  And, with planting delays in corn soybeans may be actually gaining some acreage.  We feel soybeans could still gain upwards of 1 million acres yet, but for now we are estimating soybean planted acreage at 81.8 million acres, 300,000 acres higher then the USDA prospective Plantings estimate.  We are also estimating harvested acreage at a conservative 80.5 million acres.  
The demand side of the equation is an interesting question.  Currently the USDA is estimating a 260 million bushel increase from 2012/2013 to 2013/2014.  This is almost all coming from a record pace of exports.  Looking back at the last few months it looks likely that China double booked their Feb-May needs from both the US and South America.  The idea was that if South America were to have major harvest delays like in years past they would take delivery on the US purchases, but if South America were to get moving quickly (as they did) then the plan was to take the South American shipments and cancel the US shipments.  So, when South America was able to move forward with harvest in a timely manner and get soybean shipments rolling China went to cancel US bookings but they were told they couldn't.  This eventually caused a big problem in China and sent them scrambling to try to cancel the lower priced South American soybeans, some of which ended up getting repurchased by the US.  This was not the situation the Chinese had in mind.  So, we think it is likely that the Chinese will not make that mistake again.  This could mean that China may not be as aggressive of a buyer next year if the South American crop looks good.  Currently we think exports could come down 40 million bushels next year but domestic crush could increase 30 million bushels putting our total usage estimate at 3.350 billion bushels.  
Zaner Ag Hedge's new crop soybean estimate -
With a harvested acreage estimate of 80.5 million acres and a yield of 44.9 our production estimate is 3.615 billion bushels.  Adding 130 million bushels for carry in we get a total supply of 3.745 million bushels.  Our total use estimate is 3.350 billion bushels.  This leave us with our current new crop soybean ending stocks estimate of 395 million bushels.  Again, weather will play a big role in determining soybean production and our estimate assumes normal weather as well as normal South American production.  
Sign up for our Morning Ag Hedge newsletter!  Sign up here: http://www.zaner.com/offers/?page=17  
This would represent on of the largest soybean ending stocks numbers in recent history.  It seems that after years of high prices in soybeans the world may have overcompensated for production.  If weather is normal for the next US and South American growing seasons soybean prices could move lower to reflect the large world supply of oilseeds.  
Feel free to give me a call or shoot me an email if you would like to talk about your marketing plan, the markets, weather, or just to visit.     
July Corn Daily chart: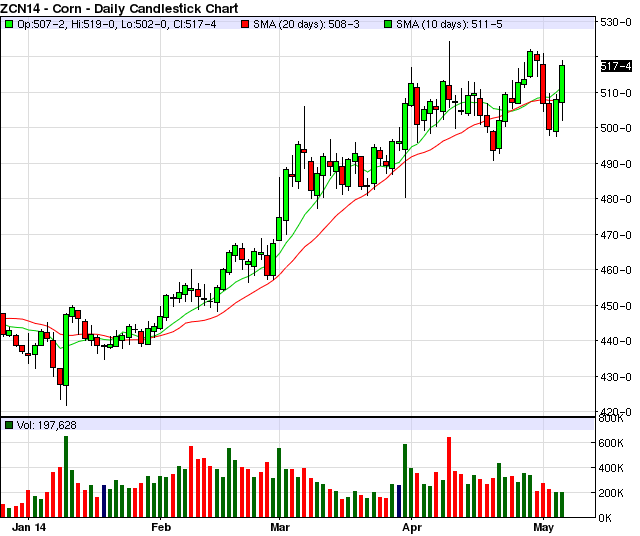 July Soybeans Daily chart:
July Wheat Daily chart:
All this means that speculators should be looking for opportunities and producers need to look to lock up some prices. Give me a call for some ideas. In particular, producers looking to hedge all or a portion of their production may be rather interested in some of the options / options-futures strategies that I am currently using.
In my mind there has to be a balance. Neither technical nor fundamental analysis alone is enough to be consistent. Please give me a call for a trade recommendation, and we can put together a trade strategy tailored to your needs. Be safe!
Ted Seifried (312) 277-0113 or tseifried@zaner.com
Additional charts, studies, and more of my commentary can be found at: http://markethead.com/2.0/free_trial.asp?ap=tseifrie
Futures, options and forex trading is speculative in nature and involves substantial risk of loss.  This commentary should be conveyed as a solicitation for entry into derivitives transactions.  All known news and events have already been factored into the price of the underlying commodities discussed.  The limited risk characteristic of options refers to long options only; and refers to the amount of the loss, which is defined as premium paid on the option(s) plus commissions.
FOR CUSTOMERS TRADING OPTIONS, THESE FUTURES CHARTS ARE PRESENTED FOR INFORMATIONAL PURPOSES ONLY. THEY ARE INTENDED TO SHOW HOW INVESTING IN OPTIONS CAN DEPEND ON THE UNDERLYING FUTURES PRICES; SPECIFICALLY, WHETHER OR NOT AN OPTION PURCHASER IS BUYING AN IN-THE-MONEY, AT-THE-MONEY, OR OUT-OF-THE-MONEY OPTION. FURTHERMORE, THE PURCHASER WILL BE ABLE TO DETERMINE WHETHER OR NOT TO EXERCISE HIS RIGHT ON AN OPTION DEPENDING ON HOW THE OPTION'S STRIKE PRICE COMPARES TO THE UNDERLYING FUTURE'S PRICE. THE FUTURES CHARTS ARE NOT INTENDED TO IMPLY THAT OPTION PRICES MOVE IN TANDEM WITH FUTURES PRICES. IN FACT, OPTION PRICES MAY ONLY MOVE A FRACTION OF THE PRICE MOVE IN THE UNDERLYING FUTURES. IN SOME CASES, THE OPTION MAY NOT MOVE AT ALL OR EVEN MOVE IN THE OPPOSITE DIRECTION.