Published on:
15:31PM Jul 10, 2014
TRADING COMMODITY FUTURES AND OPTIONS INVOLVES SUBSTANTIAL RISK OF LOSS AND MAY NOT BE SUITABLE FOR ALL INVESTORS. YOU SHOULD CAREFULLY CONSIDER WHETHER TRADING IS SUITABLE FOR YOU IN LIGHT OF YOUR CIRCUMSTANCES, KNOWLEDGE AND FINANCIAL RESOURCES.       
On June 30th the USDA shocked the grains markets with it's Planted Acreage and Quarterly Grain Stocks reports.  With the July WASDE report approaching the question is - will the USDA shocks us again?  
The June 30th reports were shockingly bearish for grains.  For soybeans stocks numbers came in higher then expected suggesting that the old crop situation may not be as tight as once thought and for new crop soybeans acreage came in well above the range of guesses.  Corn also had a big surprise as stocks came in above expectations.  This report came at a time where soybeans were looking for direction and this report certainly gave us that.  This time around the market has already been dealt the game changing card and has been under significant pressure leading up to it.  So, after the June 30th report it may be difficult to get a bearish shock on this July WASDE report, but it still could happen.  
The key to the July WASDE report will be how the USDA decides to apply the new acreage and stocks numbers to their balance sheet.  For corn an unchanged acreage number and higher then expected quarterly grain stocks could mean that the USDA will need to lower demand for this year and possibly next year as well.  This will also likely mean higher beginning stocks for new crop corn which will likely add to ending stocks.  
For soybeans the new crop carry over number is the biggest burning question.  Here too, larger then expected quarterly grain stocks could mean slightly less demand for this year and bigger beginning stocks for next year.  But, the biggest surprise on the June 30th report was soybean acreage which came in well above even the highest trade guess.  How the USDA handles this increase in acreage and therefore increase in production on the new crop balance sheet is key.  
We have awesome CRB wall charts to give out!  They are weekly bar charts that go back 10 years to Oct, 2003 and are about the size of a poster.  If you'd like one sign up here - Soybeans: http://www.zaner.com/offers/index.asp?page=21  
CME Options On Futures: The Basics: http://www.zaner.com/offers/?page=9&ap=tseifrie    
With a 3.3 million acre increase in soybean planted acreage the USDA's production estimate is expected to increase.  At this point an argument could be made for the USDA to either slightly raise or lower their national average yield estimate.  However, it seems highly unlikely that the USDA makes any adjustments to yield this early in the growing season.  So, at 45.2 bushels an acre a 3.3 million acre increase represents about a 150 million bushel increase in production.   
If we leave the demand side of the current USDA balance sheet unchanged and simply tack 150 million bushels on to ending stocks then we end up with a relatively huge ending stocks estimate of 475 million bushels.  For comparison old crop ending stocks were last projected at 125 million, last year was 141 million, the last USDA estimate of new crop was at 325 million and the average trade guess is 418 million.  So, if the USDA does not adjust demand numbers then a 475 million bushel ending stocks number for new crop soybeans could shock the market.  
On the other hand, the USDA may choose to offset much of the additional production with increased demand.  If they were to increase demand by 150 million bushels and leave new crop ending stocks at 325 million bushels this could be a shockingly bullish surprise compared to the average trade guess of 418 million bushels.  
We feel the USDA will increase demand 60 million bushels (25 crush + 35 exports).  This would put new crop ending stocks at 421 million bushels which would be slightly above the average trade guess.   The bigger question might be - after being down sharply in front of this report could we rally if this report is mostly neutral to slightly bearish compared to trade expectations?  
Sign up for our Morning Ag Hedge newsletter!  Sign up here: http://www.zaner.com/offers/?page=17  
Feel free to give me a call or shoot me an email if you would like to talk about your marketing plan, the markets, weather, or just to visit.     
December Corn Daily chart: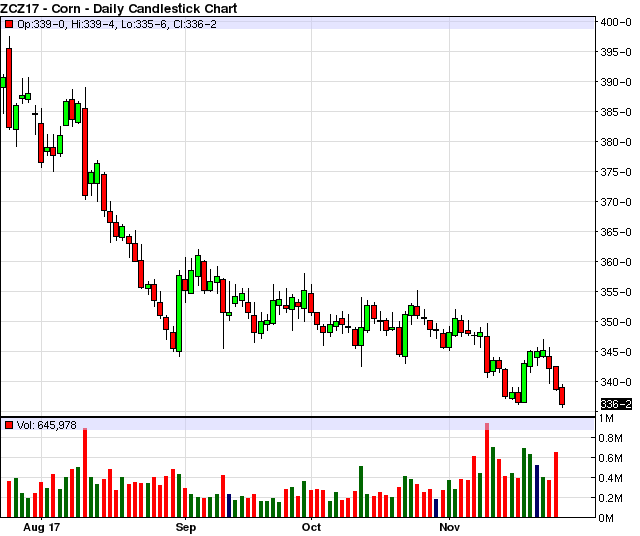 November Soybeans Daily chart: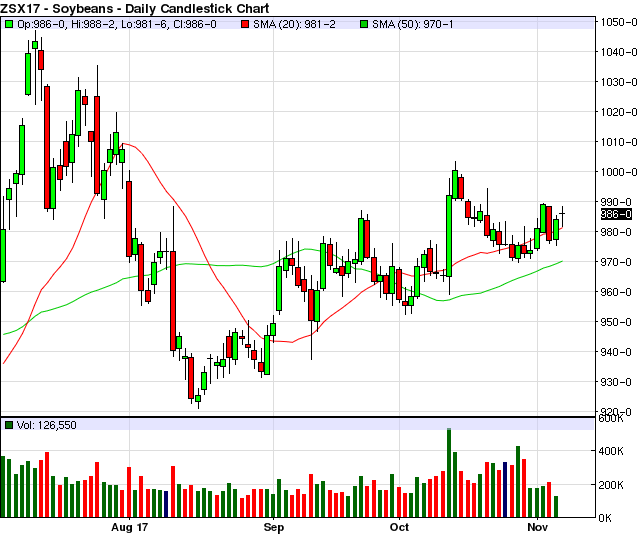 December Wheat Daily chart: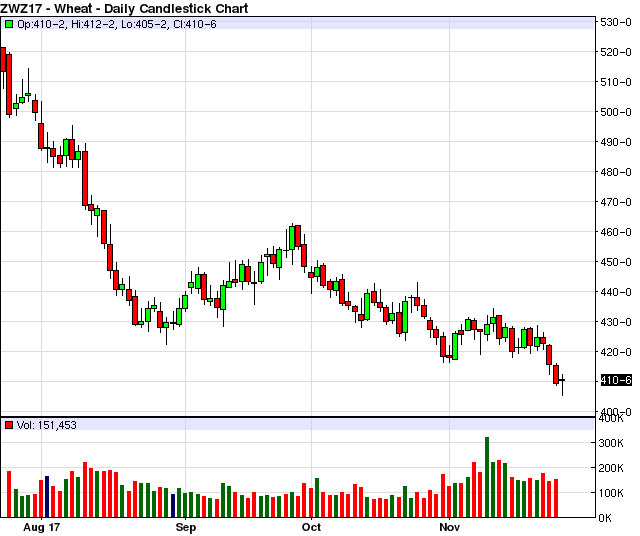 All this means that speculators should be looking for opportunities and producers need to look to lock up some prices. Give me a call for some ideas. In particular, producers looking to hedge all or a portion of their production may be rather interested in some of the options / options-futures strategies that I am currently using.
In my mind there has to be a balance. Neither technical nor fundamental analysis alone is enough to be consistent. Please give me a call for a trade recommendation, and we can put together a trade strategy tailored to your needs. Be safe!
Ted Seifried (312) 277-0113 or [email protected]
Additional charts, studies, and more of my commentary can be found at: http://markethead.com/2.0/free_trial.asp?ap=tseifrie
Futures, options and forex trading is speculative in nature and involves substantial risk of loss.  This commentary should be conveyed as a solicitation for entry into derivitives transactions.  All known news and events have already been factored into the price of the underlying commodities discussed.  The limited risk characteristic of options refers to long options only; and refers to the amount of the loss, which is defined as premium paid on the option(s) plus commissions.
FOR CUSTOMERS TRADING OPTIONS, THESE FUTURES CHARTS ARE PRESENTED FOR INFORMATIONAL PURPOSES ONLY. THEY ARE INTENDED TO SHOW HOW INVESTING IN OPTIONS CAN DEPEND ON THE UNDERLYING FUTURES PRICES; SPECIFICALLY, WHETHER OR NOT AN OPTION PURCHASER IS BUYING AN IN-THE-MONEY, AT-THE-MONEY, OR OUT-OF-THE-MONEY OPTION. FURTHERMORE, THE PURCHASER WILL BE ABLE TO DETERMINE WHETHER OR NOT TO EXERCISE HIS RIGHT ON AN OPTION DEPENDING ON HOW THE OPTION'S STRIKE PRICE COMPARES TO THE UNDERLYING FUTURE'S PRICE. THE FUTURES CHARTS ARE NOT INTENDED TO IMPLY THAT OPTION PRICES MOVE IN TANDEM WITH FUTURES PRICES. IN FACT, OPTION PRICES MAY ONLY MOVE A FRACTION OF THE PRICE MOVE IN THE UNDERLYING FUTURES. IN SOME CASES, THE OPTION MAY NOT MOVE AT ALL OR EVEN MOVE IN THE OPPOSITE DIRECTION.