Published on:
09:04AM Jul 31, 2019

With nothing that can realistically be classified as "fresh" positive news, the path of least resistance as we close out the month of July has without question been to the downside.  Bother beans and wheat have yet to venture into new low territory, but the corn market has now been pressed into the lowest levels trade since prices gapped higher at the end of May.  Do recognize that markets are not required to think rationally, particularly over short periods of time, but when the price of corn gapped higher after the Memorial Day weekend, it was primarily due to the fact that the trade was acknowledging we were not going to plant intended acreage and that the majority of that which would be planted, would be at a much later date than optimum.  Realistically none of that has changed, despite the erroneous June acreage report, so theoretically to push and hold price now below this gap level would be suggesting it has. Granted I recognize that it will take at least until the release of the August crop report where the USDA will reportedly incorporate the prevented plant acreage figures before we have a universal number to work with but it until that has been revealed, I find it hard to believe we will remain below this mark.  Combine this with the fact that we are now completing a 50% retracement of the entire calendar year range, have daily indicators are oversold as we have been since April and we sit on month-end cycle counts, I suspect the bears moment of glory will soon be exhausted.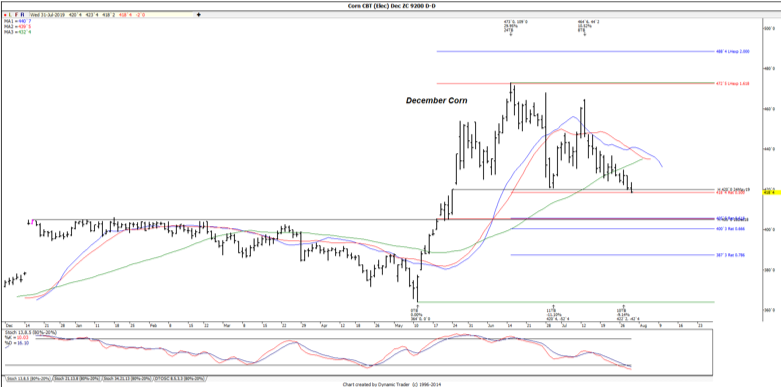 There is really nothing concrete to report from day one of the renewed U.S./Chinese trade negotiations.  It had been reported that ag trade was explicitly discussed, but that was the extent of detail.  A representative from the Chinese ministry stated that "candid, highly efficient, constructive and deep exchanges" were had, which only goes to prove that Chinese officials are as well versed in making statements that say nothing, as their U.S. counterparts are.   
One interesting China-related news item this morning though is a report that a Chinese delegation will be visiting Argentina next month to discuss possible soymeal imports.  In the past, China has been reluctant to import meal in an effort to sustain its domestic processing industry, and Argentina, in turn, wants to export meal.  Already China is the number 1 Argentine bean customer, and you can imagine they would love to make meal a priority as well. Once again, it would appear that we are witnessing the long-term ill effects of a trade war.
Strategie Grains of France issued their weekly update for the wheat crop in that nation and boosted the estimate by 700,000 MT.  They now have it pegged at 38.98 MMT, which compares with last year production of 33.8 MMT.  
Finally, Bunge Ltd. finally has some good news and reports net income for the last quarter of $205 million.  This compares with a year ago when they lost $21 million.  It turns out that North American operation continue to struggle, but results were strong in South American, and interestingly enough, it was noted that their investment in Beyond Meat, who we wrote about yesterday, contributed to the positive result.