Published on:
09:16AM Jul 25, 2019

The grain markets continue to struggle with a rather benign weather outlook for the next week or so but before they completely stumbled,  still managed to pass the bull-baton over to beans who have anxiously been waiting for an opportunity to try and forge ahead and show us just what they are made of. Unfortunately, the energy drink they are sipping to try and reinvigorate their flabby muscles may not have the right nutrition to carry them far.  As we discussed yesterday, late last week Chinese official told the crushing industry that they were ready to approve tariff (25%) exemptions on bean purchases from the United States for up to 3 MMT.  This, combined in so many ways, with the fact the Robert Lighthizer and the rest of the U.S. trade negotiation team are headed for Beijing next week appears to be the driving force that has lifted prices again this morning.  There is no question that opening the door for face to face negotiations, for the first time since June by the way, is a step in the right direction, but we have witnessed this so many times over the past year and a half, it is almost surprising that the trade gets any kind of rise out of it.  Combine this with the fact that even with the tariffs removed, U.S. beans are not competitive with Brazil and one has to suspect that any purchases would be symbolic. I am going to go out on a cynical limb here (which is where I am often perched) and say that we may not see an agreement reached with China until 2020 as to provide maximum election year impact. Do keep in mind that even with this second day of strength, November beans have not quite made it back to the unchanged mark for the week.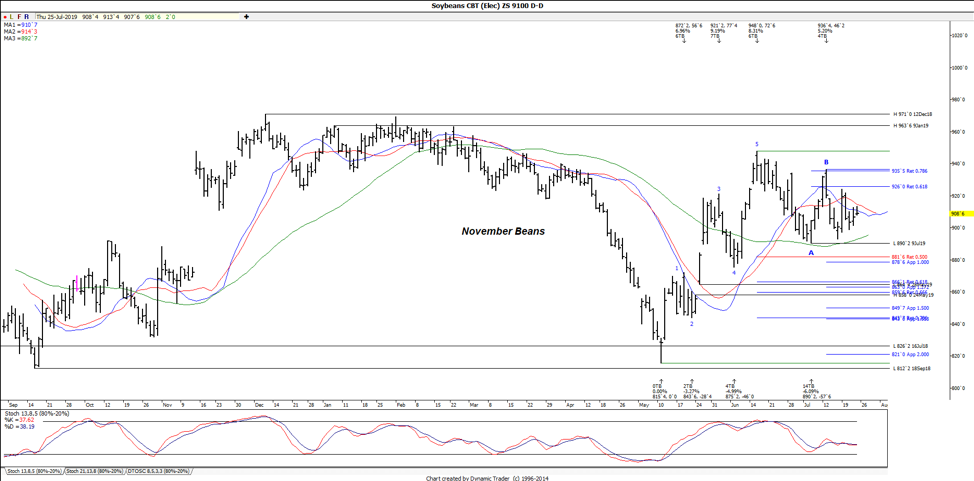 While it has not had much of an impact on prices yet, the wheat market has received a little positive news in the past 24-hours.  The North-central North Dakota tour is underway and is reporting quite a bit of variability.  Early planted wheat is expected to produce average to above-average yields while the later planted, just the opposite.  Really, no surprise there.  In addition to that, it sounds as if the frost damage in key Brazilian wheat areas could cut production by as much as 16%.  This nation is already one of the world's largest importers of wheat, much of it from Argentina, and this should increase that demand even further. 
It would appear that the only U.S. commodity that is seeing any revival in demand is wheat. For the week ending July 18, we sold 659,700 MT or 24.24 million bushels of that commodity.  This was 90% above last week and 74% above the 4-week average. Japan was the number one purchaser with 143.3k MT, followed by Unknown destinations taking 105.3k MT and then Mexico with 91.3k MT.  Corn sales, in turn, were a lowly 121,200 MT or 4.77 million bushels.  This was 39% below last week, which was not stellar, to begin with, and 59% below the 4-week average.  Japan was the top purchaser with 65.2k MT, followed by Mexico at 46.5k and then Colombia with 32.2k.  I saved the worst for last as once again beans witnessed more cancelations that purchases as we posted a negative 78,200 MT or -2.87 million bushels. There were new sales to unknown destinations of 57.7k MT, South Korea at 26k and Indonesia of 21.8k but decreases from China -148.4k, Taiwan -27.2k and Canada -18.4. On a slightly brighter note, we did record 223,700 MT or new crop sales, and meal sales were solid at 87,300 MT.