Published on:
09:20AM Jul 09, 2020
Undoubtedly, one of the most dangerous things in business and dare I say life is people's tendency to grow complacent with the status quo.  It is oh so easy to be lured into the trap of believing nothing will change, particularly without some type of cataclysmic event that will upset the apple cart, metaphorically speaking.  So, we put on the blinders, assume, along with most everyone else, that the ship will never alter course and fail to heed the warning of Poor Richard, aka, Benjamin Franklin, "If everyone is thinking alike, then no one is thinking."
This has possibly been personified in the action in the wheat market as of late.  Realistically since January, this market has been trending lower on the assumption that you can produce wheat just about anywhere in the globe, and with ample world inventories, you can rest assured that there is little risk in witnessing upward price movement. There is no denying this has been a pretty effective strategy over the past six months. It has also allowed the trade to ignore problems cropping up here and there worldwide basically.  None necessarily major, but if you chip away at a foundation long enough, eventually, the structure becomes a bit unstable.  For some time, we have known that acreage here in the U.S. is at the lowest level in over a century and that Russia, Ukraine, and the EU (including Britain) are all looking at reduced crops this year but that has done little to shake many bears who have grown a bit fat and lazy from all their feasting.  After all, isn't Australia finally going to raise a good crop after three failures in a row?
Interestingly enough, a report from another Southern Hemisphere country seemed to have shaken a few of the bears from their stupor.  Citing dry conditions, the Buenos Aires Grain Exchange trimmed the area planted to wheat by 400,000 hectares and cut the production forecast from 21 to 22 MMT to the 18 to 19 MMT range.  Comparatively, this would not seem to be an earth-shattering change, but it seemed to function as the final drop of water that was enough cause the unstable bucket to topple over.  Granted, this could turn out to be another flash in the pan, and this market will soon return to its bearish tendencies, but I would point out the longer-term technical picture for wheat, as well as corn and beans appear to be turning positive.  This is not to say that we have massive upside potential just yet, but at least could suggest the advance could extend more in time and price than the current fundamental picture that everyone assumes is set in stone, would call for. In over forty years in this business, one of the things I have learned is that when long-term technical signals shift, even though there is no fundamental reason to embrace them, it is probably the right thing to do. "Ours is not to reason why ours is just to sell and buy."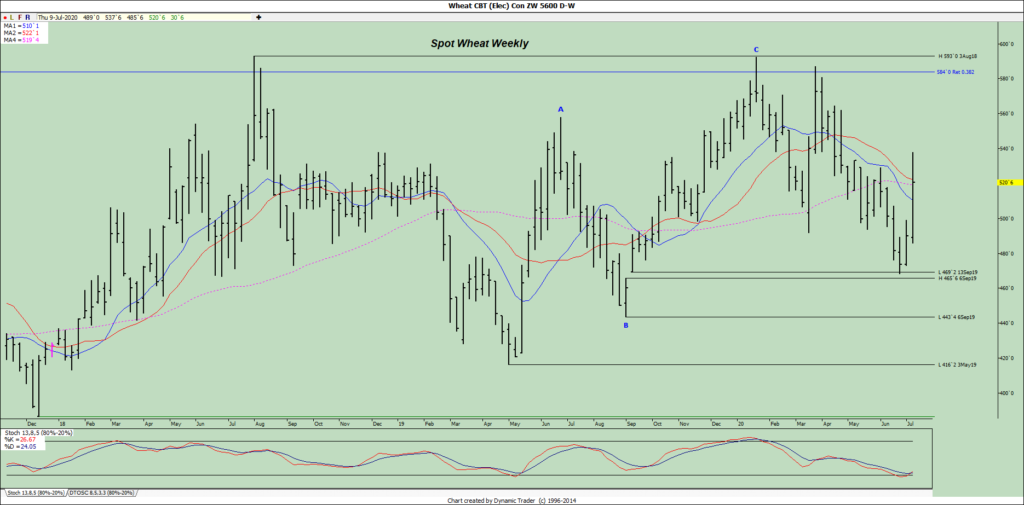 Weekly export sales on out on scheduled and we have respectable numbers for both corn and beans.  For the week ending July 2nd, we sold 599,200 MT or 23.6 million bushels for the current crop year.  China was the top purchaser with 407.2k MT, followed by Colombia at 102.5k and then Mexico with 90.6k. The for the 2020/21 crop year, we notched sales of 409,300 MT or 16.1 million bushels, bringing the combined total for the week to just over 1 MMT.  For current crop year beans, we sold a total of 952,200 MT or 35 million bushels.  China took 48% of these or 461.4k MT, followed by Indonesia for 131k and Pakistan for 70k.  We sold an additional 382,100 MT or 14 million bushels for new crop, of which China bought 50%. This brought the combined weekly total to 1.334 MMT.  Wheat was the lagger this week with sales of 326,100 MT or just under 12 million bushels.  Mexico was the top purchaser with 139.4k MT, followed by the Philippines taking 73k and then Ecuador for 32.2k.  For the 2021/22 crop year, there were cancelations of 75k. Looking down the rest of the list, we find that China also purchased 50.9k MT of sorghum, 22,000 RB of cotton, 427,100 whole cattle hides, 1,000 MT of beef, and 8,100 MT of pork.
The initial weekly jobless claims dropped another 99,000 but still registered 1.314 million.
Tomorrow will bring us the July "word of gov," and once again, here are the trade estimates: Domestic corn production 15.04 billion bushels using an average yield of 178.5 bpa.  The soybean crop is expected to total 4.15 billion with a yield of 50 bpa.  All wheat production is expected to come through at 1.848 billion.  Carryout estimates for the current crop year place have corn at 2.277 billion and beans at 584 million, and for 2020/21, they are looking for 2.683 billion corn, 416 million beans, and 948 million wheat.  2019/20 global ending stocks are expected to total 315.07 MMT of corn, 99.35 MMT beans, and 297.3 MMT wheat.  Then for 2020/21, they are projected to come through at 324.84 MMT corn, 96.71 MMT beans, and 315.89 MMT wheat.
Not a tremendous amount of action in the macros this morning.  Energies are a smidge lower, as is gold.  Take note, though, spot gold pushed above $1800 per ounce for the first time since 2011 yesterday.  Financial instruments are flat, equities are struggling to hold unchanged, and the US dollar is fractionally lower.