Published on:
06:35AM Sep 19, 2019
While I thought news was difficult to come by yesterday morning, little did I realize that was just a primer for this morning.  Yes, export sales will be released in a couple of hours, but I will be traveling this morning so will not be around for the release. It may not matter anyway as outside of knowing that we will see the recent Chinese bean purchases and Mexican corn reflected in the numbers, will probably not hold anything overly inspiring. The trade is looking for corn sales in the 900k to 1.3 MMT range, bean between 700k and 1.0 MMT and wheat between 300k and 600k MT.
The most critical ag specific, or maybe better-stated corn specific story this morning is that again today, President Trump will be meeting with Senators to try and thread the needle, and come up with a biofuel plan that will calm the fury (and buy back votes) in the farm sector while simultaneously keeping the refiners happy.  Good luck with that.  It seems that the defense line so often used by the oil/refiners lobby is that these so-called "small" refiners who have been exempt just cannot survive with any increased blending requirements and as they employ 1,000s of blue-collar energy workers, i.e., voters, and it would be unfair to saddle them with these burdens of bio-fuel requirements.  I guess that means the 1,000's of employees in the ethanol and biodiesel industries, let alone the farmers producing the crops don't really count in the same capacity. Obviously, at last week's meeting, the idea of expanding the quantity of biofuel that would be required to be blended was bantered around but if they are exempting small refiners, will that mean that large refiners will be required to pick up the slack?  That idea has been suggested and as you might suspect, was not warmly embraced by refiners.  I understand that there will need to be some type of agreement by the end of November to put it into effect in 2020, so we should soon learn precisely what the "Art of the Deal" means. 
China continues to make moves to increase the availability of meat for it billion-plus citizens and released another 10,000 MT of pork, 2,400 MT of beef and 1,900 MT of mutton from state reserves for the National Day Holiday just ahead.  As I have noted previously, the price of pork pushed up to record levels last month.  While it will not provide any immediate relief, it has also been announced that China has granted export licenses to more Argentine meat processing plants. Last week they approved seven Argentina poultry plants and previously have issued licenses to 25 different Brazilian meatpacking plants.  Needless to say, it is unfortunate that the U.S. meat industry has not been able to really capitalize on the situation in China as it is sorely needed.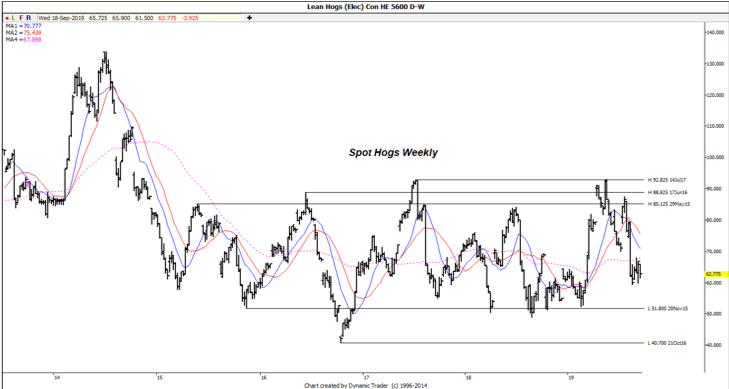 As expected, the Federal Reserve did lower the Fed Funds rate by 25-basis points yesterday and kept the door open for additional cuts later this year, but by no means was it a unanimous decision.  Seven members voted in favor of the cut, two against and one was in favor of a 50-basis point cut in rates.  The dollar actually bounced higher yesterday but has turned lower again this morning and remain quite close to slipping over the edge for a more significant correction.