Published on:
10:28AM Jul 07, 2020
With increased potential for a few showers to pop up in the Midwest next week, grain and soy markets have deflated a bit this morning.  Granted, any moisture would be highly variable, and with the temperatures we are experiencing, it would undoubtedly evaporate rather quickly, but in many people's minds, the adage, "rain makes grain," will always have a nice ring to it.  Anyway, it is Tuesday Undo Day.
The CFTC confirmed what everyone was expecting, and that is large speculative funds were active buyers last week.  During the week ending June 30th, they purchased over 15,000 contracts of Chicago wheat, 4,100 KC wheat, almost 26,000 soybeans, and over 77,000 contracts of corn.  This was the largest weekly buying spree in corn by that group in a year. Keep in mind though, they remain short over 242,000 contracts.  The only grain/oilseed market that large specs were sellers in was soymeal, where they added 8,190 contracts to their already short position.  Ouch, that might sting just a bit.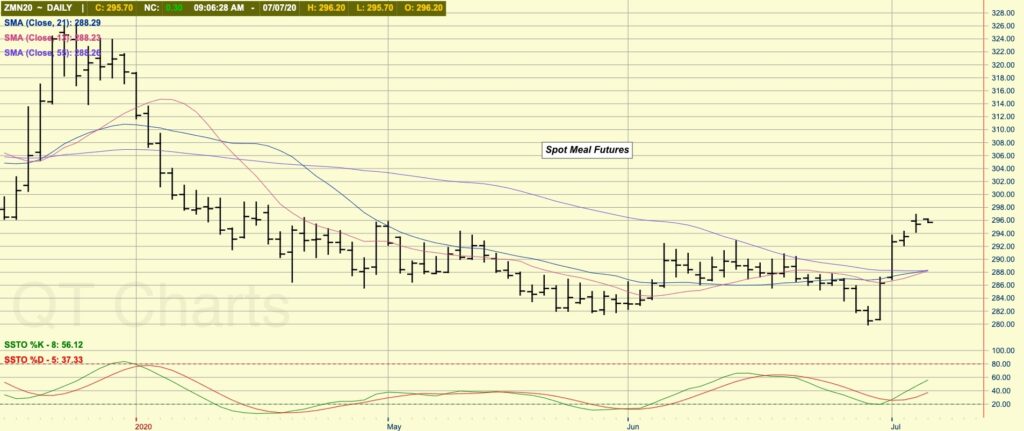 There were no surprises in the weekly crop updates, as hot/dry conditions did take a toll on the corn condition, slipping 2% to 71% good/excellent.  One has to suspect we will see a similar drop again next week.  Bean conditions remain unchanged at 71% good/excellent, and spring wheat increased 1% to 70%.  Winter wheat harvest moved up to 56% complete, 1% ahead of average, and cotton condition improved 2% and stood at 43% good/excellent.  Last year at this time, cotton was rated 54% gd/exec.
Looking to South America, it is now estimated that the Safrinha corn harvest has reached around 25% complete, and the Argentine corn harvest 82% complete.  The locust swarm that was raising concern a week ago is reportedly now under control in both of these nations, after a concerted spraying effort as well as cooler temperatures.
It seems we can never go more than a few days without talking about the next government report, which in this case will be the July production and supply/demand estimate to be released this Friday.  These figures will reflect the acreage revisions from last week, but the yield estimates will still be derived from statistical analysis, not farm surveys or physical measurements.  Here are trade estimates: Domestic corn production 15.04 billion bushels using an average yield of 178.64 bpa.  The soybean crop is expected to total 4.15 billion with a yield of 49.97 bpa.  All wheat production is expected to come through at 1.848 billion.  Carryout estimates for the current crop year place have corn at 2.277 billion and beans at 584 million, and for 2020/21, they are looking for 2.683 billion corn, 416 million beans, and 948 million wheat.
There is not much to report even in the macro markets this morning.  Energies are fractionally lower, gold is higher, equities are lower, returning a portion of yesterday's strength, and the dollar is higher, but only marginally so.  The International Council of Shopping Centers reported that Retail Sales last week were down 10% from a year ago, and Redbook reported a decline of 6.9% year over year.  Neither figure comes as a surprise, but there do appear to be growing signs that the initial economic rebound may be sputtering.