Published on:
13:41PM Apr 02, 2015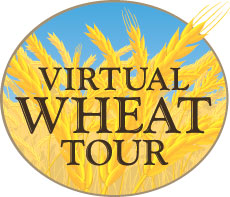 Keep your acreage, weather and crop comments coming in! Use this link to send us your comments about your wheat production and marketing decisions. Be sure to send us your photos and videos! Comments will be edited for brevity and clarity. (Please keep your comments crop-related.)
Here's a sampling of what some folks are saying: 
12/7/2015 Pembina County, ND: 

Wheat harvest around 60 bu/a would normally be real nice, but with $4.50 to $5.00 it will not cut it. Inputs are out of line—$100 fert., $20 seed\treat, $20 weeds,fungicide,/grass control, $22 fungicide in heading, $15 roundup harvest aid, $18 (some are doing liquid N to boost protein), $100 to $200 rent-----All this expense with no labor, fuel, etc even accounted for and using antique machinery

12/7/2015 Pembina County, ND: 

Wheat at 60 bu/a would be great, but doesn't pencil at $4.50 to $5.00. With inputs of $300 , fert., seed, fungicides, weed control, pre-harvest dessicants, Liqiud N for protein, then protein discounts, basis deducts, land rent, labor, machine cost, ----- $400 input vs $300 return doesn't cut it. We need $7 to $8 wheat to make anything, assuming we don't get a year with 40 bu.

12/1/2015 Marion County, KS: 

Finished sowing wheat a while back ,, not sure why we did it guess it's just a BAD HABIT. Wheat is not a cash crop anymore but more of just a cover crop. If we're supposed to feed the world maybe we should get paid a little for doing it. 

 

11/25/2015 Nance County, NE: 

Thank you 11-18-Hamilton Co. Ne. For a realistic concept of markets. This ninety year old Korean War veteran and Crop Comment contributor has witnessed a few ugly things including people starving inclines him to appreciate Gods gifts of plenty. Not being a farmer but an amateur photographer, When he sees a nice picture and captures it, he likes to share the image including the nice ears of corn protruding from the stalks and a nice looking soybean field appearing on Agweb Crop Comments. The barbs he received blaming him for lower prices only makes him smile.
 

11/13/2015 Cheyenne County, NE: 

Corn harvest is 50% or better. Wheat is spotty, emergence is not at all even. Conventional summer fallow is more evenly emerged than no till. Prices? Cash at 3.85, basis closed to .75 under KWZ. Contentious monthly chart looks scary. If 4.50 support gets blown out, it looks like 3.50 future less basis spells broke. 
 

11/11/2015 Yuma County, CO: 

Corn yields are good but below last years. Wheat stands are the worst I've seen in my almost 40 years of farming. Have had moisture but was too late as some wheat had already sprouted and died. Too late to replant. Future doesn't look real bright with commodity prices at well below cost of production.
 

11/4/2015 Delaware County, OH: 

First crop beans held on from all the spring rain, those who planted longer maturing varieties did better. Our long did 74bu/ac. the real surprise were the double crop beans afar wheat. All the soil moisture gave them a great start with some well timed later rain helped bring 30bu/ac. That helps to make up for the wet wheat earlier and lower prices now.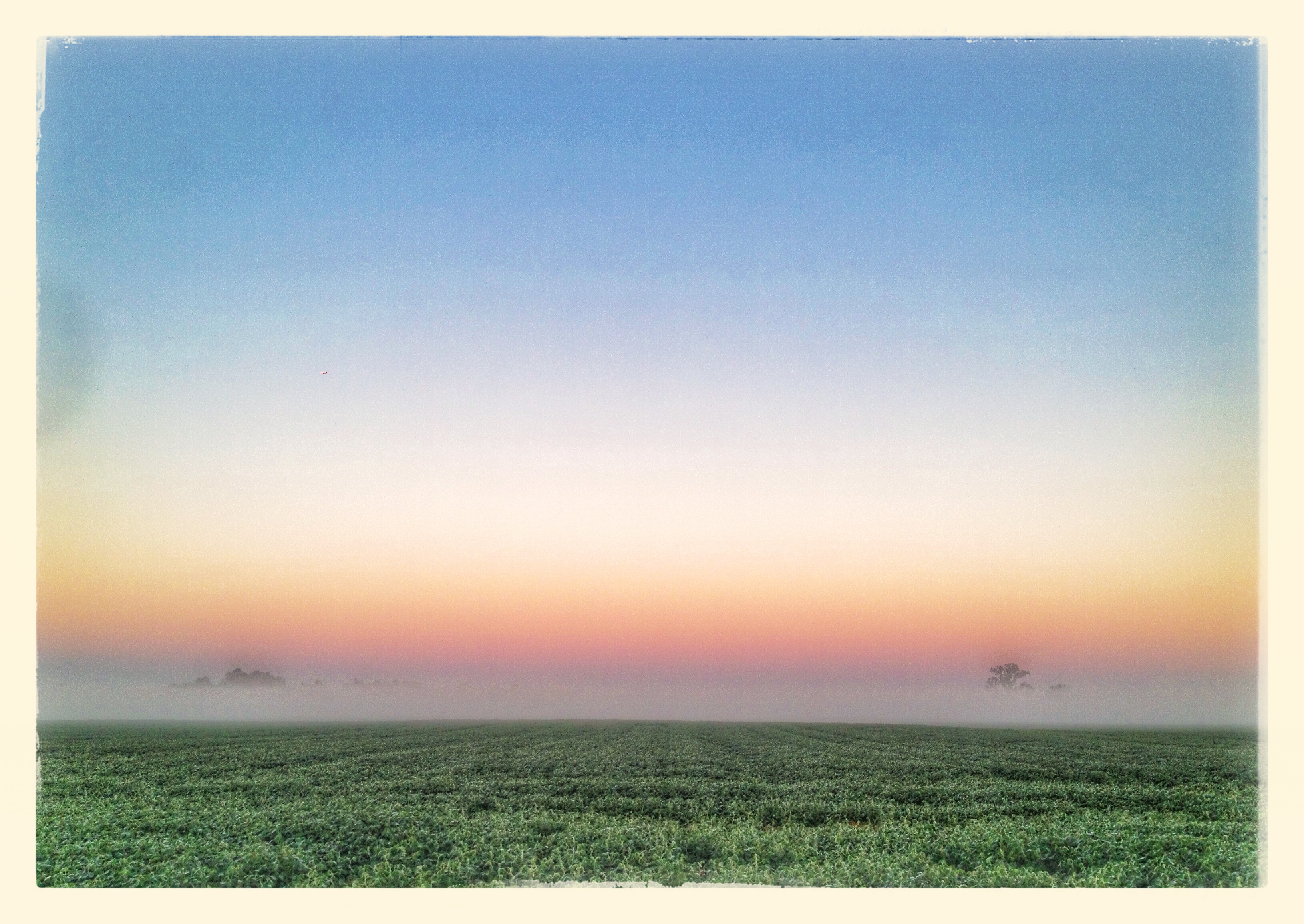 10/16/2015 Montgomery County, MO: 

dry dry dry after the wettest spring ever! seed wheat just sitting, this was sowed Oct 1. 

 
10/12/2015 Washington County, CO: High temp over the weekend was 91. Driest and warmest fall I've ever seen in my almost 40 years of farming. Wheat crop is planted with the worst emergence I've ever seen. Most of the time you have at least some wheat that looks good but not this year. With the markets where they're at its pretty depressing. Some talking about replanting but with seed at $10.00/Bu and the local cash price at $4.00/Bu after the horrible basis in our area it doesn't make much sense. Too dry to germinate anyway.
 

10/8/2015 Cheyenne County, NE: 

Wheat planting is wrapping up. Prices say will lose money on the 016 crop on rented ground. All has or will be planted by the weekend. All the wheat has emergence problems. No-till is worse than summer fallow tilled. Some no-till SF has come up and died, to dry and could not get to deeper moisture. Alot of wheat has been reseeded because of poor emergence.

10/6/2015 Montgomery County, MO: 

Flooding rain this spring: Corn around 100/A average, last yr 180-200 beans surprisingly good 50/a . very short but podded like crazy! pods better than stems! Stress em somehow next year...slow turning brush hog? Hail beans always set more pods. No guts no glory? wheat this year zero! Vomitoxin, sprouted, low test weight= zero! driest fall ever! sowing wheat in dust, bin'll bust. Yes sowed it in mud last year, the wheat was the bust! safety to all
 

9/8/2015 Banner County, NE: 

Wheat yields on my dry land wheat crop ranges from 37 bu/acre to 21 bu/acre with tare weight in some cases falling below 58 lbs/bu due to excessive rain. Yields were impacted by rust, saw fly, and freeze damage as well as excessive rain a couple of weeks before harvest, which also reduced the protein quality and tare weight. Wheat prices will hurt unless they go up significantly. Wheat at less than $4.00 per bushel won't break even for us. Dry land peas yielded well but again prices have dropped over $2.00 per bushel to under $5.00 per bushel. Millet yields will be in the 34 bu/acre range but again prices will make or break us on this crop this year. Values at less than $3.00 per bushel don't cut it.
 

9/3/2015 Cheyenne County, NE: 

Will KC Dec wheat take out the 4.50 on the long term (monthly continuation) chart? If it does is the next support at 3.30 to 3.25? With an 0.80 basis that puts cash HRWW at 2.45 to 2.50 locally. Can any one say broke?
 

8/31/2015 Marshall County, MN: 

After 6 inches of rain in this area last weekend, the picture tells the story 75% of our wheat was done, now its waiting for the ground to dry. Wheat has been running good 70 bu.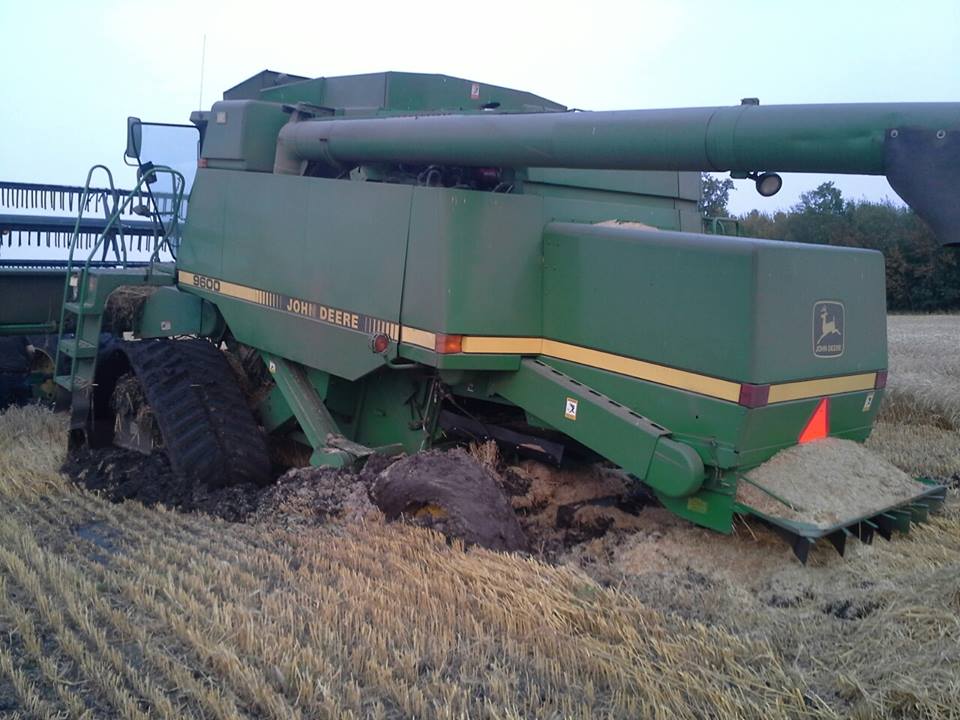 8/19/2015 Paulding County, OH: 

Wheat results were devastating. Less than 50% production. Toxin way up, test weight way down. Corn is decent. Off pace of last year by 25%. Beans look promising although some are knee high where other stands are waist high with corresponding pod counts. Definitely no where near the "bumper" the USDA is predicting.
 

8/18/2015 Ward County, ND: 

We are harvesting half the wheat crop we had in 2014. Too many problems with this year's wheat crop left many heads empty. Too cold of start coupled with rain during flowering made for very high fusarium levels. .I've heard the expression "60 bushel straw and 20 bushel wheat". I now know what that means after the 2015 harvest. 


 

8/17/2015 Richland County, ND: 

Small grain is nearing completion here but is just getting a good head of steam in the other parts of the state. Great crop and good quality for small grain. The corn here is very good to excellent for the most part. Soybeans are either very good or poor - early rains affected many areas so they were planted late or water logged. Even with a good crop, the inputs are way too high and I think businesses will find that there will be some unpaid bills. I don't really want to be a banker or farmer this year and next. Everyone knows someone will still plant the all the crops next year - how does anyone expect the cycle to change if we keep doing the same thing. When will the next ag boom come? I've only seen two in my lifetime and they were 35 years apart.
 

8/16/2015 Benton County, MN: 

The rain just can't quit here; small grain harvest is on hold until the ground can carry a combine. Rye yields in the 70 bushel range common, oats and wheat very good also with heavy test weight. Soybeans look good, but the corn is better. Locally, this is 140 aph soil with a 200 bpa crop beginning to dent. I doubt the soybeans can average 60 bpa (40 aph) although they are thick as dog hair. Driving around the township I see a lot of weedy bean fields, no meadows have been cut for hay.
 

8/11/2015 Montgomery County, MO: 

hello from 2015 spring flood central. our area crop report: corn: 80 bu corn LY 202 bu beans: 35 bu (at best)LY 60 wheat: 50 bu price $0.00 worth less, cant sell. What USDA will report corn 165 beans 45 most likely reduce acreage just slightly. but usda raising estimates wouldn't surprise anyone these days. This admin has always told it's citizens the truth right? If you like your usda, you can keep your usda!!!
 

8/11/2015 Walsh County, ND: 

Wheat and barley crops look ok. We've harvested only 60 ac barley so far....just average yield on a not so good soil type. We swathed 500 ac wheat last two days. I'm pleased with what I've seen, but of course, the combine will tell the story. Too much rain in late June and 1st half of July caused some damage in the dry bean crops, then two days of 50 mph wind really beat them up. Now we are praying for a rain to boost the soybeans, dry beans, sunflowers. What a year! 
8/10/2015 Cumberland County, VA: 

These are 4.5 to 5 foot tall soybeans. Last year, the beans got 55 bushels to the acre. They are even taller this year! There are 40 acres or so that look like this. They were planted in winter wheat last year and then cut it for hay this spring and then replanted with soybeans. I think this is largely fertilized with "chicken litter". 

 

8/7/2015 Livingston County, KY: 

beans to much rain, most are knee high. very bad wheat. corn fair to good. hay crop early cutting good most stll have not cut first cutting. wish crop reports were honest.
 

8/5/2015 Ward County, ND: 

Started wheat harvest and yields have been disappointing. Probably due to all the straw standing with no heads on it due to the two days of hurricane force winds. Laying so flat we just can't get it all. Lots of straw but only 20-25 bu yields. Lots of scab. Higher than last season. Some fields will not be harvested due to damage and quality. Grain buyers refusing some loads with high VOM already.  



8/4/2015 Mcintosh County, ND: 

We started harvesting field peas, above average crop, good quality good yield. We had .80 of rain in July, fall crops are showing signs of drought stress. The wheat has empty heads and some that are 50% filled. Looks like it will be above average crop. Should start on spring wheat next week. Have a safe harvest.

8/3/2015 Cheyenne County, NE: 

Finished with wheat a week ago. Yields were about average, 30-35 bu. / ac. One load had 11% protein, the rest ranged from 9.5 to 10.8. Hail took out some wheat in the NW part of the county that was ready to harvest. In the surrounding area, to the W and SW harvest is in the final stages. A lot of wheat will not be milling quality due rain before or during harvest.
 

7/28/2015 Buffalo County, NE: 

Finished wheat harvest about a week ago. 80 bu/a, excellent quality. The price simply sucked. Depending upon how much land taxes go up,($60/ac now) it may break even-after we have planted a feed crop for cattle to eat this fall/winter. Corn and beans look good. The big question remains whether their prices will do more than break even. And now cattle are starting to drop in price. Anyone who has played this game for long knew that 2010-2013 prices wouldn't last. Not sure why people continue to buy land at prices that take $7 corn to pay for.
 
7/23/2015 Lancaster County, PA: 

Delivered the last of my 2015 wheat crop yesterday. Will net in excess of 100 bpa final yield after deductions of 3% per point for moisture and average price of $6.00 off the combine. Applying fungicide on corn and soybeans as they reach the appropriate level of crop development. Many neighbors have beans lodging already. Some corn fields are being blown over with strong winds from thunderstorms. Most of these fields have come back over time, but some have been blown over twice. Do not know if they will come back the next time if there is a next time. The last of the wheat beans are emerging. Early corn on dairy farms will likely be ready for the silo in about 5-6 weeks. Likely the most variable corn crop I have grown in my 40 year career. (the first 20 years are a bit fuzzy however). In the same row within 200 yards you can go from some of the best corn you can hope for (250 bpa) to corn 3 weeks behind just pushing tassel and 3 feet shorter. Cannot line up the variability with anything regarding fertilizer, soil type, crop protection materials,  variety etc. I have corn that just sat there for 6 weeks at v5 to v7 doing nothing and now finally seems to have gotten in gear, but who knows. Full season beans and early double crop beans seems to have good promise, but we still have to navigate August weather. Moisture overall is adequate to slightly excessive, and we have finally had some higher 90 degree heat within the last week. The latest arrival of 90 degree temperatures for this area on record according to the local newspaper. 


 

7/21/2015 Minnehaha County, SD: 

Not much small grain here but oats are being harvested, haven't heard any yields! Need rain, things still holding on pretty good!
7/21/2015 Ward County, ND: 

Initial counts show a higher rate of scab in the 2015 wheat crop than the 2014 crop. Protein will be lower than 2014, yields will be lower than 2014. Lots of late season disease pressure and head scab, smut, tan spot, you name it we have it this season. Overall there will be poorer quality wheat than 2014. And 2014 crop was of poor quality. Where is the quality wheat going to come from this season? Two years in a row of problems with the wheat here. After last years steep discounts on the wheat crop, allot of acres got switched this season to soybeans after the losses with the wheat crop. So two years back to back of problems with the wheat crop I expect it to be very hard to find a field of wheat here for 2016!  
 

7/20/2015 De Kalb County, IN: 

Wow, another easy day in the field, just gotta love it  


7/19/2015 Marshall County, MN: 

10.84 inches rain here since July 4th, yesterday few sprinkles other wise has rained 8 days in a row. Ground is saturated water standing between bean rows, Wheat and barley laying down, barley is turning, its going to be a tuff harvest. 
 

7/18/2015 Deuel County, NE: 

wheat looked good since planted but turned out to be 60 bu./A straw and only 30 bu./A grain when the combines hit the field. Price crashing anyway of course while non farmers try to paint a rosy picture.  
 

7/18/2015 Williams County, OH: 

Finished wheat before last rain 40-70 bu. per @ .40 -2.80 per bu dock. vom and damage way to much water . Corn yellow nee high to tassel . Beans 4'' to 2 feet tall color starting to get better before last rain 2.5 inches on Fri. more heavy rain coming . Ready for #plant 16.  
 

7/17/2015 Ward County, ND: 

Lots of disease pressure in wheat. Crop started out good but has been on a steep downhill slide since boot stage. Fusarium, tan spot, rust, smut, you name it we have it this year. Crops are lodged severely all over. This will reduce yields and quality in the wheat. To much rain and the wrong time. I've seen mushrooms growing on the ground under the lodged wheat. Staying wet and dark for to long now.  
 

7/16/2015 Pike County, MO: 

wheat harvest definitely over. Elevators not buying it. test weight in the 40's, vomitoxin, sprouted kernels. one person spreading it back on fields with buggy. Another running it thru combine w clean grain door open leaving it windrowed for possible baling straw. A lot are trying burning, discing and mowing it down just tired of looking at it. guys STILL trying to plant this week and next. End of JULY! They say wheat is like a weed. I'm beginning to see why!
7/12/2015 Putnam County, IN: 

got 1.8 inches last night after only having about 2 inches in the last 8 days. before that we had 7 great, dry and sunny days. got wheat cut, straw baled and double crop beans planted on the 4th of july. wheat yield was way down but quality was really good. beans are already up and off to the races. corn crop in our area has gone down hill if it was planted after may 20th, early may corn looks like 200 bpa and after may 20th looks like 80 bpa. same way with beans, i'm sure we will have some 70 bushel beans and there will be some right down the road that make 25 ! 80 bushel corn at even $ 5.00 with the possibility of no insurance payment will turn out the lights for some guys this year! 
 

7/11/2015 Monroe County, MI: 

Anyone else seen this in your wheat? 


7/7/2015 Montgomery County, MO: 

was able to finish wheat last night at midnight. then rain again .8tenths. just a shower compared to the usual 2 '' we get. But more heavy rain forecast next couple days. Put wheat in bin. No buyers for low test weight vomitoxin and moisture. Never cut a dry load. Surprising the fields weren't too bad. 4' water packed it down? Ran 4wd all the time tho. Only took 3 weeks to cut 200 acres. Never ever in my 50 years of farming have I seen fields NOT get planted in such a large area of MO. What did get planted will have SDS in beans and very small ears on corn. Bet a lot of SDS in IL, IN too. guys talking about planting if they can next week JULY 15th! Guess we will too! cover crop I suppose.... We can bank on after this week's rain, it'll stop for rest of summer, right? After all planting time will be over then... people depressed here after 2 months heavy rain.
 

7/7/2015 Decatur County, IN: 

Finally got in a day(Monday) of wheat harvest. Yields are good, 90 bu per. Corn is holding up to the rains, but beans are going backwards. Southeast Indiana has been spared as far as 'extreme' rain but yields have been cut nonetheless.


6/27/2015 Buffalo County, NE: 

For the most part, crops here look pretty good. Corn has recovered from early hail/freeze damage and is gaining both color and height with the warmer temps of late. Soybeans are about to canopy, wheat is in the hard dough stage. For the most part, we have received ideal rains-never more than an inch at one time. Pastures have benefited from the rain as well and look very good. It is the unfortunate nature of our chosen occupation that the weather is such a huge factor in determining our success or failure in any given year. Good luck, and may God bless us all. 
 

6/26/2015 Montgomery County, MO: 

cut first wheat. 1600 bu. 16% moisture, vomitoxin @ 6. test weight 50. rutting up field. rained 5' next day. elevator told me to go home with it. pic is some of our better beans. plenty of moisture! 

 

6/26/2015 Mcleod County, MN: 

Looks like with all this wet weather we won't be having the "BURDENSOME" supply that the experts say were going to have. Beans up over a $1.00 in 10 days? Wheat up through the 200 day ma? I thought the "higher" dollar would keep a lid on prices, especially wheat. I guess not. It looks like the only good thing to come out of all this wet weather is we won't be producing a "BURDENSOME" crop this year. That's the last thing we as farmers would want to do. Be careful what you wish for. God help those that would actually make such an absurd comment.
 

6/26/2015 Chouteau County, MT: 

100 degrees or more for the next 3 days and no rain in sight. The winter wheat is turning and the spring wheat is burning. Harvest will be at least 2 weeks ahead of normal. 
 

6/24/2015 Walsh County, ND: 

An early spring start ended with the last field seeded June 12. We reseed 160 canola, but should have done more, the way it looks. Early wheat and barley crops look very good. Sunflowers and edible beans planted early June are doing ok. We have had 6 rains in June, but all have been a few days apart, and ranging from .25 to .85 each time. We could use more heat and sunshine. I feel for those that have gotten 20-30 inches this spring. We lived thru that nightmare in 1993.
 
6/24/2015 Haakon County, SD: very dry early. Most of the wheat taken out. Corn in and up. Trying to plant flowers have not turned a wheel for a week and a day. Wet.
 

6/23/2015 Garfield County, OK: 

Wheat is 10 to 15 bushel average with test weights around 57, muddy and weeds growing everywhere some fields won't be cut.  



6/22/2015 Saint Clair County, IL: 

Since last Monday I have received 6.6 inches of rain. The beans that I planted last Sunday and Monday are done. More rain predicted for most of the week, with very good chances for Thursday, Friday, and Saturday. Very good probability that a lot of beans around here wont even get planted. Have heard reports that the wheat is sprouting in the heads. That will be 2 years in a row of bad wheat, thankfully I don't have any. How much more of this are we going to have to endure?. I guess if the USDA keeps preaching everything is wonderful everywhere, even they will believe the lies.
 

6/17/2015 Montgomery County, MO: 

BEYOND WET! Wheat smells b/c it's rotting. Ever left a bale of straw out in rain? That's what it smells like here. Wheat turning black today....
 

6/10/2015 Denton County, TX: 

Still too muddy and wet to get combines into fields. Wheat stalks are rotten, grain has massive sprout damage and is lying flat on the mud. Had thunder showers yesterday. Give me back the drought over this rotten wheat and nasty mud! Great to hear from Washington that we are going to average 35 Bu. instead of 10 Bu., 30-40 % sprout damage and 45 test weight. 
 

6/9/2015 Putnam County, IN: 

crops look great in our area. we were dry until last weekend of may then got 4.1 inch soaker over a 20 hour period. another rain on june 7th and 8th gave us 1.7 inches. managed to get 1st cut hay put up in between rains. most fields need sprayed but are to wet. most corn is now to tall to side dress and some guys didn't get it done. had some hail in last storm, very minor damage. wheat is looking pretty good and is probably 20 to 25 days from harvest. 



6/8/2015 Montgomery County, MO: 

had a perfect spring until rains arrive May 15th and have not left!!! Many were waiting for a rain before planting and now are waiting for it to quit. Wheat has much disease,,,as usual again. All crops standing in water for weeks! another 1.5 inches last night, So far we've had 15 inches. Can't post corn spray, flew on some, what a way to farm. Can't replant soybeans or corn. neighbors tried but it didn't matter, water standing again day after planted in muddy conditions. The area affected that I know of starts around Columbia MO and stretches Northeast to Quincy IL...what a disaster area!  
 

6/5/2015 Williamson County, TX: 

We have been harvesting wheat the past two days and we are averaging 20 bushels per acre. The wet weather made the wheat rotten and it breaks off before getting in the header. We usually made 40 – 60 bushel wheat on normal years. We do have some better wheat on other farms if we can get it. The drought was better than all this rain we've had.
 

6/2/2015 Cavalier County, ND: 

The crops here in north Dakota, the wheat here is way behind average since it has been hit with frost several times some of the earlier planted wheat and the ones with FARGO one it are about dead, and about every farmer around here has had to replant about half if not all of there canola and beans. On May 29 it was freezing for 8 hours and the low got to 21 degrees at are farm that kills about everything.
 

6/2/2015 Washington County, CO: 

Wheat has rust, 10 to 30 percent freeze damage, some hail damage and some other disease pressure. A lot of guys aren't going to spray for rust with the freeze damage already. Will be below average crop at best in our area. Some of the remaining unplanted corn acres will not be planted due to wet weather.

5/30/2015 Cooke County, TX: 

Had 4 1/2 inches of rain and storms last night. Flooded across 85 acres of wheat, its in mud with lots of logs, trees and brush covering the wheat. Rest of wheat standing in 3 inches water as water has no place to run off. Wish some of these wheat crop experts would get out the office, off their computers, come to the real world and evaluate crop conditions. Surely their positions are covered by now.  
​

5/28/2015 Deuel County, NE: 

Stripe rust hitting here. Aerial sprayers are busy! 
 

5/28/2015 Decatur County, IN: 

Extremely dry in our area, some fields have received less than 3/4 an inch of rain the last 30 days. Many clay knobs will not emerge until we get some rain. Wheat looks excellent and is ahead of normal as of now. Been done for some time and finished 1st cutting of hay last weekend. 
 

5/27/2015 San Diego County, CA: 

Would like to hear more from farmers in Texas, Oklahoma, Kansas etc. on the impact of the record flooding rains on wheat & other crops--are the crops in trouble? I think the trading pits are way too optimistic and prices are way too low. Out here in California, the drought continues--expect to pay more for California vegetables & fruit. Can we pipe in some of that excess rainwater?  
 

5/27/2015 Wise County, TX: 

2 1/2 inches of rain along with hail and high winds. Total rain for May, 20.3, normal 5. Wheat a disaster. Grain Sorghum is yellow or washed away. Wheat that was top dressed before the floods is down, sprouting and rotting. The non top dressed is standing because it might yield 10-20 Bu. until this evenings hail. Wheat is a BUST. This disaster will get attention as soon as the traders get positions locked-in.  
 

5/27/2015 Minnehaha County, SD: 

Okay guys, you must all be liars, the "pros/experts" surely don't see anything wrong out here so we must be blind! It's already a record and we have to take what they will give us because they don't need it anyway! Heard on agri talk market wrap that poor wheat will replace corn in feed rations, so one more reason we have to take less, for both crops! When will we learn? It's May 27th and I don't see a record yet, but let's speculate that it is a good one, thank GOD we have the ability to do it! At least I can sleep at night, oh the expert/pro/analysts can too because it's obvious they have no conscience! 
 

5/26/2015 Cheyenne County, NE: 

Almost a years worth of moisture in the last 7 weeks along with some snow and freezing temps. Can't spray because its muddy. In 2002 we couldn't buy a rain, moderation in precipitation would be a blessing. Wheat diseases are going to be a real concern. Dry weather for two weeks would be very welcome. 
 

5/25/2015 Stoddard County, MO: 

We have had 14 dry days here in southeast Missouri to get our crops planted. Most of the corn and cotton acres got planted, but very few soybean and rice acres. One of the worst springs in my 28 years of farming. The wheat crop will be a disaster. 
 

5/23/2015 Montgomery County, MO: 

totally agree w/Swift Co. MN. We too were having best spring ever until the rains started and have not stopped. More in forecast for rest of May. Crops suffering. Lots to replant. Expecting wheat to get diseased and docked again for test weight. But old timers say "if it goes in bad, it'll turn out good". So we got that going for us. LOL 
 

5/23/2015 Denton County, TX: 

Wheat has been blown down and beat down by 16 inches of rain in last 30 days, for the sixth time. Wheat has drown in many fields. Starting to rot with 3-6 inches forecast for this weekend. If no rains for three weeks, soils would still be too wet to harvest. Wheat was 80-90 bu in April. If we could harvest tomorrow- would be thankful for 15-20 yield with 50 test weight. No more rain, Please!
 

5/20/2015 Chicot County, AR: 

Crops here are in good shape for now. Corn knee high to waist high- beans ankle to knee high. Rice anywhere from just emerging to 8" tall. Just received much needed 2" rain on 5/18. Wheat harvest starts in about 10 days to 2 weeks. Good Luck!!



5/20/2015 Cheyenne County, NE: 

Will 6 hours at 32 deg. hurt wheat that is heading? 



5/18/2015 Buffalo County, NE: 

Emerged corn frozen off last week- recovered only to be sheared off by hail last night. Beans emerging, time will tell how much damage was done to them, and the headed out wheat. Frost possible again tonight-2015 isn't starting out too well.  

 

5/13/2015 Buffalo County, NE: 

We got smacked pretty hard by a freeze Tuesday morning. Corn in low lying areas that had emerged was burned to the ground. My wheat was heading, it's hard to imagine the freeze being beneficial there. Will have to await the insurance adjustor to have his say. Another year, another challenge. This is the third straight year of having a hard freeze in the second week of May. Glad I don't have beans up yet.
 

5/11/2015 Washington County, CO: 

Wheat looks good for the most part with some disease pressure starting to show up. Have had over 3" of rain in the last month and are very wet right now. Wheat is just starting to head. Weather forecast is calling for 1-3" of rain over the weekend with snow on Sunday and a low of 27 degrees. Just north of us in NE panhandle they are calling for a low of 25 degrees. Should be interesting!
 

5/11/2015 Washington County, CO: 

Wheat is heading and was looking good. Last night we had 28 degrees for at least 4 hours. Sunday morning we were 29 degrees and had about 3" of snow. Won't know how much freeze damage for a few days but I am sure there is some. Was quite a bit colder north of us in the NE panhandle and SE Wyoming. Was a pretty big area.
 

5/10/2015 Boone County, MO: 

Looking for some comments and help. We have wheat that has suffered from paraquat drift spray damage from the neighbor spraying burn down. The wheat damaged has spots on flag leaf. It was just starting to head out. Any experience on what yield lost we might incur? The worst is by the road, the other picture is across field. Thanks for any insight.


 

5/8/2015 Lincoln County, WA: 

It has been dry and windy. Light soils for wheat are fading fast, better soil types hanging in there. In April received about .3" of rain early and nothing since. What looked like above average yield potential in our area is not looking so promising now. Add that to below cost prices for commodities and other input costs still way to high we are looking at two losing seasons in a row!
 

5/7/2015 Richland County, ND: 

Seems like all the wheat is emerged but some has spotty emergence. Corn is nearly complete. Seems farmers started in thinking they weren't going to plant as much but it seems most planted the same and some more. Beans are about 30% done in our area. We were done on May 2 with beans and now have got .25 inch of rain on it. We are in a dry cycle about 2.5 inches down from normal. We had no snow and no spring rains really yet.
 

4/30/2015 Traverse County, MN: 

Why should we be planting any crops at all !!!!! The markets are telling us that our crops are not needed. I was always told that you should be listening to what the markets are telling you.. I am sure that any economist would tell you that the right thing to do in a down market is to increase production.. So why are we as farmers planting a crop that on paper shows a loss.. I am sure that the oil companies are continuing to increase production because that is what the markets are telling them to do!!!! RIGHT
 

4/23/2015 Box Elder County, UT: 

Dry farm wheat was looking good but all going backwards fast burning up. We had no winter snow, and was no snow pack in the mountains to fill resivors. Already started irrigating winter wheat and alfalfa. The only time the wind stops blowing is to change directions. Water restrictions being put in place all over the state.
 

4/22/2015 Sampson County, NC: 

Wet planting conditions is a bit of an understatement. Rainfall seems to have no bounds. Corn planting runs in one and two day spurts followed by one to three inches of rain. Every rain seems to double the size of wet areas, and that 40 percent planted for corn in NC is laughable. The only way that could be true is because intentions of planted acres has dropped by 50%. Wheat is the only crop that looks good right now with early planted fields pushing heads. Soybeans will take a large acreage increase as May planted corn is an iffy proposition here.
 
​

4/20/2015 Power County, ID:

 The warm March and April has really only effected the wheat, currently 280 accumulated GDUs, normal is 65, winter wheat is 3 weeks ahead by my estimation. Started planting potatoes last week, normal for us, many people started sooner. Will start planting corn next week, 80-83 day varieties, but under irrigation here in the Snake Plain desert we still shoot for 200 bu. Gonna try a small field of quinoa this year, no real options on weed control except cultivation, will look like a field of lambs quarter planted in rows, oughtta be fun to watch. Happy planting.
 

4/20/2015 Walsh County, N.D.:

 We are west of the Red River Valley 30 miles.  From here east into Minn, a great deal of the spring cereal crop is in, and the sugar beets growers are planting beets.  Drove 50 miles west of our place a couple eveings ago, and found only 2 airseeders sitting in the fields, 1 nh3 rig, and nothing else had been touched.  We haven't started yet,  either.  We are in the spring wheat and barley certified seed business.  I am shocked at the demand for barley seed.  I don't think there is a bushel of  barley seed left in ND and western Minn. Even areas that have been solid corn/beans the past 15 years are swiching some acres back to wheat/barley and other specialty crops such as flax and all types of sunflowers. A rain would be most welcome.
 
4/19/2015 Lancaster, NE: Wheat looks average for what little is raised here in Eastern NE.  Lots of winter kill in the west from what I hear. Corn planting just starting with only a few running. Ground plenty wet here with an additional 3/4 this weekend will delay planting for a while.  Southeast NE is wet with a full soil profile while central and western NE needs rain badly.
 
4/17/2015 Southeast MT: Winter wheat is slow. Where it is was sowed into good stubble looks alright. where trucks and grin carts run pretty thin. What amount to the more cover the better and a good warm rain. Moisture for spring crops is actually pretty good considering very little snow. Sowing peas now, and they will come up. Spring wheat next week.
 
4/16/2015 Michigan: So, based on comments by posters saying conditions aren't good for planting wheat, why are prices continuing to fall?  
 

4/11/2015 Montague County, TX: 

Wheat stands are doing very well, with most in the 12"-14" range. Some have already begun to "head" with a few early planters showing full head. Moisture has been good for us this year with showers about every 10 days to 2 weeks (don't throw things; it's just our turn).
 

4/11/2015 Norman County, MN: 

Most of the wheat and barley have been planted in this area. No wet spots to steer clear of this spring. It is very dry here. Dirt blows on the windy days. Things will head south if no rain in the next couple weeks.
 
4/9/2015 Southwest Neb.: Worst winter kill ever whole fields and not many without damage,  lots of peas and feed going in but no moisture to get it going.
 
4/6/2015 Ransom County, ND: Very dry here. Rural fire departments have responded to a number of fires that got away from people. The last rain over .3 inch came last August 31st when we received .7 inch. I almost couldn't believe it. The wheat and barley that will be planted will go in the ground this week or is already planted. It looks like acres are way down, especially on wheat. Doesn't help when Kraft foods is manipulating the market. Very little other field work is being done. Some are getting ready to plant corn. East of us they are busy planting sugarbeets. This week I'll be putting down fertilizer for corn and possibly applying pre-emerge herbicides on some soybean ground.
 

4/5/2015 Blue Earth County, MN: 

farm next to watawon co. dry too. put on NH3 April 2 to 5 went on great. Heard of a couple of fields of corn planted one in Martin county 80 acres one in Blue Earth co. 160 acres . Friend farms by Fergus Falls mn. planting wheat went good.
 

4/2/2015 Cheyenne County, NE: 

It's dry around here. 1/2" of moisture forecast for tonight and tomorrow. We'll see. Some winter kill on lighter ground and hill tops, loose ground at planting seems to have the most problems. The rest of he wheat looks to be two to three weeks more advanced than usual. We still have to worry about a late frost.
 

4/1/2015 Mcleod County, MN: 

I see Kraft is being sued by the CFTC for manipulating the wheat market. I was wondering if any experts could give us farmers advice on how to market our grain when our prices are being manipulated like this? No wonder the experts have to have a discloser saying there's "high risk in trading". When you have crooks & thieves like Kraft that cheat & manipulate the market it's no wonder 90% lose at the casino.
 

3/29/2015 Holt County, NE: 

What little bit of wheat that is planted in our area looks poor with much of it winter killed. Many farmers planting oats and other feed crops on marginal ground to make room for expanded beef herds. 

3/26/2015 Decatur County, KS: 

Around our area,NW Ks. The wheat looks terrible. Lots of winter kill. I have farmed since 1972 and never seen it this bad. Then we are getting terribly dry. Looks like our third poor crop in a row. 

3/25/2015 Saint Clair County, MI: 

Ground is relatively dry for this time of year and still cold. Crop insurance will pay me $100 per acre to not plant my prevented plant wheat ground and I think I will just plant a cover crop to help the soil. Seems logical to me. We don't need all of these acres now anyways. 

3/24/2015 Chicot County, AR: 

No corn or soybeans planted yet. Rain-Rain-and more rain. Fields are saturated. This time last year we were almost done with corn planting. Hear talk of corn acres going to soybeans if not planted within the next few days. Sun shinning today and 78 so maybe we can get into certain fields next week. What little wheat we have in this area looks ok at best. 

3/20/2015 Furnas County, NE: 

Here is your 2015 HRW crop boys!!!! DEAD Thousands of winterkilled/drought stressed acres. Hope you guys in Texas and Oklahoma can raise 60 bu. Wheat straight through…….yeah right.  


3/20/2015 Washington County, CO: 

Substantial amount of winter kill to the winter wheat in this area. Varies a quite a bit from field to field and seed variety. Will need rain soon. Overall one of the poorest looking crops we've had in a long time. 

3/19/2015 Walsh County, ND: 

Very little snow this winter....Spring runoff lasted about 12 hours. Some cattail sloughs are dry, drainage ditches and creeks didn't even come out of the banks. I've never seen such little runoff. Local elevator managers think there are still big quantities of wheat on the farms. With the severe protien discounts, many just locked the bin doors to wait out the market. So far that hasn't worked ...the protien discounts are still with us. The continuing dryness seems to be moving the market this week. 

3/16/2015 Buffalo County, NE: 

A hot, dry day has turned into a dust storm as the wind switched, ushering in a dry cold front. We are pretty dry on top here in central NE., a rain/snow event would be extremely welcome at any time. Drove SW through pasture country to McCook yesterday, about a 2 hr drive. Pastures are short, and I only saw one pond with water in it. I also saw several wheat fields that had substantial winter kill along the route. With the warm/hot weather my irrigated wheat has started to green up too. It looks to have an acceptable stand at this time. Praying for rain here! Good luck to all, it looks like we are going to need it this year. 

3/4 - Ransom County, N.D.: 

What to plant? What to plant? Too much red ink is what I see. It's dry here, lots of low ground got tilled up last fall and with only a scant 2-3 inches of snow on the soil surface there should be minimal run-off. I'd love to plant wheat but financially that makes no sense at all. Corn would be ok if we get big yields of dry corn. Soybeans are breakeven at best and we have to deal with all these roundup resistant weeds. Barley, Oats, Millet, Sunflowers, Drybeans, Peas and Sorghum are all possibilities. Local basis levels are still terrible, around $1.00 for soybeans, normally $0.60. That ends up costing producers $16.00/acre on a 40 bu. bean crop. 
 

3/2 - Northeast Colo.: 

Wheat had a really good start then went into dormancy extremely early thanks to below 0 cold snap in November then had good snow cover until a maybe end of January then had big warm up and wheat is greening up some out of dormancy now.  But now we have no snow cover and temps have now been cold with lows back in single digits to around 0 and Forecast looks cold for another week anyway.
 

2/23 - Spokane, Wash.: 

I am just curious what the snow coverage situation is for the midwest and plains states.  Is this extreme cold you are receiving, going to cause winterkill on your wheat?  I know in eastern washington, we have warmed up extremely early w/ wheat breaking dormancy and cold now would not be good for us.  I thought I read a few weeks ago, that it warmed up back there too and wheat was breaking dormancy.  Don't know what to believe? 
 

2/17 - Walsh County, N.D.: 

Our crop mix makes for a more complicated farm bill decision.  On any given year we can plant hard red spring wheat, barley, maybe corn, canola, sunflower, soybean, pinto (edible) beans, flax, field peas. Some also raise potatos and sugar beets. Dry beans are not 'program' crops, so they take away some base acres.  Just corn and soybean sounds pretty simple.  USDA must have had an entire office building full of lawyers writing this damn farm bill.  Could they guess crop prices for 5 years?
 

2/9 - East Central Mo.: 

wheat in this area was sowed late. It came up but didn't do any fall tillering. you can row it but that's about all. It looks good enough to keep our hopes alive. Hardly much snow to speak of this winter, least amount I can recall in 40 years. No big rain events either...at least the ground is not eroding.
 

2/2 - Cheyenne County, Neb.:

We are finishing a week with above normal temps. Some of wheat looks like it's tyring to break dormancy. It's too early for that. More cold is needed or will have danger from a late frost in May.
 

1/28 - Cheyenne, Wyo.: 

Does the close on March KC wheat mean that we are looking at 4.00 futures at harvest time?
 

1/26 - Cheyenne County, Neb.:

 160 ac. NE of Sidney sold at auction for 210,000.  All dryland 1/2  in winter wheat buyer gets 1/3.
 

1/9 - Montgomery County, Mo.: 

First week of October 5 inches rain. Miraculously got back to cutting beans although 14-15% moisture on Monday the 6

th

. Pushed hard cutting from 10 am till 10 pm until Wednesday night then rain returned! Big yields around but a lot in the field yet. NO wheat sowed. A lot of talk about spreading it on top of the ground. We rutted up a lot of fields but got a lot done thankfully. OBTW, heard a 40 yr old fell from bin Wednesday night in Lincoln Co. His dad found him dead Thursday morning. Momma always said it could be a lot worse.