Published on:
08:39AM Aug 12, 2020
So often it seems, Wednesday's present us with a news lull, but not this week courtesy of the USDA.  Of course, I have no idea if we will be thanking them for the information later today, but everyone will certainly have new statistics to revamp their pricing models.  Once again, here are the trade expectation for the August "word of gov." The corn yield is expected to come in at 180.5, which would be up nearly 2 bushels from the last number and would result in total production of 15.17 billion, 170 million higher than last month.  The 2019/20 corn ending stocks are expected to increase 17 million to 2.27 billion, and the 2020/21 number is projected to grow 152 million to 2.8 billion.  The national bean yield is expected to come through at 51.3, which would be up 1.5 from last month.  This would result in production of 4.25 billion, up from 4.13.  The 2019/20 ending stocks are expected to slip 4 million to 617 million, but the 2020/21 ending stocks are pegged at 524 million, which is an increase of 100 million from the July estimate. All wheat production is estimated to total 1.832 billion, up 8 million from last month, and ending stocks are expected to climb 4 million to 946 million.
By now, you have probably seen the pictures of destruction left in the wake of the Derecho storm on Monday, with grain bins crumpled like aluminum cans, roofs ripped from houses, and fields of corn laid flat on the ground.  The Iowa Secretary of Ag estimates that upwards of 10 million acres of crops and tens of millions of bushels in bin capacity in that state were impacted. Granted, it is yet unknown as to the ultimate damage to the crops in the field, but keep in mind, there were 24.7 million acres of principle crop planted in Iowa this year, which would imply that 40% of them will have been affected to one degree or another.
The USDA has now officially extended the deadline for farmers to apply for COVID-19 federal aid.  Producers now have until the 11th of September. They also expanded the program to include 42 new crops and 15 new livestock and aquaculture classifications.
News that Russia claims to have developed a COVID-19 vaccination that they will be rolling out, albeit with limited testing, took some of the shine off of the gold market, which went spiraling lower yesterday.  It is interesting to note that the U.S. Dollar did close fractionally higher yesterday. Still, there was obviously no rush to own the greenback, so investors must have found other places to tuck away their capital.  That said, considering gold has now advanced over 77% in the past 24 months, not to mention reached a new record high, and since the spring peak this year, the dollar has lost 11% in value, each are probably due for corrections.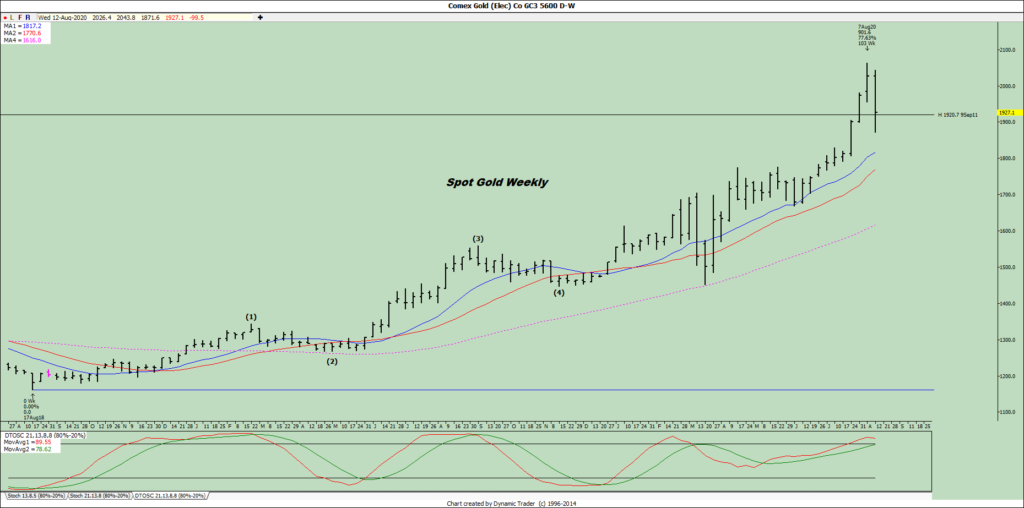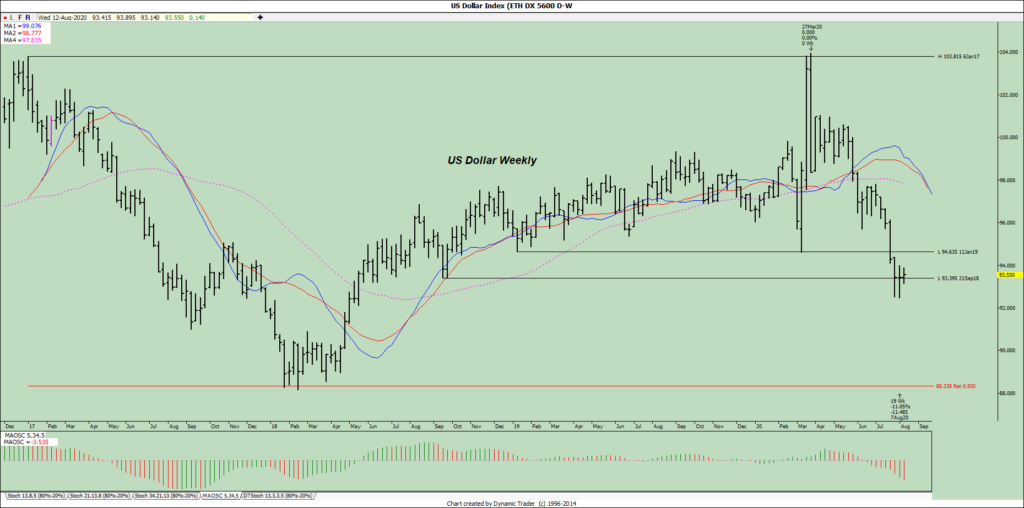 Looking around the horn this morning, we find energies and equities higher, metals and financial instruments lower and the dollar weak.