Published on:
09:19AM Nov 25, 2019
In defiance rumors to the contrary, grain and soy markets can still open higher on a Monday morning.  While that may be a bit of an exaggeration, it does seem that days of general strength have been few and far between as of late.  The exception again to this is Chicago wheat, which has already extended into higher highs for the week and for the month. No doubt part of the strength this morning is due to the fact that this is not only a holiday-shortened week but also the final week of the month, so there are likely a few spec shorts who have decided to cash in their chips and move to the sidelines.  According to the CFTC, as of the 19th, managed money and other hedge funds are now short a little over 123,000 contracts of futures/options in corn, up over 12,000 for the week, and by now are probably net short in beans as well.  They were purchasers in Chicago wheat last week but remain next short and added to shorts in Kansas City.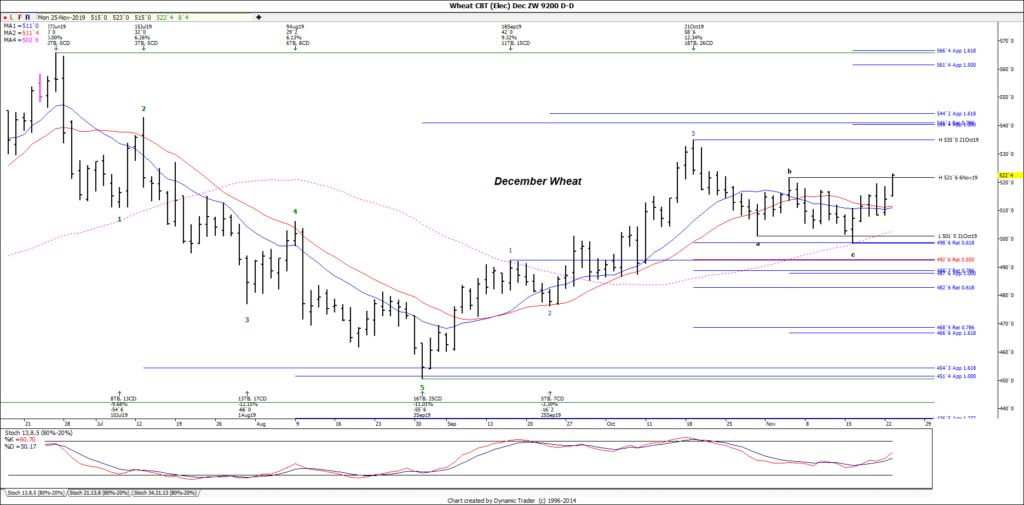 The morning weather reports are pointing to a White Thanksgiving for many across the west and upper Midwest.  Forecasts that I have seen point towards 4 to 10 inches of snow from Colorado and eastward through Nebraska, Iowa, the Northern Plains and upper Midwest.  Of course, this would also be through the region of the country that is furthest behind with harvest, adding insult to injury in what has already been a very frustrating year.
There were conflicting stories from China over the weekend.  One tabloid reported that the nation was committed to securing Phase One of a new deal and suggested it was very close, but we also learned that importers secured at least 20 cargoes of beans from Brazil and a few from Argentina last week for delivery in 2020.  On a related note, total Chinese bean imports for the calendar year through October from the U.S. stood at 11.3 MMT, down 31.8% for the year.  Total bean imports from Brazil are at 48.9 MMT, which is actually down 13.5% on the year.  As you might have already surmised, ASF is the culprit behind the loss of demand.  Total imports of pork though have reached 1.5 MMT, which is up 49.4% for the year, and by the end of the month, retail pork prices were 148% higher than last year. Ouch.  Beef imports are up 54.5% for the year, and while I did not see the total for poultry, in the month of October, imports were up 64%.
For all it has going for it right now, or maybe in spite of it, Brazil appears to be forgetting the ago old slogan that the customer is always right or give the customer what they demand.  Europe is threatening to take away its $5 billion worth of soybeans trade with Brazil if they move forward with ending the moratorium on producing oilseeds on the ground in the Amazon that was cleared after 2008.  The leading group representing farmers, Aprosoja, wants the moratorium ended, and when asked about the fear of a backlash from Europe if they forge ahead, a representative responded, "From where are they going to buy soy if not from Brazil? Mars? From the moon?" Such smugness will often backfire and, no doubt is a welcome situation for U.S. bean producers.
Crop progress updates this afternoon, but unless we are presented with a surprise breakthrough on the U.S./China trade front, one has to suspect we are in store for a quiet week of trade.