Published on:
09:39AM Mar 26, 2020
While not unprecedented, but certainly not common in these uber-partisan times, the U.S. Senate unanimously passed a $2 trillion fiscal stimulus bill yesterday. By comparison, back in 2008, after the initial defeat, the Senate passed what would become known as the Troubled Asset Relief Program, TARP, by a vote of 74 YEAs to 25 NAYs and then over in the House by a margin of 263 to 171. Without doubt, a decent margin in both, but by no means unanimous. Of course, this package has not made it to the floor of the House just yet but should be voted on over there before the weekend, and while it may not be unanimous, I do not believe many are looking for much of a problem in getting this passed. Any suggestions on what moniker and acronym we can give to it? Anti-Recession-Package or ARP. Whoops, I guess that acronym is already taken, but considering the most significant health concerns from Covid-19 are for those over 60, it may be appropriate.
Most of the headlines have focused on the total sum of the package and will highlight the expansion of jobless benefits, direct payments of up to $1,200 for individuals earning less than specific benchmarks and the $500 billion to help businesses that have been stricken, but there is money earmarked for agriculture as well. I am not sure yet exactly how it will be dispersed or who will qualify, but the bill adds $14 billion to the spending authority for the Commodity Credit Corporation and as I read it, an additional $9.5 billion for farmers that are being hurt by the spread of the coronavirus. Specifically mentioned here are livestock and dairy producers.
It would appear there has been another related effect to unified commitment to contain Covid-19 and to provide stability and support for jobs and the economy, and that is, we have seen the U.S. Dollar come under pressure this week. At first, blush that may almost sound counterintuitive. If we are taking steps to bolster the economy, isn't that bullish for the dollar? While one could make such an argument, we also need to keep in consideration that a large portion, if not all of the advance we witnessed in the dollar since early March, can be attributed to people rushing for a safe-haven in an uncertain time. In 10 trading days, the dollar rallied nearly 10% and reached back to the highest levels witnessed since January 2017. I do not believe the moves over the past several days have eliminated all the uncertainly, it obviously has been enough to ease the minds of many, and the dollar has already surrendered 40% of this recent advance. While there is no guarantee we will continue to see the dollar move lower, if it continues on this track, it could produce more significant long-term benefits to the ag sector than the additional money now pledged from Washington. Throw in the elimination of trade tariffs, and we could really have something to cheer about.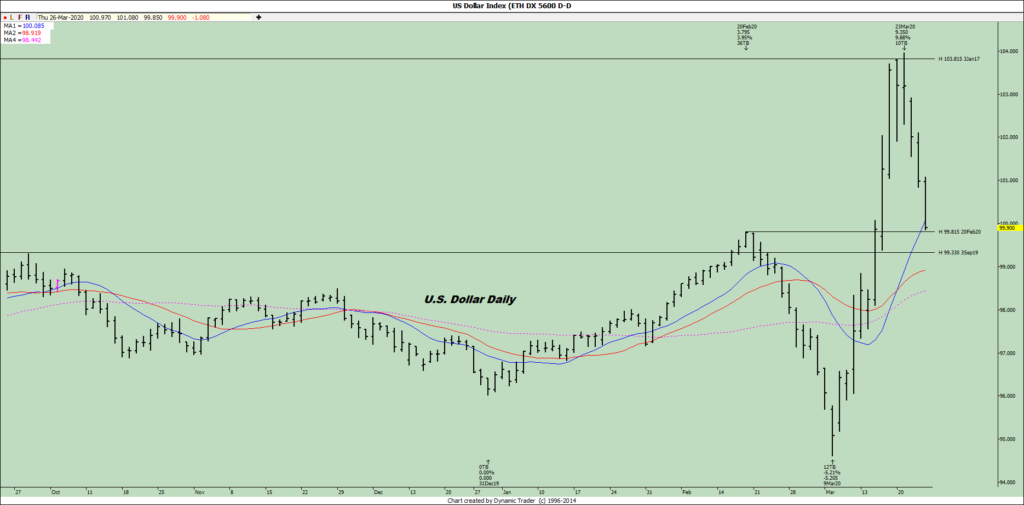 Weekly export sales have been released this morning, and even though good numbers were anticipated, it still produced smiles all around for the bulls. Beginning with wheat, for the week ending March 19th, we sold 740,000 MT or 27.2 million bushels. This was more than double last week's figure and was 73% above the 4-week average. China was the top purchaser with 200k MT, followed by South Korea with 146.1k, and then Japan taking 144k. In addition to this, we had for the 2020/21 season there were sales of 366,400 MT, which was primarily made up of the previously announced transaction to China of 285k MT. Soybean sales were nothing to be ashamed of either, coming through at 904,300 MT or 33.23 million bushels and outpacing the previous week by 43%. Unknown destinations accounted for 406.1k MT, followed by China with 199.3k and then Indonesia with 69.4k. Both meal and oil sales were robust as well, with meal coming in 39% above the 4-week average and oil setting a marketing-year high. The marquee spot belongs to corn, though, as it set a marketing-year high water mark of 1,814,300 MT or 32.4 million bushels. China was the biggest player here with a total of 756k MT, followed by Japan taking 333k, and then Mexico coming through at 219.2k. It should be noted that China also purchased 121k MT of sorghum, 44,900 RB of cotton, 248,900 whole cattle hides, and 9,500 MT of pork.
The Brazilian meat giant JBS released quarterly earnings today and trounced analyst estimates with a 332% increase in net income. For the fourth quarter, net profits reached 2.43 billion Reals, which equates to around $482 million. If your first thought is, they really must have capitalized on meat trade into China; you are right on the mark. The beef division reported that sales to that nation were nearly double the previous year, pork to China was up 10%, and 4th quarter sales of poultry (Pilgrim's Pride) jumped almost 25%.
Finally today, a piece of economic news. While this comes as a surprise to no one, it is worth pointing out for the historical significance. For the week ending March 21st, a record 3.3 million people filed claims for unemployment insurance. This compares with the prior week of 282,000 and the previous record set in March of 2009 at 665,000.