Published on:
06:05AM Jun 27, 2019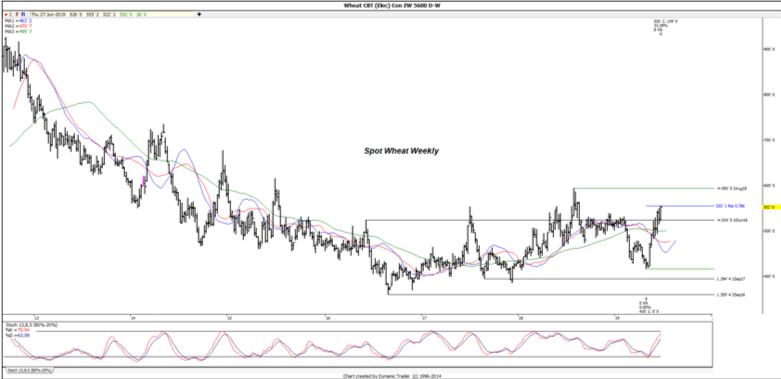 Click here for a free trial
It would appear that it is the wheat markets turn to take the position at the top of the bull leader board. Overnight prices have extended into higher highs for the year, with spot futures reaching up to the highest pointed traded since August of last year.  While the slightly lower than expected acreage in Canada appeared to have provided some support, the heat wave that is now gripping Europe and moving into the Black Sea region would appear to be the prime motivation.  The ongoing drought conditions in Australia provide extra incentive as well.  Do keep in mind that with global ending stocks currently forecast to set a record for both the raw stocks figure as well as a stocks to usages ratio, we do not appear to have a panic situation in the making but with the issues we have already witnessed in the corn market this year, one has to believe the wheat usage, particularly as a feed grain should be on the rise this year.  
The verbal battle over refinery biofuel waivers appears to be heating up. After touring the Midwest and hearing from a number of farmers, President Trump asked members of this cabinet to review what has obviously been an expanded use of the waivers over the past couple years, which has also been a key talking point for several Democratic hopefuls for next years election.  As you might expect, though, representatives from states prefer the expanded use of the waivers.  Nine Republican Senators, including Jim Inhofe of Oklahoma, Ted Cruz of Texas and Pat Toomey of Pennsylvania are urging the President to continue with an expansion of the waivers.  Ted Cruz…Doesn't he have Presidential aspirations?
As long as we are talking about Washington, we might as well cover the industry estimates for tomorrow report.  The trade is looking for the corn acreage to come in at 86.66 million, beans at 84.35 million and all wheat of 45.654 million.  The March USDA estimate was projecting 92.79 million for corn, 84.62 million beans, and 45.75 million wheat.  The June 1st grain stock averages came through at 5.349 billion corn, 1.861 billion beans, and 1.10 billion wheat. Before these number though, we have the quarterly hogs and pigs which will be released this afternoon. The average trade estimates are; All hogs as of June 1st 103% of a year ago or 75.05 million head.  Kept for breeding 102.1% or 6.453 million head and Kept for market 103.1% or 68.609 million head.  The March through May pig crop is expected to be 102.6% of last year.
Last but not least, it is Thursday morning, and we have weekly export sales, but the only commodity that would bring a smile to a bull's face is wheat.  For the week ending June 20th, we sold 612,000 MT or 22.49 million bushels of wheat.  The trade was looking for sales in the 200 to 500k MT range.  The top purchasers were the Philippines with 116k MT, followed by Guatemala at 88.3k and then Japan with 81.5k. Corn sales were a marked improvement over the previous couple weeks but still only reached 294,900 MT or 11.61 million bushels.  The trade was looking for between 250k and 650k MT.  Japan was the top purchaser with 166.5k MT, followed by Mexico at 139k and then Colombia with 47.8k.  Beans sales were also a disappointment at 168,200 MT or 6.18 million bushels.  The trade was looking for something between 250k and 750k.  Surprisingly enough, China was the best buyer with 79.6k MT, followed by Mexico with 58.2k and then Tunisia taking 22.6k.  As a side note, China was also back in the pork trade this week, purchasing 10,400 MT.