Published on:
08:49AM Aug 02, 2019

Once again yesterday, markets across a vast spectrum were stricken with TTT, Trade Tariff Terrors.  Not unlike movie sequels that never seem to end, President Trump once again has stepped up the threat level and announced the U.S. would raise tariffs another 10% on $300 billion in Chinese goods. This not only impacted ag markets but stimulated a washout in equities, pushed 10-year notes to the highest point level (lowest rates) since November of 2016 and after the initial dust settled, turned the dollar lower.  Make no mistake, part of the motivation here is to try and weaken the dollar and seeing that the Fed is not bending to the President's wishes with larger cuts in interest rates, some believe escalating the trade war will do the trick.  The movie sequels analogy can actually be applied in several ways.  It seems that Hollywood will keep making sequels as long as they generate money, and as we have heard the President espouse many times, the tariffs are bringing quite a bit of revenue into the Federal coffers. Of course, both are dependent on the American public continuing to buy "tickets," which we seem to do willingly, so ultimately that is who pays the price.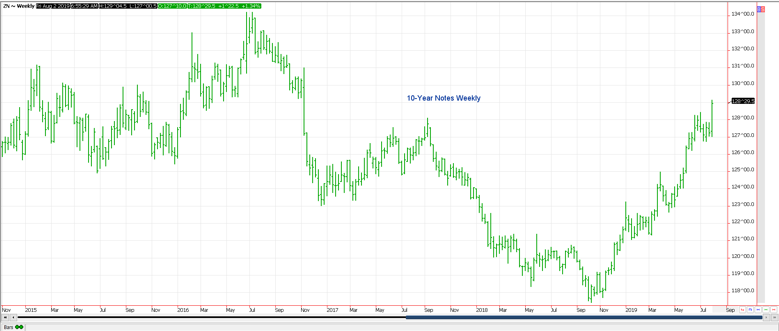 We are witnessing a rebound this morning in the grain/soy markets, which I believe suggests that prices have overreacted to the downside, but it certainly does not undo the damage already incurred for the week.  If we were to close right now, December corn would have lost 18-cents, November beans 30-cents, and December wheat 20-cents. Keep in mind that each of these markets remain within acceptable "retracement" ranges, so all is not lost, but we are going to need fresh input if we are to reignite the bullish flame. Needless to say, the next possible candidate for this will be the August crop report and considering the inconsistencies we have already witnessed in U.S.D.A. reports this year, it is difficult to feel confident it will come then either.  
It would be easy to assume that Brazil is just basking in our trade tariff misfortunes but the bean export numbers for last month would suggest otherwise. During July beans exports fell 23% to 7.82 MMT, reflecting the overall slowdown in Chinese demand due to African Swine Fever.  Interestingly enough, their corn exports have surged as the loaded out a record (for any month) 6.317 MMT last month. 
Wheat harvest continues to advance rapidly in France with AgriMer now estimating that they are 87% complete, which is an increase of 24% in the last week. That said, the dry weather continues to impact the corn crop there, and they lowered the good/excellent rating again, taking it from 67% to 61%.  I believe this is a 13% drop in the past two weeks. 
A weekend break should be welcome and ideally will allow the trade to regroup and refocus on other things, i.e., the crop report.  While it is anyone's guess what the U.S.D.A. may have to say on the 12th, look for trade survey estimates to filter in early next week.