Published on:
17:37PM Jan 24, 2017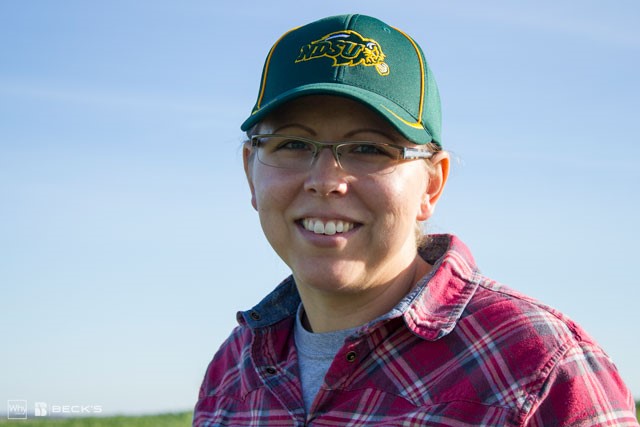 Growing up in the suburbs, Dana Dagman never imagined she'd become a farmer. In fact, when she met her husband, Travis, they had no intention of coming back to the family farm.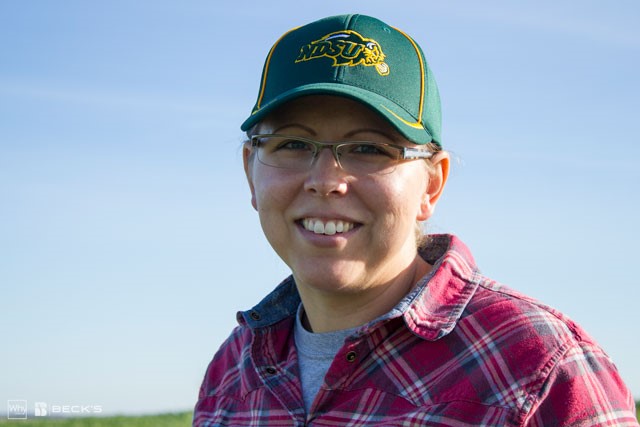 After graduating from North Dakota State University, she and Travis got jobs in the city. She held a corporate position while he practiced architecture. Then the recession hit. After Travis was laid off, he started dividing his time between consulting and driving back to work as a hired man on the grain farm where he grew up.
Then things really began to change. "He pitched it to his dad. Travis said, 'You know, I really want to come back.' His dad had started renting out his land, so it was a gradual process. It was something we'd thought about for many years, but then finally decided to do it." Dana explains. 
"We came back in 2011. I stayed home with the kids right away. Going from working full time in a corporate setting to staying home with your kids in the middle of nowhere, where you know no one, was a bit of a shock to me." Dana recalls. "Travis needed help and he was like, 'I don't want to hire someone that's just going to be here a year. Why don't you start helping me?' So, that's what we did. We did part-time daycare for a while and now it's a full-time deal."
Today, Dana and Travis are the sole operators, raising wheat, corn, soybeans, and barley on their North Dakota farm. Transitioning from their corporate careers has been a learning experience. "Luckily, Travis is very calm and knows that I'm not going to learn everything on the first try. But, he's technically investing in me as an employee, and he has to go home with me at night." Dana laughs.
Growing up on the farm, the couple's three young boys are learning too. "I want them to see the pride we take in our work. Farmers are really hard working, and it's for a greater cause. You're always looking ahead to the next year. We make a living off of it, but you can't look at just that every day. You've got to make sure you're going to make it to the next year. Your motivation is to improve upon what you're doing year after year."
The Dagmans are thankful for the support of their family and community as they've transitioned. "Looking back, I didn't have any connections really." Dana reflects. "I read the Pioneer Woman's blog and that was about it. What they do, ranching, is way different from what we do as crop producers, but seeing such a positive view of agriculture and rural life is kind of what kept me motivated to come back and do it. Once we came back and got involved in Young Farmers and Ranchers, those people helped me adapt to my new lifestyle. Locally, I was a part of a mothers of preschoolers group, so that gave me connections. Not all of them are farmers, but it's one of those things that you're building a community. It's your support network. That was essential, I think. Any situation where people are putting themselves into a different scenario completely, I think having those relationships to help you through it is really important."
Over the last five years, Dana has learned to balance her time between keeping the books, operating machinery, and being a mother. Along the way, she shares her story through her blog and social media.
"When I lived in the city, and even when I first came back here, I had a lot of misconceptions about what modern agriculture was and how farmers work now. People still think it's the American Gothic type of scenario, so I was originally sharing just to keep my friends and family in the city informed. It started by sharing what we were doing, and sharing pictures of the kids. But it's evolved over time."
Now, Dana's blog is reaching more than just her friends and family. People want to know more about their food and how farms operate. "I'd rather share my story than have somebody share it for me. I want people to understand that how one farmer does it can be different than the other. It's not that either one is right or wrong, it's just what's working for them at that time. Gradually, we're going to change how we do things. Different tillage methods, less tillage, minimum tillage, just trying new things for what's going to work best, year after year."
Although Dana didn't picture herself growing up to become a farmer, she's thankful for the opportunity to live this lifestyle. "I like the family farm. We all have an extra motivation to make everything successful and carry on to the next generation. When Travis' dad was farming it was to prepare for someone to eventually take over. That doesn't always happen, but luckily he'd taken those steps so that when Travis was ready to come back, it was there. We're looking to the future in kind of the same way. Hopefully, one of our boys wants to come back, or all of them."
"I farm because it provides for our family, and it provides a future. It's a bigger picture type of deal. You're growing something that is either nourishing a person, an animal, or going into fuel. It's one of those things where you can sit back at the end of the day and very much see what you've accomplished. I would have never expected to find myself here. I never would have expected to enjoy it the way I do, but I'm really glad we took the risk of coming back and doing it."