Published on:
15:29PM Apr 26, 2017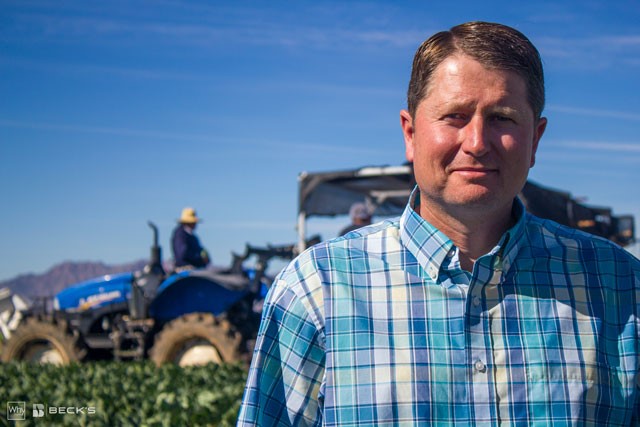 They say farmers are optimists. John Boelts of Yuma, Arizona believes that is true, but he also knows that better times don't come on their own. This way of life takes commitment and vision for the future.
Growing up, John learned to love agriculture from his surroundings. Until John was eight, his father farmed in Nebraska. Then, they moved to the Yuma area where John still raises produce and row crops today.
The southwest region of Arizona is known for its unique soil and climate. These conditions make it a great place to raise thousands of acres of seed crops and fresh produce. Colorful fields of onions, broccoli, cauliflower, melons and leafy greens can be seen for miles.
John and his wife, Alicia, are raising their three children, along with juggling numerous community involvements and their half ownership of Desert Premium Farms. "It's kind of a circus." John laughs. He knows, despite the chaos, each piece plays an important role in the community. And, along the way, their children are learning valuable life lessons.
"Seven, eight years ago, we started our own operation. It was a steep hill to climb." John recalls. "At the time, my one to two-year-old daughter and my three to four-year-old son spent a lot of time riding in the tractor cab with me. My oldest son has spent a lot of time coming out with me, too. So all three of them were up to their eyeballs in this with me. I'd work all day and my wife was taking care of the books for the business and paying all the bills. We'd swap kids around and she'd get some things done. And then we'd swap kids around again."
Although the kids are older now, they're still getting lots of hands on experiences. Recently, one of John's sons went with him to Washington D.C. to represent American Farm Bureau. There were plenty of learning opportunities on The Hill and around the city. "I hope they know how blessed we are to have an opportunity to weigh in and give our perspective." John says.
After missing him for over a week while he was in D.C., John's daughter was excited to spend some time with her dad. "Every time we go out and she goes with me, she always wants to go drive a tractor, go do something productive, just taking a spin in the tractor doesn't do it for her. She wants to actually do something and is always excited about whatever we're doing. She's always excited to see everything and learn about it. All three of my kids really are. They love it."
In John's case, the apple doesn't fall farm from the tree. "We're out here to accomplish things moment by moment, day by day." John explains looking over a lush green field of broccoli. "These crops take anywhere from 30 to 150 days to grow. They take months of preparation to get it right. You always have to be looking forward a little bit. You planned for the next thing coming up, and you're working towards that while still completing the task you're working on today."
The time of year John looks forward to most is harvest. "It's when we see the fruits of our labor. Down here where we're growing year-round, so it also means it's planting time. Because within two weeks of harvesting a crop, we've normally got it planted to another one. So, I look forward to harvest time mostly because of the opportunity it presents to see the fruits of our labor and moving on. We're moving on to the next crop and the next opportunity."
Even when you have a positive outlook, farming has its challenges. Margins are thin, labor is hard to come by, and Mother Nature can be devastating. It's during those times that John remembers what gets him out of bed in the morning. "I think it's a love of knowing you produce and grow things. You are providing that wholesome, useful product to people. You're doing it with the land. There's a love of being out here in the heat and the cold. It sounds nutty, but there is, there has to be a love for it."
"I love that we put food on people's plates, and clothes on their backs with the cotton that we grow. It's an important thing to me. It's neat to be able to tell people that 'hey, if you eat at this restaurant or buy from that supermarket, there's a decent chance that on any given day it was stuff that came off here.' All across our country and Canada, we have that connection to people. I like that. It's something I take a lot of pride in."