Published on:
14:49PM Oct 17, 2014
By Ann Millington
DES MOINES, Iowa — "Biotechnology is taken as the enemy and starvation is neglected."
Sylvester Oikeh, project manager at Water Efficient Maize for Africa, expressed that sentiment. And he was not the only one.
Oikeh, along with farmers on a discussion panel Wednesday entitled, "Drought and Disease Tolerance for Food Security," said hybrid seeds are a top technology priority for growing more food. But circulation of negative views on genetically modified seeds hinder the public from agreeing, he said.
Popular images of a ripe tomato injected by a syringe filled with unknown toxins is what comes to mind for many, said Nyasha Mudukiti, a sorghum and maize farmer from Zimbabwe.
Anti-GM activist groups in India spread similar visions, but farmers generally don't carry this sentiment.
"The farmers in India await drought-resistant varieties," said Gurjeet Singh Mann, a wheat farmer from northern India.
Their North American counterparts. It is difficult to buy more land, and large, expensive machinery is not affordable and quickly becomes obsolete.
"Other technologies should be introduced," Mann said. "But right now we demand biotechnology should come to India."
The panelists called for better communication between scientists and the media about the potential of hybrid seeds.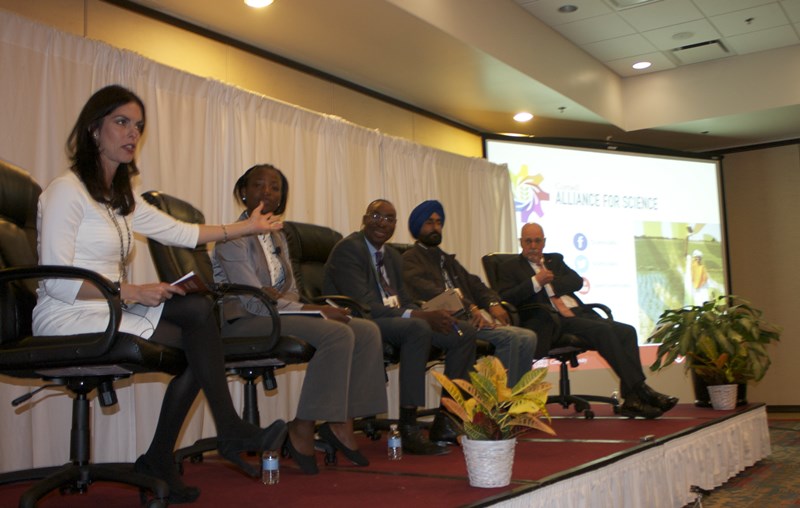 "We scientists need to learn from his [Norman Borlaug's] example and consider how to develop our messaging skills," said Ronnie Coffman, vice chair of the Borlaug Global Rust Institute.
"We haven't lived up to our side of the equation by figuring out more effective ways to give you all good information," Coffman said of the relationship between scientists and journalists.
The panel discussed the need for journalists to not sensationalize science, and tackle the issue of GM seeds with facts.
"Let the story be told as it is," Mudukiti said.
Family doctors In India, a highly trusted source, should also be informed, Mann said.
"If he is not knowledgeable, and he says they're [GM organisms] are no good, no person can change the opinion the doctor has made in the mind of his patient," Mann said.
Fresh relationships among media, scientists, farmers and community leaders must be forged for the spread of desired GM seeds.