Published on:
11:36AM May 21, 2020
It almost reads like someone is setting the plot for a new mystery or spy novel.  On a damp and chilly February evening, covered under a shroud of darkness, longshoreman at a port in Houston feverishly work to load an ocean-going vessel with a cargo of liquid not often handled at this port.  Ethanol. The question remains, though, where will it eventually call home.  Once the ship reaches international water, the captain gives the order to chart a course for Saudi Arabia and Jubail's port, where it is unloaded on March 21st.  Then, somehow, the cargo materializes in Oman, where it was loaded onto the SC Chongqing and sets sail for the Far East, but to where?  Some speculate it is headed for the port of Yizheng in China, to be offloaded and stored in a warehouse in nearby Yangzhou.  Who are the sellers? Who are the buyers?  Is the circuitous journey a means of covering tracks to avoid detection and or tariffs?  No one seems to know, and ordinarily reliable sources demand anonymity due to this transaction's sensitive nature.  While questions concerning this cargo continue to swirl about in the dark waters in the wake behind this ship, there is one thing that appears to be unmistakable.  In the months since this saga began to unfold, the futures price of ethanol has jumped nearly 50% from low to high.  It would seem this web can only be untangled if we call on the expertise of Jack Ryan at the CIA and possibly even the famed 007 himself.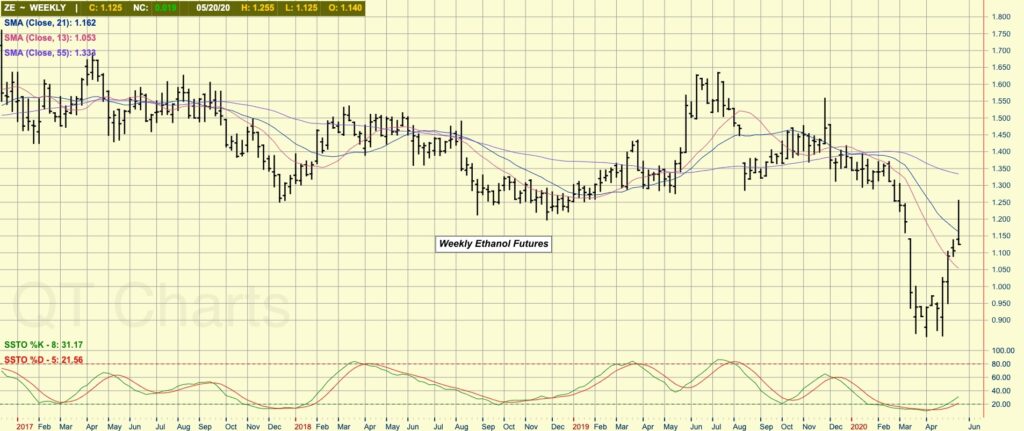 I should probably be careful in spinning such a tale, particularly in the era when conspiracy theories have turned into an entire industry that far too many people take as gospel, particularly when there are some elements of truth woven into the story.  So, let me say, the only thing I know to be factual here is that a load of U.S. ethanol is headed for China, which should be good news for the industry here.  Will it be a one-off event or the start of something new?  That I do not know, but every little bit helps at this point.  Reportedly the EPA is preparing a proposal to increase the amount of biofuel that refiners much blend into fuel in 2021.  This would boost the figure from 20.09 billion gallons this year to 20.17.  Included in the numbers would be 15 billion gallons of ethanol and 5.17 billion of advanced biofuel.  The proposal is currently in review at the White House.  There appears to have been no mention of small refiner waivers, but considering the EPA has actively been working to find ways to circumvent blending requirements, you can pretty well count on that battle not being over just yet.  The resumption of business activity here in the United States should have a more immediate impact on the ethanol and corn markets.  Gasoline demand dropped 8% last week, but this was the first decrease in the past eight, and even then, was 34% higher than lows set in early April.
Weekly export sales have been released, and as expected, beans were the highlight.  For the week ending May 14th we sold 1,205,000 MT or 44.3 million bushels.  This was 96% above the previous week and 80% above the 4-week average.  Of course, knowing via the daily reports that China was an active buyer last week tempers the news some, but it was still nice to see sales back above the million-tonne mark.  Actually, China accounted for 61% of the total with purchases of 737.4k MT, followed up by unknown destinations taking 177.7k and then Egypt with 89.3k.  Note as well; there were 464,000 MT sold for the 2020/21 crop year, 462,000 of which were to China. Corn sales were within the range of expectations but were 18% below last week at 884,200 MT or 34.82 million bushels.  Japan was the top buyer with 332.6k MT, followed by Mexico at 215k, and then South Korea taking 133k.  New crop sales actually reflected a net reduction of 29.4k MT.  Old crop wheat sales slipped 14% from the previous week, coming through at 175,800 MT or 6.46 million bushels.  The primary buyers were the Philippines with 59k MT, South Korea for 37.7k, and unknown destinations for 31.2k.  Sales were a bit better for new crop though and totaled 252,400 MT or 9.28 million bushels.  Here were find unknown destinations, 128k MT, the Philippines, 59k and South Korea, 37.7k, as the top buyers.  For the weekly China watch, we see they also purchased 20k MT of bean oil, 153.6k RB of cotton, 323,600 whole cattle hides, 200 MT of beef, but canceled 12,600 MT of pork.
China has announced that next week, they will begin selling corn from government reserves.  Four million metric tons will be offered, all in the Northeast region.  Demand has strengthened as that nation begins to rebuild its hog herd and a number of people are speculating that with higher domestic values, the government will move existing stocks, which can then be repurchased at lower values on the global market.
Good news of sorts in the jobs data this morning as the number of initial claims filed for unemployment dropped for the seventh week in a row, and the previous week's figures were adjusted lower.  For the week ending May 16th, 2.4 million claims were filed, and for the week ending the 9th, the figure was ratcheted down from 2.98 million to 2.69 million.  This now brings the total number of claims filed in the past nine weeks up to 38.6 million, which is nearly the population of the entire state of California.