Published on:
19:40PM Dec 18, 2014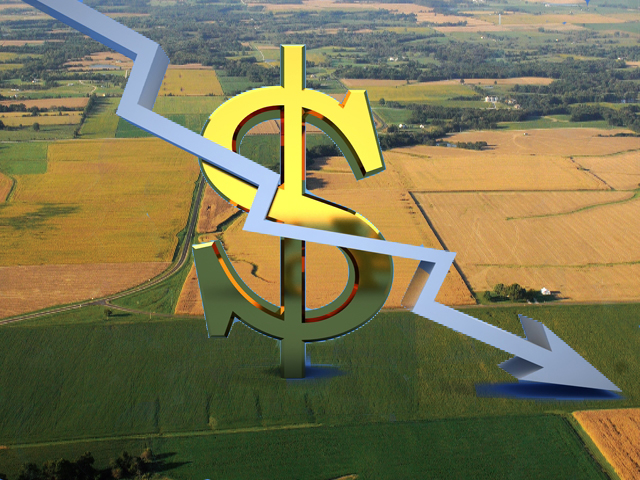 The average value of an acre of Iowa farmland fell 8.9% for the year ending in November, according to the Iowa Land Value Survey, conducted by Iowa State University. The survey pegged an average acre of Iowa farmland at $7,943 an acre.
The decrease in the statewide value of Iowa farmland is the largest decrease since 1986, but it is only the second year since 1999 that the survey has shown a decline in farmland values. Prices also set back in 2009. After peaking in 2013, prices have returned to a mid-point between 2011 and 2012 values. Values are 18% higher than they were in 2011 and are 81% higher than 2009 values. The decline in commodity prices and resulting drop in net farm incomes are behind the decline in farmland values. "I think land values will probably move sideways for a while," says Dr. Mike Duffy, professor emeritus who conducted the survey along with the Center for Agricultural and Rural Development at Iowa State University (CARD). The rise in the southeast is due to strong livestock profits and strong yields. The drop in the northeast is due to the extensive prevent-plant acreage that occurred in 2013 along with continuing delays in getting crops planted this year, he notes.
The survey found an acre of high-quality Iowa cropland averaged $10,724 on Sept. 1, down 3.3% from Mar. 1. The value of an acre of medium-quality cropland averaged $8,076, according to the survey, down 2.8% from Mar. 1. The survey found an acre of low-quality cropland fell 4.3% from Mar. 1 to a statewide average of $5,200.
For the second year in a row, Scott County reported the highest average farmland value at $11,618 per acre. Prices in that county fell about $795 an acre, or about $22 more than the statewide average. Decatur County reported the lowest average farmland value at $3,587 per acre, a drop of $41 per acre from last year's report.
The highest decrease in farmland value was in the southwest crop reporting district, which reported a drop of 13.5%. Worth County in the northeast district, however, reported the largest percentage drop in value for any county at 15.2%. The only crop reporting district showing a price increase was the southeast, which reported a 3.2% gain in farmland values. Keokuk County, located in that district, reported the largest percentage increase for any single county at 2.4%.
The value of all grades of farmland fell, with high-grade farmland taking the largest hit and losing a full 9% ($974 per acre) of its value. "The reason high-grade farmland fell in value faster than low- or medium-grade farmland is because it had increased in value faster over the past few years," Duffy says. The value medium-grade farmland declined 8.5% ($688 per acre) and low-grade farmland decreased 7.9% (420 per acre), the report notes.
If interested in seeing a copy of LandOwner, just drop me an email at [email protected] or call 800-772-0023.