Published on:
21:48PM Jan 15, 2015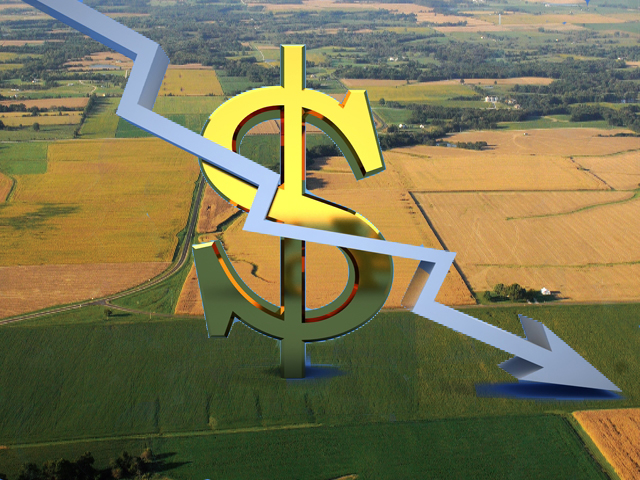 Mike Walsten
Rural bankers continue to have a negative view on likely farmland value trends, according to the monthly Rural Mainstreet Index conducted by Creighton University Economics Professor Dr. Ernie Goss. The farmland and ranchland-price index for January advance to a weak 39.4 from December's 38.6, Goss notes. "Much weaker crop prices continue to take air out of the bubble in agricultural land prices. This is the 14th straight month the index has moved below growth neutral (50)," he notes. 
On average, bank CEOs in rural communities from Colorado to Illinois expect 2015 cash rents for farmland to decline to $214 per acre, down 16% from last year's $254. James Brown, CEO of Hardin County Savings Bank in Eldora, Iowa, told the survey:"Cash rents are down $25 to $50 per acre in some cases, but many are closer to what they were last year. If commodity prices stay in this range there will be more significant decreases next year."
The January farm-equipment sales index expanded to 29.5 from 23.7 in December. The index has been below growth neutral for 18 straight months. "Farmers have become very cautious regarding equipment purchases even though they have not changed their spending on seed and chemicals," says Goss. On the other hand, Jim Ashworth, president of Carlinville National Bank in Carlinville, Ill states, "As usual, following a successful growing season, many grain producers have made year-end equipment purchases as a tax management strategy."

The rural Mainstreet Index for January as a whole rose slightly from December's weak reading, according to the survey. The Index, which which ranges between 0 and 100, was 50.9 in January, up from December's 50.0. "Lower energy and grain prices along with weaker exports, continue to restrain growth in the rural economy," comments Goss. According to Pete Haddeland, CEO of the First National Bank in Mahnomen, Minn., "Lower gas prices are having a positive effect."
Lower corn and fuel prices have yet to impact ethanol producers according to bank CEOs. More than 71% reported no change in production for ethanol firms in their area. Only 14.4% indicated reduced ethanol production while 14% indicated ethanol production was higher for local ethanol firms. 

If interested in seeing a copy of LandOwner, just drop me an email at [email protected] or call 800-772-0023.