Published on:
21:17PM Jan 06, 2016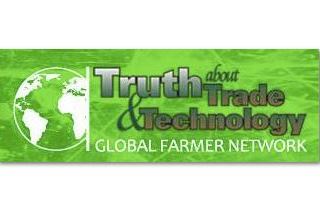 By Bill Horan: Rockwell City, Iowa
Please allow me to introduce the Global Farmer Network.
Way back in 2015, we called ourselves Truth about Trade & Technology.
Now it's a new year and we have a new name, but we're the same people and we're devoted to the same mission: We're an alliance of international farmers who tell "our truth" about the benefits of free trade and agricultural technology.
We chose to become the Global Farmer Network because each word tells a story:
We have a global impact.
We're farmers who work the land (not professional activists who pursue ideological agendas).
We're a network whose members are committed to the promotion of free trade and access to technology.
Rebranding is difficult. We've renamed ourselves only after a lot of thought and deliberation. We're convinced that you'll agree that we've come up with a better identity that clearly communicates who we are and what we do—and sets us up for even more growth and influence in the future.
Sixteen years ago, a small group of friends and I became convinced that farmers needed to have a bigger voice in public debates over free trade. So we started a small non-profit group made up entirely of farmers. We called it "Truth about Trade."
Before long, we recognized that when we talk about trade, we also talk about technology—and especially the emerging importance of genetic modification in agriculture. The two issues are inseparable. So we lengthened our name to "Truth about Trade & Technology."
And that's how most people have come to know us.
That's also what we've done: We've told the truth about contentious issues. Through our extensive activities—weekly columns, media appearances, economic analyses, and much more—we've battled on behalf of our causes. We've also adapted to the times, introducing an online counter of biotech acreage to our website and building a presence on social media, which didn't even exist when we got started.
We owe much of our success to two simple propositions: People trust the voices of farmers, and we have the facts on our side. Putting the two together allows us to achieve a form of hybrid vigor in the arenas of public debate.
When it comes to the opportunity of free trade, there's nothing like having a corn farmer in landlocked Iowa describing the value of exports. For the value of biotechnology and sustainability, it helps to have a farmer in New Jersey explaining how GMOs allow him to grow more food on less land.
Because trade and technology are international issues, we increasingly found ourselves engaged in a global dialogue—and reaching across borders and identifying allies in faraway lands, from Argentina to Zimbabwe. By spotting and nurturing these local voices, we've placed commentaries in publications ranging from the Wall Street Journal to the Daily Nation, the leading newspaper of Kenya.
For the last decade, we've invited farmers to participate in the annual World Food Prize in Des Moines: A total of 133 farmers from more than 50 countries and six continents have joined us, in an activity we called the "Global Farmer Roundtable."
Farmers from outside the United States have come to write roughly one third of our weekly commentaries. Last October, for example, Lydia Sasu of Ghana described how access to technology helps women farmers in developing nations. Earlier in the year, Kelly Manton-Pearce of Australia pleaded for more GM crop approvals in her country. V. Ravichandran of India has called for a new "Gene Revolution" to build upon the "Green Revolution" of previous decades. Rosalie Ellasus of the Philippines has pushed for the acceptance of golden rice, a GM crop that promises to fight malnutrition.
Each one of these farmers made compelling points—and they were all more persuasive for the mere fact that they spoke in the authentic voices of men and women who occupy the front lines of feeding the world.
As these global farmers played a larger role in our activities, we recognized that our little non-profit organization had grown in its scope and influence. We had become the Global Farmer Network in everything but our name.
Now we've made it our name as well.
So Happy New Year—from all of us at the Global Farmer Network.
Bill Horan grows corn, soybeans and other grains with his brother on a family farm based in North Central Iowa.  Bill volunteers as a board member and serves as Chairman for Truth About Trade & Technology soon to become the Global Farmer Network.
Follow us: @TruthAboutTrade and @World_Farmers on Twitter | Truth About Trade & Technology on Facebook.