Thirty-four percent of farmers plan to file prevented plant claims on more than a quarter of their acres, according to the latest Farm Journal Pulse poll taken Tuesday on the eve of the crop insurance final planting date for Illinois, Indiana and Ohio.
Of the 983 farmers surveyed, 14% said they plan to take prevented plant on over half of their corn acres. Just over half (52%) said they do not plan to file prevented plant claims on any of their corn acres. Fourteen percent reported plans to claim ten percent of their acres or less, 13% said a quarter of their corn acres will not be planted and 7% pegged prevent plant at 50% of their corn acres.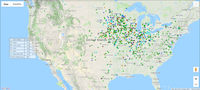 AgriTalk Radio host and Farm Journal economist Chip Flory called the numbers "unprecedented."
"What you're talking about is somewhere between seven and eight million prevent plant acres in corn," Flory said. "We've never had more than 30 million acres of corn left to plant in June. And I know that if there is an opportunity to plant up to June 12, June 15, something like that guys are going to stick with their intentions to plant corn. But with the with the rain that we've had over the last 48 hours, and with the rain that is expected between now and the end of the week, it's not that guys don't want to plant, it's not that the market hasn't offered the incentive to put a crop in the ground, but when it's physically impossible to plant that crop, prevent plant is the best option."
Those reporting more than 50% of their acres going to prevent plant are centered in the northwest corner of Ohio and southeast Michigan, Indiana, South Dakota, Minnesota and along the Missouri River.
Steve Pitstick of Maple Park, IL told Flory on the AgriTalk Radio Show that he probably won't be able to plant a quarter of his corn.
"You know, we're farmers, we'll try to plant," Pitstick said. "We're going to try to plant soybeans on that. We'll give the soybeans a chance up until the Fourth of July. Then it's over, season over. Part of me fells kind like this is kind of like losing a close friend or a family member. It's tough."
Additional prevent plant coverage from AgWeb.com:
Pulse Poll: More Than a Third of Farmers to Take Prevent Plant
How to Weigh Your Prevent Plant Decision
How To Talk To Your Landlord About Prevent Plant
How Many Prevent Plant Acres Will The Market Allow?
Considering Prevent Plant? Call Your Agent Now
A Comprehensive Look: Should Farmers Use Prevent Plant or Plant?
MFP 2.0 Makes Prevent Plant Decisions Even More Difficult
Planting Delayed? Here Are Your Prevent Plant Options