Published on:
10:28AM Jun 14, 2010
Keep your acreage, weather and crop comments coming in! Use this link to send us your comments about your wheat production and marketing decisions. Be sure to send us your photos and videos! Comments will be edited for brevity and clarity. (Please keep your comments crop-related.)
Here's a sampling of what some folks are saying: 
11/13 - Wilson County Kan.: Finally finished up with bean harvest for the year. Overall average was right at 38bu/ac for 1380 acres total.  About 800 were full season with the rest being after wheat beans.  Drought hurt the full season beans a little but not as bad as we thought. The later beans averaged about 5bu/ac better than the earliest ones we planted. Stored around 35,000bu and sold the rest for an average price of about $9.20/bu. Finished with drilling wheat for next year today. Put in just over 1400 acres so I'm hoping for a good wheat year in 2015. Not planting any corn again next year. Just cant make it work with prices so low and seed price so high.
11/12 - Union County, N.C.: Dryland soybeans double-cropped behind wheat received good rain when most needed. Beans are averaging in the 50's; which is very good for late planting in our area.  I have been continuous 100% no-till for 30 years and this is a must practice for our lower organic soils.   Every acre has been completely weed and grass free.  I sprayed Gromoxone and Envive as my burn-down combination, I then came back at 25 days with Roundup PowerMax and Prefix.  When beans reached R-2 I sprayed Roundup PowerMax to cleanup a very small amount of Johnson grass, I also added Stratego YTL and AC-97 into the tank mix.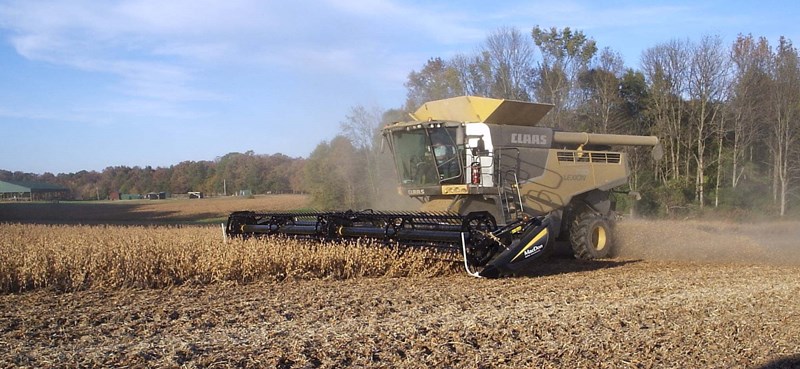 --Union County, N.C.
(Have any photos of the crops on your farm? E-mail (

[email protected]

) them to AgWeb and have them posted on Crop Comments! Be sure to include a caption.)
 
10/15 - Southwest Ind.: Corn harvest is probably 50% complete in the area. Most is still around 16-17% moisture. Very good yields with field averages ranging right around and a little above the 200 bu/ac mark. Some early beans have been cut but there are a lot that are ready to go when it dries out again. Double crop beans look really good as well and are in full yellowing this week. Some winter wheat was drilled last week in between rains but not many acres are done. Rain has been keeping guys out of the field off an on for the past 2 weeks. Hope it dries out soon. Good luck and have a safe harvest!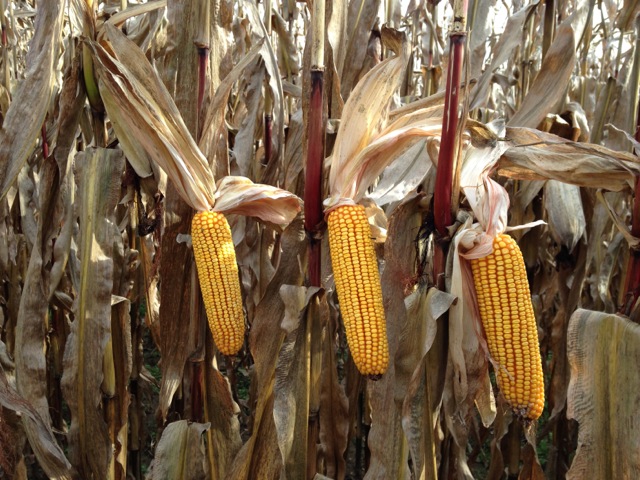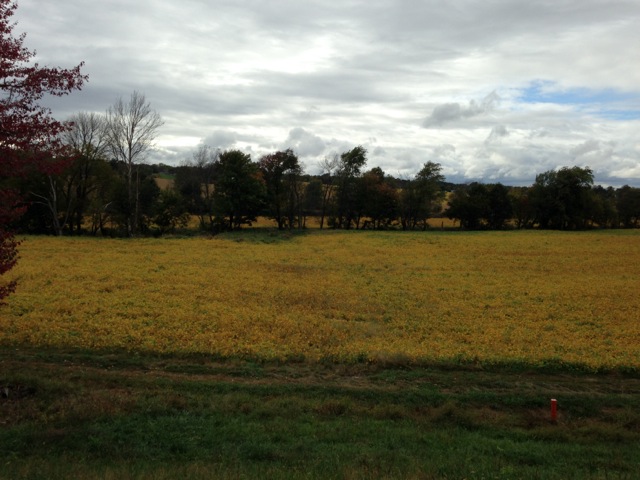 --Southwest Ind.
(Have any photos of the crops on your farm? E-mail ([email protected]) them to AgWeb and have them posted on Crop Comments! Be sure to include a caption.)
10/8 - Brown County, Wis.: Corn still too green to chop-in 30 years of farming I have not started this late.Lot of guys still want to plant wheat after silage-maybe next week!North of me put in on July 15 & they have 1000's of cows-hoping to get it by Thanksgiving! If this doesn't kill you it makes you stronger!!! 

 
10/3 - Cheyenne County, Neb.: Wheat is pretty much all planted and up. Most areas around received 3" plus of rain since Sunday, some water in terraces and low spots. Most proso millet is laid down but soaked. When millet is wet in the windrow it takes along time to dry. Those with drying capability have an advantage. Its going to be another long fall/winter before we can put the combine away.

 
10/1 - Mercer County, Ohio: Harvested 80 acres of beans over 60/A. Planted wheat. Rain today and rest of week. Little corn harvested 24% over 200/A

 
10/1 - Spokane County, Wash.: After reading "Click, Clack, Moo" to my kids last night, I think I figured out how to gain control of the corn market for you guys. Much like the cows using their power(milk) to get the farmer's attention, you guys use your power(unharvested corn) to get the industry's attention. Your letter would read something like this, "Dear Industry, the U.S. corn farmer is tired of you messing with our markets and our livelihood. Therefore, we will leave roughly 10% or 20 bushel per acre of our corn unharvested this year." In one fail swoop, the potential of losing 20 bushel per acre on 90 million acres would raise some eyebrows. In effect, it would eliminate this huge 2 billion bushel carry over they are all talking about by itself. For once, you would be in control of the information and the outcome. The only saving grace for the corn market is a supply issue and you would be creating it when no other one exists. I'm just a wheat grower in eastern Washington, but I too am tired of (mis)information, big money, speculators, computers, etc running these markets. This would leave no doubt who is really in control and would have a lasting impression. I rode around in the tractor today trying to think of a negative outcome and realized there really isn't one except for the end users who are salivating now. It would be hard to implement across the board, but with social media and commodity organizations to push the message it would gain speed and attention quickly. What do you have to lose? Mother nature gave most of you the 10% to gamble anyway. It wouldn't take much of a market move to make up the 20 bushel.

 
·  9/30 - Craig County Okla.: Corn was way above average here and beans were hurt by dry weather but the after wheat beans look great. Isn't it amazing that when the FSA released their acreage report that analyst said we can't trust those numbers. FSA says we have 4 million less acres of corn and 2 million less acres of beans. That's close to a billion bushels of corn and the market went down the next day. I would trust FSA numbers more than USDA phone surveys. The freeze up north, the FSA numbers, the drowned out spots across the corn belt could easily cut 1 to 1.5 billion bushels from this carryover. Fund money is in control and the media is not going to give them any of this positive news to change their thinking.

 
9/30 - Western New York: Corn silage harvesting is in full speed. I expect nearly all of the corn in our area to be harvested for silage. Lots of winter wheat going in after corn, three to four times more acres.

 
9/29 - Roosevelt County, Mont.: Finished cutting 3 days ago. Started harvest on July 22 on barley and went straight through till end of august then had major rains to stop harvest for 3 to 5 days. Spring wheat and winter wheat from then on is bleached and sprouted. Most is worth 2.50 bushel. Major portion of spring wheat is like this no matter how great yields the quality is poor. Market doesn't want to talk about that hear or for north dakota. Just that it is a big crop
9/18 - Richland County, N.D.: Crop continues to very slowly mature. I drove across the central part of ND yesterday. Crops really vary from looking good to poor. Lots of short corn and beans - beans turning to sticks only about 1 foot tall. There are still some trying to combine very wet wheat fields. We have issues of poor crop, poor price, transportation of grain out of the elevator due to oil being transported by rail instead of crops. I think I like the idea of buying on the stock exchange. Everyone can afford $2,000. I think you should all call your lenders, machinery programs, fertilizer and seed plants, and anyone else depending on you - There won't be any further payments due to the budget shortfall. We need more than just us on the ban wagon -this might get their attention. My rent contract is up for this year on some land - the landowner asked me what I was thinking for the next contract. I gave him a farm budget spreadsheet without rent cost based on 2014 expense- that said I was going to make a -$71 and acre and he was going to make $0. I asked what he thought he would pay? He didn't know what to say! And he has always been a fair person and it is not his fault how expense catches up with profit. The companies will lower prices and manage in 2015 to leave you just enough to keep you going so they profit. Just imagine what everyone's made off you in the last 4 years and you spent it - We didn't save it by the looks of our yards. Trips, lake homes, houses in Arizona - how will you pay for them now. Your new shop and grain storage, dryer - how will you afford the cost of operation and maintenance?

 
9/18 - Hettinger County, N.D.: We are usually done with the small grains about third week of august, but farmers just into the thick of the wheat now, quality problems after ten inches of rain in august, beans and corn bit the dust last week with 4 nights in a row of frost, harvesters getting stuck in the mud by the dozens every day, old timers have never seen anything like it before. mostly low protein in the wheat, so getting around 3 bucks a bushel, you do the math. have a good fall.

 
9/17 - San Diego, Calif.: Looks like you farmers in the upper Midwest might get another wave of flooding rain from remains of Odile, possibly followed by more cold at end of September. Bought some CORN & JJG call options just in case of harvest problems. The speculators in Chi-town have driven the bean, wheat & corn prices to bargain levels! China will probably be back in the markets--big harvest failure there from dry conditions in north China. Don't sell your grains yet farmers--hold out for a harvest rally. Out here in San Diego County, the rain from the Baja Hurricanes keeps missing us--goes to Arizona. The citrus & avocado fields are dry & the purchased water is driving farmers out of business--NEED RAIN!! How about if we run a big pipe from the Great Lakes? You won't miss the water--you have too much already.
9/17 - Cheyenne County, Neb.: Why are we planting wheat when local cash prices for 2015 July wheat look to be heading for a level under $5.00 per bushel? Wheat plated on crop share rented ground is going to go backward at least $50.00 per acre.
9/16 - Walsh County, N.D.: Temps dropped to 25 around this area on Thurs, Sept.11. Big time loss for all our soybeans and edible beans, maybe the sunflowers, and might have hurt some late seeded wheat. Lots of long faces around here with the freeze and falling prices.
9/12 - Southern Manitoba: record lows were set across western Canada this morning bring the growing season to a screeching halt in many locations and damaging many late seeded crops. Despite all the negative news regarding wheat good quality wheat is hard to find across western Canada and the vast majority is still out in the field deteriorating quickly. If you are looking for poor quality wheat you might be in luck but if you have to have quality you had better open up the check book and start looking.

 
9/11 - Cheyenne County, Neb.: Some early planted wheat has emerged. Wheat planting continues as we approach the optimum planting date. A lot of millet is being swathed. Few combines are rolling. Corn is looking good, still maturing. Temp this morning 42 deg.
 
9/10 - Richland County, N.D.: The wheat harvest made fast progress though it was not easy - over a month behind. Wheat came off wet and had farmers scrambling to find drying room at elevators. We still have most of last years corn and soybeans in the local elevators - they have not been able to move it. They are very concerned about wet beans and corn this fall. They will not be able to help out the harvest. There are piles of corn at many of our elevators yet. Some varieties of beans and corn started to die this weekend. Harvest of beans is about 3 weeks away for these fields. Corn maturity really varies - but everyone is worried drying will be costly. There isn't any room for it on $2.80 corn. However, should the crop make it, farmers seem to think it will be pretty good.
 
9/8 - Ransom County, N.D.: Still wheat to be combined. We missed the rain and hail but lots of acres in central North Dakota and Minnesota are in tough shape after Wednesday's storms. My corn won't make it based on the current weather forecast. White mold is chewing up the soybeans. Sent in more wheat samples to find out where the vomitoxin levels are. Early harvested wheat was over 2 ppm but under 5 ppm DON. No one said it was going to be easy. Safe harvest to all.

 
9/2 - Southeast S.D.: Ok, crops are looking ok, jot record, a little behind and cool forcast I hope it doesn't freeze until Oct! ??? Ag web, latest market news, Aug 29th, beef exports soar due to high prices??? Pork exports to decrease, tight supplies and lower prices, ??? Aren't hog prices at pretty decent levels??? Wheat exports to slid, lower volume and prices??? Corn exports to drop , strong crops throughout the world and weak prices??? Soybean exports will fall, but don't fret, lower unit prices because of high yields will strengthen demand pushing export volumes to a new record! .?????? I don't get it! If exports rise due to higher prices, let's raise prices and make things good all over!!! Sounds to me like our "experts" are talking out of both sides of their mouths!!! I know there's a lot more to it than that but exports of corn for instance didn't slow until futures hit $7.50???? Listening to Michelle Rook at farm progress " looks like we are going to get some rain" why are the experts worried about rain at the end of Aug., when this so called "record" crop was made back in May!!! Thanks for listening!
8/29 - Richland County, N.D.: Our wheat is ready to harvest but continual cloudy cool days and showers are preventing any harvesting. Recent rains have improved our sugar beets and beans but I don't think it has greatly improved the row crop outlook. Our corn is still 3 weeks or more behind and the beans will do what they can in this cool cloudy weather. In reading the comments below, we inventory ourselves every year when we report our crop insurance and FSA acre reports. As long as someone knows how much land is planted, and can look at production history - there can always be a fairly accurate prediction of our crop. There will always be areas of great crops, good crops, and bad crops. On most years, that translates to an average crop. What is not produced can be made up by imports. It is just like the oil being produced in the Bakken area of North Dakota - we need to develop oil reserves in the US to alleviate our dependence on foreign oil - we are now the second soon to be first leading producer of oil in US - they want to build a pipeline to get it out of here - so they can ship it to Japan - has your cost of gas, diesel, or oil went down since the Bakken started pumping??? It is all about the control not the need. They know we have to sell our crop to continue and they know when we need to sell it - that's why crop prices generally dip at harvest, before the end of the year and the beginning of the year. Personally, I like the crop reports and I don't feel they influence anything. Everything is out there for anyone to see anyway. I do think a major freeze in the next couple weeks over the upper US would change things though. It was 39 in northern North Dakota Wednesday night.












 
 
 
 
 
 
 
 
 
 
 
8/29 - Ransom County, N.D.: 11 out of 13 days with measurable rain since august 16th. Wheat harvest is a mess. Haven't combined a dry bushel yet. Reports that standing wheat is sprouting are common. Scab is an issue and even with low scab damage there can be high levels of vomitoxin. Reports of DON levels from 5 to 7 ppm are common. Falling numbers are also a concern on the wheat that's been out in the field too long. Elevators rejecting loads now. White mold is showing up in the soybeans. We need some dry warm weather soon. Corn is beginning to dent but heat units are difficult to come by. Mother Nature still dictates what we get in the end. Good luck to all.
8/27 - Central N.D.: slow start to harvest . combined 100a spring wheat lots of scab, vom. at 7.0 ppm local elevator wont take it.
8/22 - Richland County, N.D.: Wheat is still holding on and not drying down. Corn and beans are still way behind. Most beans are only knee high - most corn still not roasting ears. We went from dry to some areas now have had 4-5 inches of rain and are very wet again. It has been hard to break 85 degrees the past couple weeks. Highs in the 60"s for next Monday.
8/22 - East Central Mo.: agree w/Know Co IL seeing the yellow beans. Don't think it to be nematodes b/c we used Clariva which is supposed to help w nematodes. Something ain't right out there. Spots are getting bigger around here too. The SDS symptoms are more of the brown leaves which we are seeing too. . When you have mushrooms (fungus) growing in the yards that clue! The air is saturated w/moisture, heavy dew/fog in mornings and add hot humid w/not much sunshine and little wind.....we know what it did to the wheat.
8/21 - Washita County, Okla.: I have had the worst three years in a row due to drought. Harvested very little wheat this year, and most of that was to save back for seed. The wheat in the western half of our county that made it to harvest averaged 9-17 bpa. We have received a few small rains since harvest, but good luck trying to drive a post in the ground now. Cotton seems to be doing OK at the moment, however we have absolutely no sub-moisture anywhere. We need a lot of water to fall for a long time to get things back like they were 5 years ago.












 
 
 
 
 
 
 
 
 
 
 
8/21 - Oliver County, Neb.: woke up to thick fog again this morning. chances of rain everyday and highs in the 60's next week. starting to wonder if we will ever get to start harvesting. One would think at some point the traders might take notice, but they are too busy worrying about the corn and soybean yields. I guess no one buys wheat anymore.
8/19 - Ward County, N.D.: Winter wheat harvest is under way. VOM levels are high and elevators refusing to take the the crop. Yields down significantly due to head scab. Allot of cheat grass, green and yellow foxtail and foxtail barley due to the wet spring and cool weather, and thin plant stand. Allot of bare grassy spots. I think these grasses filling in the bare spots may have USDA satellite imagery showing a wheat yield in those areas. Combines here showing a lower than average yields.
8/18 - Olive County, N.D.: Wheat harvest just about to start. 5 inches of rain in last 12 hours. According to USDA thinking, that should make for ideal harvest conditions and probably added 5-10 bushels to our yield. Corn in our area is gonna need a Christmas miracle. It looks good, but a long way to go.
8/15 - Manitoba: The winter wheat harvest is underway in Manitoba. The crop is turning out to be less than expected. The scab is ranging up to 30% on some fields and some of these fields have had 2 applications of fungicide. We don't know whether this crop will even be marketable. So far, there is only one variety that isn't showing any scab damage but it is only now becoming available for seeding this fall. Wish it had come a year earlier!
8/14 - Yuma County, Colo.: Had some rains last week and dryland corn looks good, some outstanding fields. This has been a tough year, lots of storms with high winds, and hail damage throughout the County. The Irrigated corn is not as good as last year. Pinto's and Kidneys look fantastic. Wheat that was not hailed produced record yields. Pastures look awesome with happy cows. This part of Colorado looks very pastoral, especially after so many dry years. Come visit Colorado. We now sell weed.
8/13 - Walsh County, N.D.: Wheat crop looks really good, but wheat seeded June 12-17 needs a rain. Last rain here was over 4 weeks ago. Edible beans and soybeans are growing nicely now that the temp is aroung 80, but they could use a good rain right now.
8/7 - Sargent County, S.D.: 1 inch of rain in July is all we have mustered. June was so wet, we received 4" in 45 minutes in one rain event and that caused lots of flooding and drown out. I'm sorry but I've been farming for 40 years and have never seen a 2nd ear contribute to my yield unless the corn stand was miserably low. Now maybe those corn hybrids down south are different than our northern hybrids, that very well may be the case. The soybeans here need moisture badly, by noon they appear very stressed. Wheat harvest has just started with some of the poorer soils being the first to go. Quality and yields look to be good.
8/6 - Richland County, N.D.: Our weather has switched over to dry and too dry in the valley. Our short behind corn is now firing. The beans are still not knee high in many places. What crops look good are really good but the majority remains way behind and uneven. Some corn is just tasseling and silking even though only 4-5 feet tall. Wheat looks to be the best crop. Some barley coming off and yield reports are good.
8/6 - Manitoba: Our wheat and canola is looking pretty much average out here and corn is definitely in need of rain. Later canola is aborting flowers because of excessive heat and lack of moisture. Went for a long drive in North Dakota to see what the "Record Large" wheat crop looked like. I saw headed wheat that still had all the rows showing. Average at best, in my opinion, with some of the wheat still green as grass, especially in the Red River valley. According to the experts in the media, it seems that, either the crop is dead or it's "RECORD LARGE". What ever happened to an average crop?
8/5 - Christian County, Ky.: We are burning up. Corn on hills is already totally brown, lower areas might benefit from rain but none is in sight. Ears are short and not filled out, grain is small. Double crop beans are up but not growing much. Wheat was fair, not as good as last year.
7/31 - Cheyenne County, Neb. Wheat harvest 80-90% done. One second hand yield report from Deuel County said yield on dryland wheat @ 98.2 bu. /acre. There were some very good yields around the area. Harvest stopped because of rain Monday evening. We hope to finish over the weekend.
7/30 - Sauk County, Wis.: Cold no heat. Corn and Beans look good but have a long way to go. No significant rain just enough to keep you from combining wheat. No sun to dry the wheat. Sun comes out at 7:00 at night. Hope our first Frost is December 1 we are going to need that much time to ripen the crops.
7/29 - Richland County, N.D.: Cool and cloudy past several days, 10-20 % of corn starting to silk and tassle. Much is only 4-5 feet tall. Soybeans are ranging from waist to the majority under knee high and a lot of ugly fields in the valley plus I am noticing more large prevented plant fields as they get worked. Overall good conditions for a crop that is on time but we are 3 weeks behind schedule. Wheat is just starting to turn ranging to late pollinating in some areas. Wheat looks OK. According to GDD, 60% of the corn fields are looking at black layer near October 1.
7/29 - Walsh County, N.D.: We are spraying the edible beans (2nd time) this week. The flower buds have formed, but no flowers yet. They are finally getting kind of bushy, but have a long way to go to make a crop. Praying for a really long, warm fall. Hard red spring wheat crop is excellent. Drove to Fargo over the weekend, stayed on secondary roads-took our time. Terriffic amount of water damaged corn, soybeans and sugarbeets thru the heart of the Red River Valley....but on the freeway at 75 mph crops don't look too bad. USDA must stay on the Interstate highways.
7/25 - Buffalo County, Neb.: Finally was able to harvest my irrigated wheat. The yield was decent, test weight about 58. The price isn't pretty though. We haven't had much rainfall this month, and the dry land crops are starting to show stress. Irrigation has really increased in the last week, and will continue non stop until we receive a decent rain, or until the crop matures- which ever occurs first. Good luck to all.
7/24 - Richland County, N.D.: The first few fields of corn are just showing tassels. Others are weeks away from tasseling. Beans are about shin high to 6 inches. Moisture is fine and temperatures have been OK. Tasseling looks to be very uneven in some fields. No bug problems yet. Wheat is about 3 weeks away at earliest from harvest.
7/22 - Lancaster County, Neb.: Took a vacation with family left Lincoln headed east to Des Moines then up through Northeast Iowa over to Madison WI (Dells) up to Green Bay (go Pack but not Badgers)) home by way of Northern IL then I 80 west. Corn looks 175 or better all the way except from 40 miles east of Madison up to Green Bay. Beans look average about everywhere. Tremendous looking corn I thought in SW WI. You farmers in NE Iowa through Wisconsin sure know how to keep up your farmsteads with those pretty big red barns, very impressive. Back here in Southeast NE we could use a rain haven't really had anything since the first of July. Corn could be tremendous with a good soaker shortly beans are very uneven this year and to early to tell what will become of them. Wheat was around 60 bus/acre from what I heard. Feel sorry for the producers around Adair IA, that was one nasty hail storm. With what I saw for the 1800 miles we drove, looks like the market is doing just what it should, hate to say that but basic economics of supply and demand are taking hold
7/21 - DeKalb County, Ind.: Stopped raining long enough for the wheat to be dry for harvest. All the repeated rain hurt the test weight. But with how hard the winter was and how long the snow covered the ground into the spring, we're happy with the yield.
7/21 - Buffalo County, Neb.: If you were fortunate enough to miss out on the hail, crops here look about as good as they can. Pollination is in progress on the corn, but things have slowed down due to very cool conditions. I have not cut my wheat yet as it just won't mature and dry down with temps only in the 70's during the day. Much warmer temps are in the forecast for the next week, so hopefully it will dry down so that I can get it cut. Some of the comments on this page are quite amusing. IMHO, Mower County, MN summed it up best; Ag is a cyclical business. If you didn't put some money in the bank during the last 5 years you made a mistake. If you tore up pasture and/or CRP and planted crops, you are part of the problem as to why crop prices are sinking. Some farmers love to stare prosperity in the face,.. and promptly hand that "prosperity" over to the equipment and building companies, or to landlords to rent land away from someone else so that they can brag about how many acres they farm. Some of us will never learn the lessons of the past, as thus we are doomed to repeat them.
7/21 - Southern Manitoba : Saw soybean crops in North Dakota and Minnesota during this last week. I'm just wondering what the crop potential is for soybeans that are 4 to 8 inches tall in the middle of July because there were a lot of them out there. There was also a lot of spring wheat with large yellow areas in the fields. In Manitoba, this usually means a large loss in yield. I guess that US wheat yield isn't affected by water damage according to crop condition reports. In 2013 there was an awful lot of wheat from Canada that went across the border to make up for a shortfall in US production. This won't be the same in 2014 because the Canadian crop isn't nearly what it was last year. It'll be interesting to see how government agencies will try to cover up the shortfall in their crop reports. The amount of crop damage, due to flooding, has been hugely understated in the Canadian prairies.
7/16 - Daniels County, Mont.: Crops in this area doing well, but do need a rain.With grain prices the way they are i am already planning next years crops.Considering lentils,mustard,peas,flax.if the rest of the world can raise wheat at a profit at these prices let them. We all will be lucky to break even.Wheat prices have to go up or inputs have to go down.Who do you think will give first because the farmers already have.Good luck to all of us and hope to see all of us still in business next year.
7/15 - Cheyenne County, Neb.: Wheat harvest started on earlier planted fields over the weekend. The crop looks good from the road, no yield reports yet. If the rain and hai1 stay away and we get some heat maybe we can be done in ten days.
7/14 - Walsh County, N.D.: Travelled to Carrington yesterday (125 miles to the south west), in east central ND. I don't know where the increase in Spring wheat is coming from (USDA report). Looked like 70% went into soybeans. Our wheat and barley crops look excellent, but soybeans and edible beans need to do some fast growing to make it. Sunflowers and and canola also doing very well.
7/14 - Spokane County, Wash.: We dry land farm mostly wheat in 17-18 inch rainfall zone. We were blessed w 2-3 inches of rain in June and crops look good despite having 10 days hot temps w another week of it still to come. Extremely frustrated w another price wrecking usda report. They call me all the time and I refuse to give them any info and even drag my feet on the census. It's simply governmental market manipulation and a giant waste of our money. Let informa and others do it and let a market be a market. I always felt entitled to direct payments because I feel the government constantly messes w the market and now those payments are gone and we still pay the price.
7/14 - Southwest Ind.: Wheat beans are anywhere from just planted last week to just within a day or two of popping above the wheat stubble. Some ground was even worked after wheat before the beans were drilled. Wheat did fairly well in this area. Anywhere from low to upper 80's was the average. Some wheat also had high levels of Vomitoxin due to the head scab. Early beans were considerably late this year but look good overall.
7/11 - Monroe County, Mich.: We are cutting wheat and making second cutting hay. Also crops are but need rain.
7/9 - Porter County, Ind.: Drove from NW IN to Norwalk OH and back over the holiday weekend. From the toll road, only saw 1 field that had tassels. So many soybeans were "ankle-biter" height, looking more like double-crop..they weren't, as the wheat hadn't been harvested yet. Really uneven stands; would estimate that less than 5% was a decent green color throughout the field. Too much yellow, and some standing water & drowned out spots.
7/8 - South Central Minn.: I remember last fall when the cattleman's association and the grocer's association petitioned the EPA about the RFS and how ethanol was causing high food and feed prices. They wanted something done about it. As we sit here today cattle are at record high prices, and the price of cereal and anything that uses corn or wheat have not come down at all and ethanol is about $1 cheaper than rbob gas. Maybe the ethanol coalition needs to go to the EPA now and petition them about the high beef prices and how much corn we have. We should be able to blend even higher rates of ethanol now. In the midst of rising food prices we supposedly have plenty of corn, wheat and beans around. Whose causing these high prices? Not the farmers. Can't blame ethanol and the grain prices. Last time I checked there was no pork or beef in a box of cereal or in a loaf of bread yet they haven't come down at all in the store. Maybe someone at agweb could go to these organizations and ask them why this is. The hypocrisy with both these organizations is off the charts. You can't make it up.
7/8 - Waupaca County, Wis.: Crops look good. Big variation though. From ankle high to almost tassel. Most of it towards the earlier. With all the potential sun and heat units lost, how can yields be record? The math amazes me. Beans and Cotton up 11 and 9% respectively and Corn And Wheat down 4 and 1%. Where did the extra acres come from? Getting dry with no rain in over a week












 
 
 
 
 
 
 
 
 
 
 
7/8 - Southeast Ind.: Crops look good, but we are dry and it will take rain to bring up double crops beans in our area. Wheat turned out great, around 90 b/a.
7/7 - Washington, Kan.: Our wheat was planted late and got help from a 1/2 inch rain, then 4". Large kernals......43 bpa.
7/3 - Putnam County, Ohio: corn excellent shoulder high soybeans good early ones starting to bloom: wheat very good will harvest in a week: alfalfa excellent looks like best tonnage ever.
7/3 - Giles Tenn.: Had localized flooding early June. Have had very spotty showers since. Set a good crop with good pollination. Corn firing up,deteriorating daily with temps in the 90s. Soybeans look good but starting to show stress. Wheat harvest behind ,but crop is very good.
6/27 - Whitley County, Ind.: some winter kill an stanting water kill rest looks good about 70 bu wheat
6/27 - Rooks County, Kan.: Got a couple of fields of thinner continuous wheat cut and just when we get into a field of summer fallow and much better wheat, we get over an inch of rain. Panorama picture from a continuous field (like how it stitches the reel together).
6/26 - Union County, N.C.: Wheat was very good this year averaging 72 BPA with no fungus pressure, and a test weight in the 60 lb. range. The harvest weather was excellent for wheat, but corn could use more rain at this time. Soybeans double-cropped behind wheat are showing as a good stand in 5 days.
6/24 - Huron County, Ohio: Wet here in north part of the county. We had over 1.5 inches of rain today. On top of the 2 plus inches last week. Lot of beans not planted. Most of those will be prevented planting from what I am hearing. We didn't get last 55 ac done. Ground is just to saturated. Beans that are planted are coming slow. Some corn looks good but starting to show effects of wet weather in places. A lot of nitrogen not put on yet in the area. Not sure when or if it will be. We spent a day spreading urea over top of the corn so at least that got done. Wheat starting to change color a little. Long way to go. Recent storms have knocked a lot of wheat down. Great thing about Ohio "wait 10 minutes and the weather will change". Hopefully for the better.
6/23 - Marion County, Ohio: corn and beans off to a good start. A lot of rain but not a washout. Wheat is several wks behind in harvest which will probably affect acreage back to double crop beans. Fields too wet to sidedress and spray.
6/23 - Lee County, Iowa: Heavy rain again today now the river coming up from rain up north hope are best crop in years in southeast iowa don't get totally ruined like 93 or 2008 wheat hay need dry weather.
6/18 - Dickinson County, Kan.: We have gone from one extreme to the other here in our area. We were dry all winter and spring, and now that the wheat is ready to harvest, we are way too wet. Our corn looks good and the beans just need some drier weather, but there has been very little milo planted in this part of the state. We have had 8-10 inches of rain since the first of June, which is usually the prime time to plant milo. Almost nobody in this area has experience with prevented planting, but this could be the year. We certainly need a change in the weather pattern, but the forecast doesn't look good.
6/13 - Southwest Ind.: A lot of Winter Wheat this past week has turned golden. Harvest should only be a few weeks away if the rain holds off. Lots of head scab in wheat this year, knocked a good chunk off of the yield.
6/5 - Robeson County, N.C.: started wheat this week. yields in 60's with low test weight. no rain in three weeks. corn rolling up.
6/5 - Richland County, Ill.: Finish plant May 23. Lots of white heads showing up in wheat last 2 days.
6/3 - Northumberland County, Pa.: Finished corn and soybeans yesterday. Suppose to get thunderstorms today, wouldn't hurt. But don't need a down poor. Other guys in the area are starting to wrap up planting also. Crops are off to a great start once again this year.Wheat pushed heads end of last week and now all fields are full heads. Have a safe summer everyone and good luck!
6/2 - Cheyenne County, Neb.: Wheat started to head last weekend. The wheat that survived the cold and the wind looks pretty good.
5/30 - Scott, Wichita, Greeley and Kearny Counties, Kan.: The wheat crop is greatly varied! You can go from an estimated 0 bu/a to 25 bu/a in a couple of miles. Many farmers will not be able to cut the wheat due to its short 4-8" height, even if it was good enough to harvest. Many appraisals under 1 bu/a. Most farmers hoping to have enough cover to prevent wind erosion. Too dry to plant milo. Most areas the last good rain was in August-September. Scott City is at 1.72" for the year. Normal average is 18-24" per year. Some cattlemen have gone to "pasture", because there is NO grass. Driest first five months in history, worse than the 30's or 50's. Buddy, can you spare a drop?
5/29 - East Central Mo.: Most all corn planted and up. looks good. Beans almost done but spotty rains delaying certain areas. The old saying when it rains it pours? Some are getting 2" and half mile away 0! Wheat in this area looks best ever but it ain't in the truck yet!!
5/29 - Saginaw, Mich.: wet wet 10% done lot of farmers didn't get nitro on wheat in southern Saginaw and Shiawassee county
5/29 - Wilkin County, Minn.: field work continues to go at a full throttle pace. most activity is down to soybean planting/pre-emerge spraying. but, i talked to guys at local agronomy center and they are still treating spring wheat seed and also sending out chemical for first herbicide treatment for spring wheat. been many decades since they have seen that they say
5/20 - Brown County, Wis.: 5/19-Clay-loam soil was finally dry enough the last 2 days to do some manure hhauling & got the fert. on wheat- no planting as of yet. Raining tonite- must need it or we wouldn't be getting it!!! LOL!!!
5/19 - Southwest Ind.: More rain and cool temps here. Ground is very wet. No beans in the ground at all. What little corn that is planted is just now coming up. Really need some warm and dry weather to get things moving again. Wheat looks pretty good. Most has headed out and some flowering occurring. Saw some sprayer planes fly over. Must be applying fungicide to wheat somewhere.
5/19 - North Central Oklahoma: Wheat heads 50% white (dead) to green!! Also off green heads are shutting down with no moisture in grain!! Should have Hayed it!! But have plenty of hay so rode this out and 7 seconds later no hope??? This is the better area with the most chance!!! Hopes for 15 to 25 now more realistic of 5 to 10 , with a test weight of?? 42 test in Texas I hear. This week should ripen the crop , temperatures of mid 90's to 100!!! Recent drop in prices are not realistic to conditions!!! Always an excuse ,, plenty of wheat in the world don't worry be happy!!! Well these conditions are the worst in history for this country!!! Wheat highs have hit 13$$ before with a lot better conditions!!! Chase out the long positions I think and hold down prices till ins. payment is decided end of June!!!
5/19 - Southern Gage County, Neb.: A lot of sick looking corn after the freeze last night. black and limp hope it looks better in a couple of days. very short wheat, had some appraised at less than 4 bu/acre.
5/19 - Jackson County, Iowa: Planters started rolling again Sunday. Had slight chance of rain for Monday afternoon through Wednesday, woke up this morning to 2/10 inch of rain. Hope to see you back at it this afternoon. I would guess 4-5 days of planting would wrap everything up. Some rye is starting to be cut for silage, would expect to see some hay getting cut the end of the week or this weekend(for dairy quality ).












 
 
 
 
 
 
 
 
 
 
 
5/15 - Manitoba Canada: Seeding way behind here in the southern part of the province. A lot of winter wheat going to be worked down. A lot of it didn't survive the cold winter temperatures and the thawing and freezing in spring. It's supposed to get way below freezing this night so it might finish the poor stand of winter wheat off. That would make it an easy call for crop insurance. Hope the spring seeded crops will be better.
5/14 - Buffalo County, Neb.: Finished corn and beans on Saturday. Big chance of rain on Sun/Monday fizzled again-.25". We have been extremely windy and down right cold at times here. The pastures are starting to show the effects of the lack of rain and high winds. Wild oats is heading out already, and is only about 3-4" tall. First planted corn(23April) is just starting to emerge. Wheat is very short, maybe 6" tall. Simply too cold for it to grow much. Another interesting year. Good luck to all.
5/13 - Northeast N.D.: Raining here again this past night and morning and temperatures are still cold had evening low of 37 and has taken until lunch time to reach 40 degrees. Fore caste is for cool wet week and warm up by end of the week but still chances of rain going into next week. A little field work did happen on Friday and Saturday I think a few of neighbors got piece of wheat seeded before rains on Sunday. Last years PP fields are extremely wet and frost is still pushing moisture up keeping the ground wet. We need sunshine and warm temperatures but is getting serious here we are getting late here to plant a crop and ground conditions are far from ideal with this wet and cold weather.
5/12 - Douglas County, Minn.: 5-10 White frost on ground & roofs this am. about 2" plus rain in the last three days. Lows of 30's & highs of 50's this coming week. Not much planting going to happen then. Maybe 5% corn in ground, no beans, some still planting wheat. Starting to look like last season of end of May planting or prevented planting.
5/12 - Wilkin County, Minn.: Planted wheat for 13hrs april 22nd. nothing since. Don't have a lot of hope for planting this week. Sugar beets and wheat need to be in now. might cancel corn for this year.
5/12 - Southwest Ind.: More rain today has halted field work once again. Lots of ground being worked and Anhydrous going on the past week. Some corn that got planted on April 26 has just emerged. Doesn't look too good. Lots of drowned out spots and corn that didn't emerge. It had 3" of cold rain on it which formed a thick hard crust on top. Wheat has been looking pretty good but not as good as last year with a lot of slight yellowing in a lot of areas. Lots of heading going around here in earlier planted wheat. Should be pollinating soon. It has been a late cold spring. Hope it dries out soon to get the rest of corn into the ground. Nobody around here has even thought about planting beans yet.












 
 
 
 
 
 
 
 
 
 
 
5/9 - Cheyenne County, Neb.: checked the rain gauge this morning; 1.4 in. last night. It came as a combination of rain and snow, the ground was white this morning. We had 5 days of 40mph wind from last Friday till Tuesday, gusts to 70 mph. A lot of wheat on lighter ground is gone. The rest of the wheat has wind burned leaves. Lots of winter wind damage to bare fields over the winter. Chiseling in Jan. didn't help.
5/9 - Nelson County, N.D.: Maybe 2% wheat planted. no soys , maybe 2 % corn planted. Normal is closer to 50 % or better , in my opinion. It is very wet very cool , with cold ground temps, a repeat of last year. Many farmers abandoning thoughts of planting corn. The whole state is very cold and wet. Very little planting has occurred. With the dry down south and the cool wet here, I would be looking for the market to start heating up.












 
 
 
 
 
 
 
 
 
 
 
5/9 - Columbia County, Wash.: Some of the best looking wheat with new varieties with seemingly unlimited potential at this point.
5/7 - Minn.: Wheat. Been in ground 3 wks not up. Corn in ground 3 wks not up not sprouted. Wet 4 inches of rain more coming.
5/7 - Power County, Idaho: We farm in Southeast Idaho, Power County, and it has been the wettest April and first week of May in many years. Just finished planting safflower on May 5 and winter wheat looks as good as it has in many years. Feel bad for the Plains dry farmers who have endured more than their fair share of drought but we do know how you feel if that makes any difference.
5/5 - Reno County, Kan.: Wheat is all headed out and about 12 inches tall. I am west of Hutchinson Ks. At 3 oclock this afternoon my temp. gauge here at my house hit 104. 4 nights ago we had a low of 34. Forecast in the 90s till next Thursday. Should cook this wheat crop.
5/2 - Ransom County, N.D.: Still cold but now we are very wet as well. 3" of rain in the past week. Only a few hundred acres of corn planted thus far county wide. Wheat planted Good Friday has only a small sprout so far. Soil temps yesterday only got as high as 40. It looked so promising a few weeks ago, now it looks like lots of prevent plant if this weather doesn't straighten out. Lots of talk about switching to earlier maturing corn hybrids.
5/1 - Franklin County, Pa.: Wheat-poor to fair probably will not keep all of it. Plant corn instead. Ground cold & wet.
4/30 - Oliver County, N.D.: 2014 starting to look like a repeat of last year. very cold and wet start. Just started seeding spring wheat and got blasted with yet another round of late april snow. most guys just getting going while others have not turned a wheel..just too cold and wet. already some good stuck stories at the local coffee spots. need sun!!!!
4/30 - Wood County, Wis.: Farmers in central WI are starting to feel like it is going to be a repeat of 2013 and all that PP. A cold wet spring, manure storage reaching capacities, and nothing in the ground yet. The one bright spot, winter wheat and alfalfa appear to be in better shape than last year. 10 days without moisture and we will be rolling.
4/29 - West Central, Kan.: We had 60mph gusts yesterday and more of that today. The wheat is done for. Had 4" of rain last September and almost nothing since. Concerned that won't be able to get spring crops germinated, let alone survive and produce. Now we know how they felt in the dirty 30s. I am a no-till farmer, but we still have to grow something to produce residue.
4/28 - Wallace County, Kan.: 50-60 mph wind all afternoon led to this site...supposed to blow just as hard the next few days....have had very little spring or winter moisture, feel blessed to have caught good rain at the end of the summer/early fall to get a good stand of wheat up to at least hold the ground on those acres. The dry land wheat is going backwards fast in Western Kansas Dust Bowl Part 2....My grandma use to tell me about dust bowl living in the 30s...now I don't have to wonder what it was like to see dust storms like she talked about...
4/28 - Reno County, Kan.: I new it was bad but not this bad. Got first measureable rain of the spring last night. One quarter of an inch. Must have put the wheat in survival mode because its shooting a head today and its only 10 to 12 inches tall. Much of it is a blue color. I am 55 years old and have never seen this. The dirt from western Ks. and NW. Ks. blew in here today and supposed to blow this hard for the next 4 days. A landlord of mine that has ground in SW. Ks. said he has one of his farmers ripping pasture ground that has never been farmed to stop it from blowing away. HOUSTON WE GOT A PROBLEM.
4/28 - Ingham County, Mich.: We started planting corn April 25. Some neighbors are really going at it. Even some beans in. One week ago I thought it would be well into May before we would start. Wheat looks fair. Heard some guys going to rip theirs up because its so bad.
4/25 - Brown County, Wis.: Made it to the upper 50's today, seems like we are finishing up our 6th month of winter,tomorrow & next week back to the 40's. Wheat & alfalfa just starting to green up-leaves afraid to come out on trees LOL! Hope to be planting something by May 10. '
4/22 - West Central Minn.: Spring wheat, sugar beets and corn planting in full swing. Rain to likely shut us down Wednesday.
4/22 - Yuma County,Colo.: Well, This year we have decent subsoil moisture. Planters are out of the shop and in the field. Planting conditions very good. Wheat looks very good and pastures should be excellent this spring. The winter snows were a blessing, will need regular moisture to keep lingering drought away. LIFE IS GOOD...
4/21 - Douglas County, Kan.: I do not think that the freeze lasted long enough to hurt the wheat it dropped to 23* but it was almost sunrise at that time. Little corn planted but not much.
4/17 - Pondera County, Mont.: 4 inches of fresh wet snow here. Winter wheat is just starting to break dormancy. Spring Moisture has been pretty good so far.
4/16 - Cass County, N.D.: No planting here yet.....10° this morning!!!!! Hoping to start seeding wheat in the next 10 days to 2 weeks. Soil temps need to warm up dramatically before any corn can be planted!
4/16 - Bay County, Mich.: Ditches opened up and water on fields went down then 2-3" rain this weekend and standing water again in fields. 25 degrees and the ground is covered with snow again this morning. IF it warms up soon we should be in the fields by the end of the month.Wheat fields have alot of dead areas due to winter kill and standing water. Not many fields look like they have potential for 100 bu/ac this year. Some wheat fields were top dressed this last week but all the rain didn't do it any good. Lots of ice on the Saginaw Bay will keep our temps cold if wind is coming of it. Will be an interesting year.
4/14 - Reno County, Kan.: Im just west of Hutchinson Ks. Some wheat fields getting blue spots from drought. Some hills and hillsides getting a yellow green tint to them probably from cold winter or wheat mites or both. Our weekend 80% chance of rain was all from Wichita to the east as seems the norm now days. Ive never seen a year that from field to field there was such difference in yield potential.
4/10 - Ward County, N.D.: Winter kill in this area is severe! I have never seen such a large complete loss due to winter kill before. Winter kill is around 100% damage in all fields in this area. Stubble cover and maturity of the plants did not make a difference. It is 60 degrees and no sign of anything greening up. There is no sign of life in the crown of the plants. The fields smell like silage or rotting plants just driving past them on the road. The polar vortex this winter was just to much on it. Below normal temps are forecast for all of April and May. This will make for planting delays for spring seeded crops.
4/8 - Wilkin County, Minn.: Fields drying out nicely. Once drainage ditches open fieldwork will start soon after. Could see wheat and sugar beets going in next week on fields without tree lines.
4/7 - Buffalo County, Neb.: We finally received some much needed rain over the last 24hrs...about .35 or so, and the temps are forecast to warm up by the middle part of the week. My wheat has finally started to green up. There are some thin spots, but it looks good over all. We are still plagued by gusty winds about every other day, so more rain is desired.
4/4 - Southeast Ind.: Wheat finally greening up and it looks good for the most part. Had 4" of rain the past 3 days and everything is saturated. Looks a lot like a later than normal planting season in this area as we'd like to start on corn around April 15th. Soil temp is only 44 degrees, so not in any hurry.
4/4 - Richland County, Ill.: 1st 3 mo. of 2014,5.30". 1st 3 1/2 days of Apr. 4.68". It'll be last half Apr. before tillage begins. Wheat is green, but behind in growth.
4/3 - McPherson County Kan.: Winterkill and drought taking a major toll on the winter wheat here. Much more dead wheat than I've ever seen. Some wheat looking good but needing some moisture. Overall crop condition is Poor to Fair.
4/2 - Southwest Okla.: I farm southwest of Enid, Oklahoma, 45 miles!!! Have wheat and canola !! Canola is holding up better than wheat... Had 2.5 inches rain late November 2013 and then nothing until 3 weeks ago had .05 tenths!! Chance for storms today 2nd of April ... Wheat curling real bad in this heat and turning blue. Satellite view shows small green area here and a few county's south to red river, rest of the state still shows brown!!! Western Kansas, western Oklahoma, western and central Texas brown by satellite map???? Wheat futures down 70 cents???? Taking out long positions!!! Robbery at its best.
4/2 - Lamar, Colo.: Wheat should be 1 foot tall and green.

 
3/31 - Sargent County, N.D.: Out like a lion, that's how March left us. Blizzard conditions will set spring planting back at least another week. Yuck. More snow to shovel in the morning. Frost was out a few inches. 40-50 mph winds has piled the snow up and that makes such a mess. No early start expected here so less wheat is the most likely result. Good luck to those with newborn calves.
3/28 - Gage County, Neb.: 2 years ago we had already mowed our lawn. This year nothing is very green yet including the wheat. I don't think it will do anything until we get some rain. very dry here, even the henbit and chickweed are slow to green up.
3/27 - Buffalo County, Neb.: Another very windy, dusty day here in central NE. It's been awhile since we had such a windy year. There are 40mph gusts on a regular basis this year. There is moisture below the surface of the ground, but the top 2" are bone dry and move which ever way the wind happens to be blowing. The temps have been very erratic as well. I am still waiting to see if my wheat has survived the winter. We have a couple of warm days that try to make it green up, followed by several frigid ones that burn it back. It appears that we will have another "interesting" year. Good luck to all.
3/26 - Falls Co. Texas: Corn planted and starting to emerge. Very cold winter and early spring so far. Very dry here with winter wheat jointing and cracks in the fields. Some freeze damage to wheat on 3/18 because of 17 degrees and ice from freezing rain. Hope you guys in the corn belt will keep the corn acres reasonable. We are in a corn/cotton/wheat rotation for years so let's all do what we can to keep the corn price up. We have tried to grow beans here but can only make 20-25 bu in a good year. Too hot!!!
 
3/24 - Central, Neb.: Well, a few guys trying to fertilize. But our cold nights are putting in serious frost. It has been a long winter here. Just cold and dry. Talked to relatives out in western Neb., and they think this wheat crop is gone. I don't believe out here the ethanol plants are having problems getting rid of ethanol. They are all grinding over 100% and the rail cars come and go. Lots of corn has gone to town. Don't think the crop was as big as the trade wants us to think it was. Lots of guys here are finding out your corn yields aren't that great when it's continuous corn on corn. It's this thing called root worms. And it's becoming a serious problem. Last but not least. I agree with the man from Michigan. I'd like to see a list of farmers names who are letting the usda into their fields.
 
3/24 - Bay County, Mich.: Snow melting slowly here with water all over the fields. The most water I have seen on fields in 40 years. Ditches starting to open up so water should start going down soon. Some wheat fields 1/3 covered with ice and water. Temps to be in 50's by weekend. Hope snow is gone by next week!Sugar beet and corn planting will be the end of April 1st of May.This is like years ago on a normal year.We have been spoiled the past 10 years.Hope you all have a safe year. Plant your normal crop rotations one crop will make you money and the rest will or break even as I see it.
 
3/21 - Chouteau County, Mont.: According to FAPRI, wheat prices will average in the $5 range for the next 10 years. Seems like a good time to retire. Dont think I would encourage my son or daughter to raise wheat at so called "break-even prices," either. Maybe seed everything to grass and buy cattle.
 
3/20 - Cheyenne County, Neb.: Drove to Dodge City, KS over the weekend. Wheat mostly out of dormancy. Windshield survey on 2 routes down and back. Lots of corn in open piles at more than a few elevators. Wheat mostly looked pretty good.
 
3/18 - Sumner, Kan.: Got 1/2" rain then winds blew, no fields lost any soil but it has been on some late wheat. Some wheat looks good and some not too good. You farmers with all that fancy tech stuff on your combines that know all, well USDA will know your bushels before you get it to town, another big brother watching.
 
3/18 – Henry, Ohio: 10 degrees here this morning. Wheat still partially covered with ice and snow. Saw two fields being top-dressed. Not sure why. No warm weather forecasted soon.
 
3/14 - Dickinson County, Kan.: Wheat in our area trying to break dormancy, but there is more winterkill in this area than I have seen in the last 30 years. Winterkill seems to be more prevelant in some of the Clearfield varieties, but it is not confined to them.
 
3/13 - Douglas County, Kan.: We are not changing our normal rotation, which is some wheat (depending what we can get planted in fall) then all the rest divided between corn and beans as close to ½ and ½ as possible, right or wrong no one knows.
 
3/3 - Norman County, Minn.: Too cold. Corn prices are too low. Just soybeans and wheat this year.
 
3/1 - Buffalo County, Neb.: Extremely cold with little snow forecast for this weekend. The wheat has no snow cover again, I wonder how it will look when it finally warms enough to start to green up? If it winter kills, I will plant the field to corn, and switch a previously planned field to beans from corn. I will plant about a 50/50 rotation. We continue to be dry. Not sure how that will translate when it comes to pasture utilization this season. Good luck to all.
 
2/10 - Ward County, N.D.: Winter wheat looks very poor. I haven't seen any fields yet that are going to make it in this area. I just booked soybean seed to replant the winter wheat acres that have failed. No snow and high winds and abnormally cold temps coupled with poor planting conditions took this wheat crop for 2014 out. No samples I have brought indoors and warmed up have been alive.



-- Ward County, N.D.

 
2/6 - Oliver County, N.D.: It has been a long cold winter. We have had lots of sub-zero temps. with not much snow fall. I am starting to wonder how this is affecting the winter wheat crop, not just in our area but nationwide. It has been bitter cold clear to Texas some days. Any thoughts???
 
2/4 - Ottawa County, Kan.: Our crops are wheat, soybeans & milo. It is snowing pretty heavy right now. Forecasting 8 to10 inches.
 
1/23 - Palouse, north central Idaho: Had some rain in November and December followed by very cold weather without snow cover. Now ground is frozen and any water that comes from the sky just runs off. Behind in normal moisture by four inches and time running out to catch up. Been in a constant inversion, so we have no idea how much the wheat is hurt from the cold weather. Did not like hearing about the wheat in North Dakota not greening up in the shop, not even sure if I want to go out and dig some up now.
 
1/23 - Scott County, Kan.: DRY! No moisture in several months. Winds are moving more dirt each time they blow. Monday evening, visability was 1.5-2 miles, in the daylight! Once promising potential is fading fast on the growing wheat crop, which is fortunately dormant, we hope. 
 
1/20 - Phillips County, Colo.: Our wheat has had no snow cover, plus above-normal temps except for a couple of cold snaps with -15 and wind, now we are on our 7th day of at least 40mph wind and today gusts of 60. So much dirt in air, lots of wheat fields blowing away. Don't know if chiseling them is even going to help as dry as top is now.
 
1/20 - Buffalo County, Neb.: Another windy day (50mph gusts) here in central NE. We have had only a trace of moisture since we finished harvest, so there is dirt in the air. If there was a time to be dry, this would be it, but the drought seems to be trying to reassert itself. Although there is a lot of time between now and planting, this is not a good sign. I have some irrigated wheat that had no cover when it was -10 with wind, hopefully it didn't get hurt. Good luck to all.
 
1/17 - Texas: Drought conditions continued to recede in Texas, according to the U.S. Drought Monitor and reports from Texas A&M AgriLife Extension Service personnel. According to the monitor, a large chunk of the state, comprised mostly of East Texas counties, had normal or better soil-moisture levels. About another 28 percent of the state was merely abnormally dry, which means though soil moisture was low, the areas were either not yet in drought or were recovering from drought.

These numbers represent a large improvement from last January, when about 71% of the state was in one stage of drought or another, from moderate to extreme. However, many parts of the state still did not show improvement.


Dryland winter wheat was still struggling with drought and adverse weather in parts of the Texas High Plains. (Texas A&M AgriLife Extension Service photo by Dr. Calvin Trostle)

 
1/13 - Washtenaw County, Mich.: Winter wheat looked fair before the snow on Jan. 7.We had a low of -23, the lowest he have had since we have been recording.
 
1/10 - Sampson County, N.C.: Rainy and wet but temps are going up. Some are still trying to finish soybean harvest, most are done. Wheat is a little behind size wise, but looking decent. Still not believing the markets. Last January they dropped 20 bushels off the corn yield and market was down the limit. Today they drop 1.6 bushels off and market goes up 20 cents. Then you have all these analysts telling you to get in the market. No way Jose'.
 
1/10 - North Platte, Neb.: With little snow cover and below normal precipitation in many areas of central and southwest Nebraska for the last 90 days, growers have been concerned about the viability of their wheat crop. The greatest injury occurs when the soil is dry. Dry soil warms up and cools down six times faster than moist soil.


Field of winter wheat just south of North Platte on Jan. 9. Dry and below normal cold conditions may be putting the winter wheat crop at risk in some areas of the state. (Photo by University of Nebraska's Robert Klein)

 
1/10 - Ward County, N.D.: Took in samples of winter wheat planted and brought them inside and samples did not green up. It appears the winter has been too cold with lack of snow cover for too long, it appears it has damaged the crop here severely and it will not make it this spring. Failed winter wheat acres will likely shift to soybeans this spring. winds have been so strong this winter snow cover is blown off fields and dirt is blown in the ditches we have not seen so much dirt blowing in over 20 years.
 
1/8 - Massac County, Ill.: Clear and 3 degrees, which is a heat waved compared to my brother at Centralia, Illinois checking in -12 degrees. Looks like all waterways are freezing, and any soybeans that are coming out of Midwest, will be from here. Everything else frozen over, and long term forecast is long cold weather for this area. Metropolis is closer to the Atlanta Merchandise Mart, than the Chicago board of trade. Wish I had a lot more wheat drilled before the fall rains hit the area, and ended wheat for this year.
 

---

  
Related Links
Submit your Wheat Crop Comments