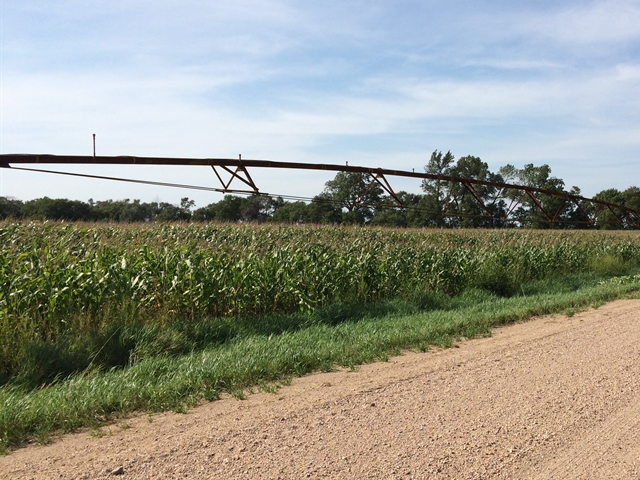 Brice mallard marks the 5th generation on this southern Illinois farm. Working alongside his dad Wayde for 15 years, 2016 is proving to be a challenge. 
"It's been difficult," says Brice Allard, a farmer in Vergennes, Ill.  
"2016, has been like every year, it's been a challenge, but it's been unique in its own way," says Alan Hoskins, CEO of American Farm Mortgage Company. "You go back to 2012, 2013, we just had different types of challenges."
Alan Hoskins is the Allard's banker. While finances may look grim for some, Hoskins says it's the price of having a good crop, the opposite of what many saw in 2012 when drought plagued many of his farmer customers, including Wayde.  
"I was depressed a lot in 2012, to see the crop be shoulder tall with no ears on it," says Wayde Allard.
He says that year was harder to stomach than a year like 2016. However, today's reality is grim: including fading crop prices while input costs remain more fixed. 
"2017, if we don't see an adjustment in inputs, we don't see an adjustment in cash rents as a whole  and we see commodity prices stay flat with where it appears they're going to be, there's no question there's going to be red ink," Hoskins says.
As an ag banker, he knows it varies from farm to farm and acre to acre, but operating in the red could sting for some.
"I certainly don't think $50 to $100 an acre is out of the question," explains Hoskins.
He knows that means some will be forced out of business. The latest Rural Mainstreet Index (RMI), which surveys rural bankers from across the Midwest, supports that, showing one in five crop farmers, or nearly 20%, will suffer negative cash flows in 2016. Hoskins says those are sobering numbers and precisely why inputs will have to drop.
"As a whole, I would think what we would like to see, and what we hope to see, maybe somewhere in that 15 to 20% reduction range," he says.
That input drop may be a far fetch in some areas, but he says a massive reduction in cash rents is imperative in order to keep some farmers in the green.  
"I think 2017 may be the beginning of that trend, hopefully, and I think a 20 to 25 percent reduction in cash rents would be a great start," Hoskins says.
He advises approaching your landlord with facts and figures, as numbers can help make a farmer's case as to why inputs, such as rental prices, need to drop.
In the Allards' backyard of southern Illinois, more reasonable cash rents and a drop in land values aren't a reality yet, meaning some land is starting to set idle.
"The asking price is still up pretty high, but no one is buying, because of the prices of grain," Wayde says.
As a farmer, he's heard rumbles of producers walking away from landlords that won't budge on cash rent prices, but he knows that's much easier said than done.
"You think, well maybe we can raise a great crop and make some money on it, you know," Wayde says. "You always have that in the back of your head. It would be a tough decision."
While some inputs are out of his control, he's trying to do what he can to spend less and hopefully weather these lower prices.
"We think we need to cut back on inputs, but you have to watch that too," he says. "I mean we don't want to skimp on fertilizer, but maybe going to a different bean seed like maybe Liberty versus Roundup, where you don't have to make so many trips to try and kill the weeds."
Hoskins says as a banker, one thing he's not hearing a lot of discussion about is living expense.
"As times have been good, those living expenses have trended up a little bit," he explains.
He says that's one area of farmers' budgets that can and needs to be trimmed. As farmers head into 2017, he says survival is not just about good business decisions; relationships matter.
"Make sure your communication line is really good with your lender, with your crop insurance agent, with your marketing person. You are not alone in this," says Hoskins.
"It's good to have a banker who has a background in farming, too, because they realize  what you're going through and know what you need for the financial part of it," suggests Wayde.
While times are tight for some, the final harvest might just be a better crop of farmers.
"The challenges are what make producers better and stronger overtime," says Hoskins. "I don't think history repeats itself, but it could rhyme. Are we going to see what we saw in the 1980's? The likelihood of that is probably no, however, the challenges that are going to manifest themselves this time, will be different."
For the Allards, challenges are stacking up, but a promising crop on the horizon, is helping the father, son duo push through.
`