Before the trade war escalation with China, farmers were feeling better about the farm economy. That's according to the July Purdue University/CME Group Ag Economy Barometer.
The barometer jumped to 153 points.  That's more than 50 points better than May of this year.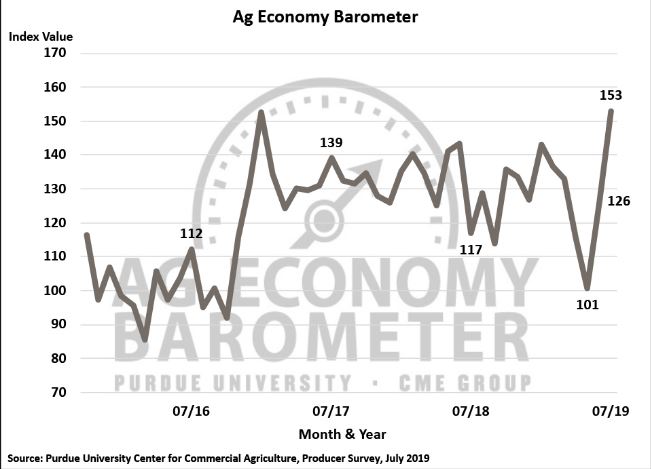 It's the second month in a row the measure of farmer sentiments has risen sharply.  The biggest driver of the overall sentiment improvement was the producers' improved perspective on current conditions.
That index jumped 44 points in July-the largest one-month move since the barometer was created.  For many producers, it coincides with the completion of a long, drawn-out spring planting season and improved crop conditions.
Jim Mintert, an agricultural economist at Purdue University said, "25% of the corn farmers in our July survey said they're going to take a preventive planting payment on at least some of their intended corn acreage.  We followed up and asked them how much of their corn acreage was going to be qualified under preventive planting, and 61% said that it would be at least 15% of their intended corn acreage".
July's survey was also prior to USDA's late July announcement about the 2019 Market Facilitation Program and the per-acre payment rates.
Ageconomy Barometer 080719