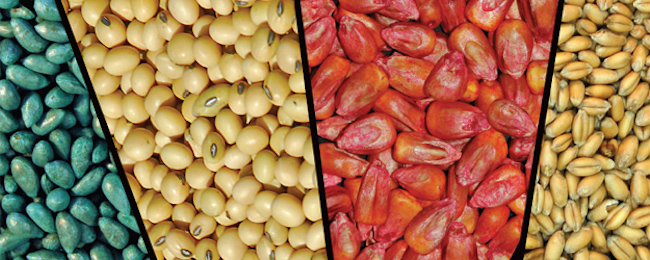 A look at Farmer's Business Network's new seed pricing report.
A new service announced today gives farmers the chance to compare with other farmers the prices they pay for seed.  Farmer's Business Network (FBN)'s free "Seed Price Transparency Report," marks another step in the development of a more transparent marketplace for seed.
FBN announced the new service Monday, which is separate from the company's membership-level benefits.
"Seeds are one of farmers' highest variable costs and influence everything from yield to fertility and chemical costs," says Charles Baron, co-founder of FBN. "Seed prices have not relented while crop prices have nose-dived, so seeds continue to take a higher share of farm revenue. Farmers have to consider the true price-performance relationship of the seeds they plant and the brands they buy from."
Baron says farmers in some parts of the country are paying upwards of 100% more than other farmers for the same seed.
FBN says it has evaluated more than 2,200 unique price points across 850 seed varieties of 57 brands for 2015 and 2016 invoiced prices. FBN compiles invoices and price reporting from farmers to generate price comparison capability.
Here are a few examples of FBN's most dramatic findings: 
---
---
Of course, discounts can vary widely with these products, including money off for ordering early, paying cash, special financing deals, zone pricing and local competitive incentives.
But Baron says some of the discrepancies FBN has found go beyond the variation one would expect from those factors.
"We also found that while most seed purchases are discounted, the range of discounts offered varied wildly. The average corn seed discount was 24%, and the average for soybean seeds was 23%," Baron adds. He says the actual discount per farmer varies—many don't realize any of those savings while others receive extreme discounts.
To join FBN and get to see seed price transparency reports farmers have to be a member by paying $500 annually and must enter some of their own data to see benchmarking information. "It's a sharing system, when you add data, you get analytics," Baron says. Farmer members will be able to compare their prices product to product, to the brand's average, to other brands and against the product's reported yields to see where they can get the greatest value.
While farmers check prices it's important they don't forget to check yield benchmarking, too. Yield averages can help farmers compare price with the value the seed provides. Even though a specific seed or chemical might be more expensive, the overall end benefit could be worth it for higher yields and higher income.
"You can see what brands are most expensive compared to lowest cost and who has the best yields," Baron says.
FBN claims it's on more than nine million acres as of the summer of 2016. The company says it ground truths data farmers provide before including it in seed or chemical price comparisons.
"A farmer could tell us their seed price for analysis, but without an invoice we won't use it in any aggregated analytics," Baron says. He adds farmers will likely be able to identify zone pricing in their area and where they could potentially pay less for seed and chemicals buying in a different zone.
For more information and perspective on seed-price visibility, see this article in the November issue of Farm Journal magazine.