The uncertainty and fear around the coronavirus continue to wreak havoc on the markets. July corn was down 10¢ and July soybeans were down almost 45¢ for the week ending March 13, 2020. May wheat was down 10.5¢. 
For livestock, feeder cattle dropped $17 for the week, while April hogs were down $9.
Meanwhile, the stock market also suffered major blows this week. On Thursday, March 12, the Dow Jones Industrial Average tumbled 10% -- the worst percentage drop since the 1987 crash. 
"So many people have said well all this around the coronavirus is crazy and it's all hype," says Jerry Gulke, president of the Gulke Group. "This just shows us that market psychology is a bigger factor sometimes than reality, and the market doesn't care what you think."
The perception, Gulke says, is the virus is going to get worse. Many questions linger: Will it disrupt the supply lines? Will we have to close the processing plants? What about ethanol plants? Will they shut them down like we are doing the schools?
"The market looks at this and says we're probably going to have less demand," he says. "It will probably be less demand than what the USDA has penciled in."
Since futures prices have come down for corn and soybeans, Gulke says, which has tightened basis. 
"Farmers have been holding grain," he says. "In some cases, prices today aren't much better than they were last fall. So, you say, 'I'm not going to sell here.'"
Gulke always watches the U.S. Dollar Index, which is a basket of currencies. 
"In the last three days, our currency has gone up nearly vertically, while the Brazilian real has gone down to the lowest level in modern times," he says. "They have the best competitive advantage currency-wise with us than they've ever had in their career."
With all these macro-economic forces at play, Gulke says uncertainty will stay in the markets. 
"This is a whole new area that we've not been to before," he says.
---
Technically Speaking by Jerry Gulke 
For weeks and months this column has tried to give perspective of the inherent risks in the ag markets, even going as far as providing a 30-day free service back in January/February. Updated charts below should be recognizable, especially our bell-weather July soybean chart the reflects the technical trading that got us to levels not seen since May 13. In addition, a departure from the norm, a view on the DJIA versus the corn/bean/index as shown in a recent Top Producer column whose implication was that the disparity between stock and grain indexes was too wide and a correction was due.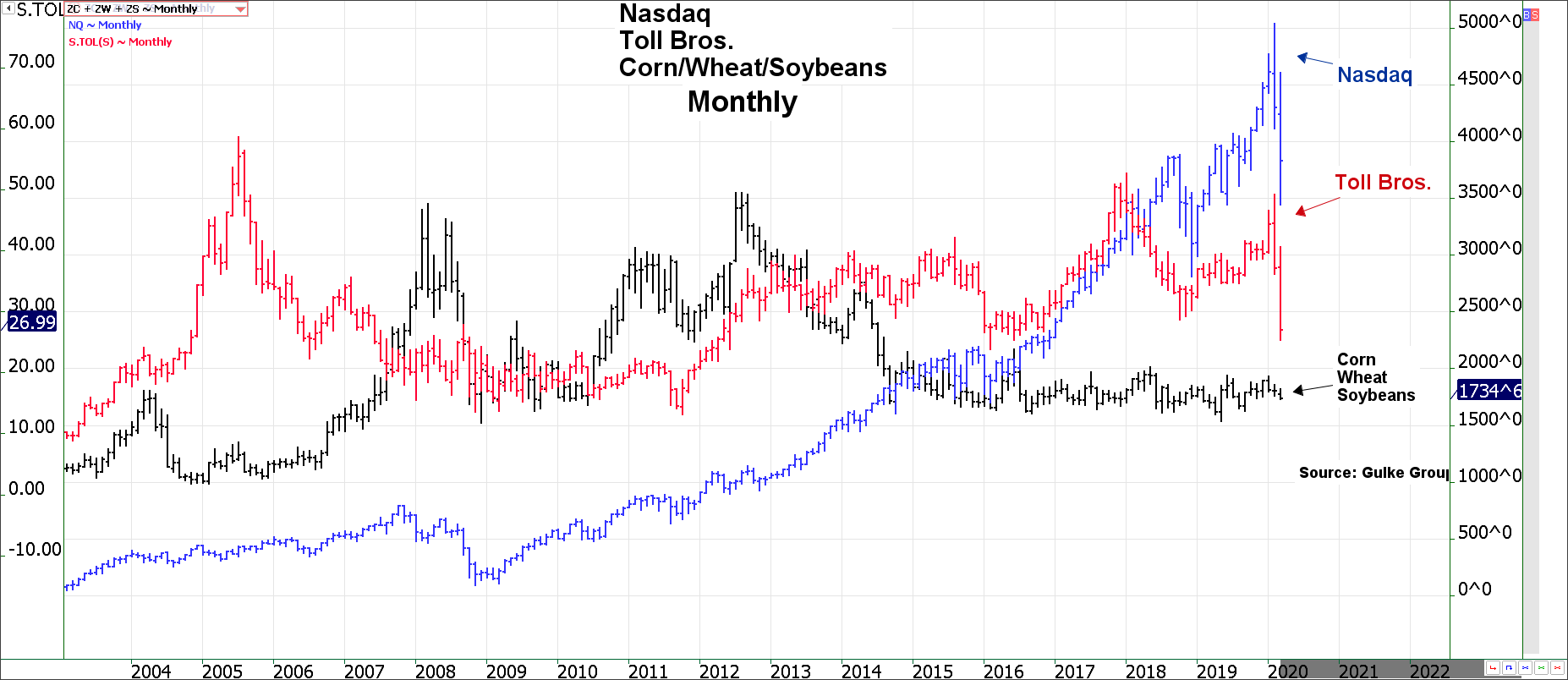 Unfortunately, it was the stock market that experienced the collapse along with housing indicators—not a commodity rally. Technical indicators of such a top in the DJIA was revealed at our client conference in Palm Springs, Calif., on Feb. 20. The rest is history, as all the charts below will show. 
Soybeans had all the ear markings of downtrend, as did December 2020 corn. The DJIA chart is a history lesson of itself. The up-trending channel that was in place prior to the 2016 election reflects a surge higher into a whole new channel of up-trending bias reflecting a new U.S. economic environment. The collapse due to coronavirus shows the DJIA returning to the old uptrend. 
The question now is whether economic stimulus, unprecedented compared to 2008, will hold market right at the point where it was indicated should happen, perhaps with or without stimulus. If the virus scare is overblown, odds are we are in the beginning throws of inflation that has eluded politicians for years. Pure conjecture on my part however if higher interest rates down the road (years) can hurt you, you are forewarned! 
For months I've put forward analysis that should have proven helpful in managing price risk. The downdraft on merely 5,000 bushels of soybeans of a dollar per bushel reflects the risk. Raise that to 50,000 bu. and one can readily determine "good advice is priceless, bad information isn't worth the paper it is written on." 
Based on evidence and what I hear, there may finally be a day of reckoning in the cash flow situation and working capital. The fact it takes after-tax profits to pay for capital expenditures seems to be finally coming home to roost. Rumors of large tracts of land suddenly coming up for rent or sale in areas of prime farm ground reflects those concerns that leveraging rental rates with high machinery costs may just be the tip of the iceberg. 
Throwing money at the problem by the government distorts the free-market  process of supply and demand and grain flow as it does little but maintains production benefiting input suppliers, banks, and landlords while providing the financial resources to continue to produce a supply of "stuff" that the world doesn't now need. Let's hope market psychology will evolve positively from mega-stimulus announced by our government will benefit commodities as we head into a new planting season. At worst, maybe a pause that refreshes?  
Good Marketing,
Jerry Gulke
www.gulkegroup.com; phone 707-365-0601; email [email protected]
 
Find more written and audio commentary from Gulke at AgWeb.com/Gulke
Jerry Gulke farms in Illinois and North Dakota. He is president of Gulke Group. Disclaimer: There is substantial risk of loss in trading futures or options, and each investor and trader must consider whether this is a suitable investment. There is no guarantee the advice we give will result in profitable trades. Past performance is not indicative of future results.