Producers across the U.S. have been inundated with almost constant weather problems since early last fall. Spring weather compounded the problems with the rapid snowmelt, flooding and persistent rains throughout the planting season. What did get planted early received few growing degree units and consequently is behind two to three weeks in crop development. Once planters were able to roll, most areas found themselves three to five weeks behind. 
While this was going on, it took the corn market until mid-May to respond to the upside. Even though many of us were aware we were entering unprecedented challenges, the market responded on its own time. Trade war/tariff confusion and traders with record short positions drove the market narrative up to that point.
This is a prime example the market will trade based on how collectively it views both the technical and fundamental conditions. How we view the market as producers is often at odds with the managed funds or average speculative trader. 
However, with volatility back in the equation, we have a chance to capture a profit margin at levels we haven't seen for the past five to six years.
No matter how much information, knowledge or experience you have, no one knows where the market is going. All too often producers set a price target only to be disappointed when they discover they either sold too soon and the market continued higher or the market price didn't quite reach their price objective. 
Pinpoint Profit. Instead of establishing a price target consider establishing a margin target. To pinpoint a margin target, you do scenario planning around several variables such as estimated yield, accurate cost of production, insurance coverage and other income. Examples of other income include MFP payments, conservation payments, premiums, insurance indemnities, etc. As conditions change, these variables need to be assessed within your scenario plan in real time to make the best decisions for your situation.
The major benefit of establishing a margin target instead of a price target is to remove the emotion of trying to sell at the highest price. It's more important to establish a profitable sale than to try and hit the highest price. If the goal is to only participate at the highest price range, you will also most likely get to participate at the lowest price range.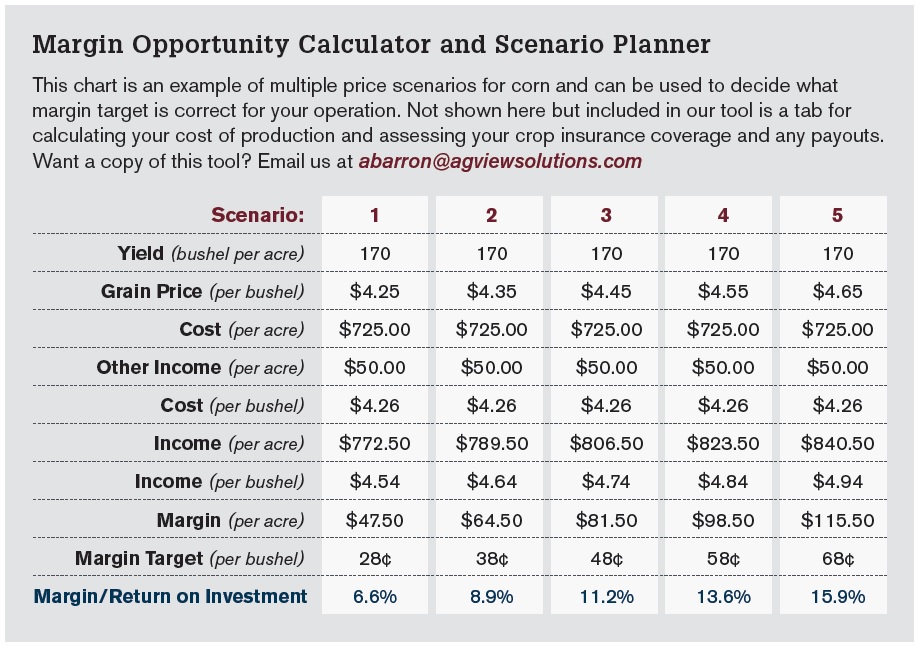 Want a copy of this tool? Email us at [email protected]

Chris Barron is director of operations and president of Carson and Barron Farms Inc. in Rowley, Iowa. He is also a national financial consultant for Ag View Solutions.