The current tax law makes trading in farm machinery a taxable event. Farmers must report the trade-in value as if they sold the equipment and recognize any associated gain. However, the new piece of equipment can now be fully depreciated using Section 179 or 100% bonus depreciation (at least through 2022).
Weigh Your Options
Many farm belt states do not allow any bonus depreciation and Section 179 can be limited to $25,000. In this case farmers might not owe any federal tax on this trade but might owe a large state tax.
Schedule F farmers have to report this gain on Form 4797 and the offsetting depreciation on Schedule F. This can result in a large loss on Schedule F and a large gain on Form 4797. The bottom line is the same, but the economic result is different. This is an ugly tax return.
On their net farm income, Schedule F farmers pay self-employment (SE) tax. If there is a Schedule F loss, no SE tax is due, which sounds great. But remember, SE tax allows a farmer to accrue social security credits. Without SE earnings, farmers capture no social security benefits at retirement.
One option is to elect the optional SE tax method, which will get the farmer four quarters of credits and will post $5,440 to their account.
In addition, the farmer can't make any retirement plan contributions because, again, that requires earned income and they have none.
Make it Pretty
How do we fix this? You can transfer all farm equipment into a new LLC or partnership. The LLC rents the equipment to the operation. Any gain from a trade-in is trapped inside of the LLC with an offset from any related depreciation on the new farm equipment. The LLC would likely show little or no net profit, and the farmer's Schedule F would go back to looking very similar to their pre-tax reform Schedule F.
If you are in this situation, discuss it with your tax adviser. There might be ways to eliminate that ugly return.  
Understand the Current Tax Implications
One of the major changes of tax reform is that trading in farm machinery is a taxable event. Under the old law, a trade usually resulted in no immediate gain and future depreciation would be reduced by the amount of gain not reported. The current law requires farmers to report the trade-in value as if they sold the equipment and recognize any gain.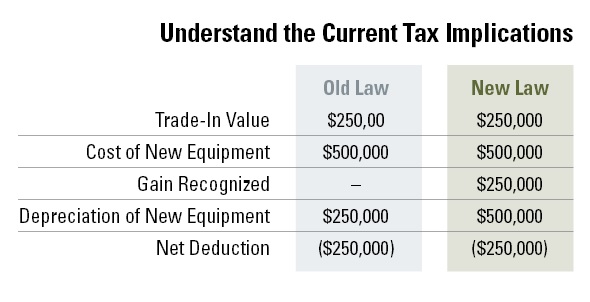 Most farmers strive to reduce self-employment tax, but tax reform has made this harder for those who trade equipment. Learn how to mitigate this at AgWeb.com/trade-ins

Paul Neiffer is a tax principal with CliftonLarsonAllen and author of the blog, The Farm CPA. He will be sharing tax strategies and succession planning tips at the 2020 Top Producer Summit, which takes place Jan. 27-30. Register now!