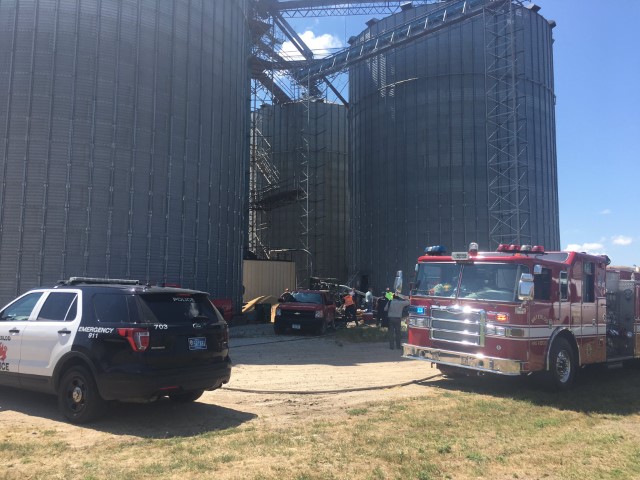 In just minutes, shifting and moving grain can take a life. Take steps before you enter a grain bin to ensure you have the proper safety equipment and know how to use it.
Entering grain bins is dangerous, and farm safety experts say grain producers should develop a "zero entry" mentality. "Stay out of the bin," says Karen Funkenbusch, University of Missouri rural safety and health specialist. "But if you must enter, do not go alone. Grain entrapment is one of the least understood hazards in today's family farm operations."
If you do have to enter, use a body harness with an anchored lifeline when entering a grain bin from above. Always have trained observer outside the bin. Review safety instructions with employees each year. 
Communities that want to start a grain safety workshop can apply for a grant from the Grain Handling Safety Coalition by Sept. 30, 2017. Click here for program details, as well as handouts and other safety resources.
In rural communities, first responders and local fire departments can be overwhelmed with a grain entrapment situation.
Training and use of grain tubes have increased in recent years, improving rescue efforts.
"It only takes seconds to become entrapped in grain and less than a minute to become completely engulfed," said Brad Liggett, president of Nationwide Agribusiness. "Once grain is above knee-level, it is nearly impossible to get out without assistance. Until we can convince all farmers and other grain handlers to develop a zero-entry mentality, we will strive to make tubes and rescue training as widely available as possible."
Nationwide Agribusiness' annual Nominate Your Fire Department Contest announced 16 winners. These fire departments will receive grain tubes and safety training to help first responders be able to rescue people who may become entrapped in grain.  The 2017 winners are:
Dieterich Fire Protection District (Illinois)
Marion Center Volunteer Fire Department (Pennsylvania)
Alexandria Volunteer Fire Company (Pennsylvania)
Elgin-Beaverdam Hose Company (Pennsylvania)
Livonia Fire Department (New York)
Union Fire Company No. 1 (New Jersey)
Bridgeville Volunteer Fire Company (Delaware)
Florence Township Fire Department (Ohio)
Braymer Volunteer Fire Department (Missouri)
Jamestown Rural Fire Protection District (Missouri)
Jasper Fire Protection District (Missouri)
Blanchard Township Gilboa Fire Department (Ohio)
Number One Fire Department (Tennessee)
New Albin Fire Department (Iowa)
Thorp Fire & Ambulance District (Wisconsin)
West Burlington Fire Department (Iowa)
For more information about the program, visit www.grainbinsafetyweek.com or watch this video.