Published on:
20:38PM Sep 26, 2019
TRADING COMMODITY FUTURES AND OPTIONS INVOLVES SUBSTANTIAL RISK OF LOSS AND MAY NOT BE SUITABLE FOR ALL INVESTORS. YOU SHOULD CAREFULLY CONSIDER WHETHER TRADING IS SUITABLE FOR YOU IN LIGHT OF YOUR CIRCUMSTANCES, KNOWLEDGE AND FINANCIAL RESOURCES.
In the last 10 days China has bought roughly 1.6 million metric tons of soybeans from the US and has granted tariff exemptions on a total of 6 million metric tons of soybeans to be purchased before trade talks resume in October. While this is nowhere near the amount China had been buying before the trade war and before ASF it is a pretty substantial amount. The question is why?
Since the trade war between the US and China began China has avoided buying US beans as much as they could aside from some token purchases as a show of good faith. With a 25% tariff and big crops in Brazil China had an opportunity to partially move away from US beans. Then there was an African Swine Fever outbreak in China further diminishing their soybean demand allowing them to avoid the US almost altogether. 
Sign up for our Morning Ag Hedge newsletter! Sign up here: http://www.zaner.com/landing/ag_hedge_newsletter.asp
The trade war is still going on and China is still battling ASF, but trade talks have seemingly become slightly more positive. According to China this is why they have been aggressively buying US soybeans again, saying it is a sign of good faith. However, I wonder what the real motive is.
Call me crazy (wouldn't be the first time) but, I wonder if China has an ulterior motive. Could it be that China sees the current low prices in US soybeans as an opportunity to buy cheap? Is it possible that China is worried that the US crop might not be as big as the USDA is suggesting and they are worried prices could go much higher? I find it interesting that China began to buy after the USDA gave us a report showing the lowest pod count since 2012 but with an absurdly high pod weight saving the national average yield. Some dryness in Brazil may have even fueled the fire further.
Maybe China is Buying just to entice a trade deal. If true what does that say about their situation? Either way I have a hard time believing that fear of soybean availability (even in the slightest) isn't part of their motivation for the recent US soybean purchaces.
We have complimentary 2019 commodity reference calendars available. They are a little bigger than pocket sized and very useful if you follow markets. You can sign up for yours here - http://www.zaner.com/offers/calendar.asp (Shipping to the US only)
Give us a call if you would like more info on the strategies we are using or if you would like to set up an account to put a plan in action.  Ted Seifried - (312) 277-0113.  Also, feel free to give me a call or shoot me an email if you would like to talk about your marketing plan, the markets, weather, or just to visit.  Find me on twitter - @thetedspread 
Nov Soybean Daily Chart: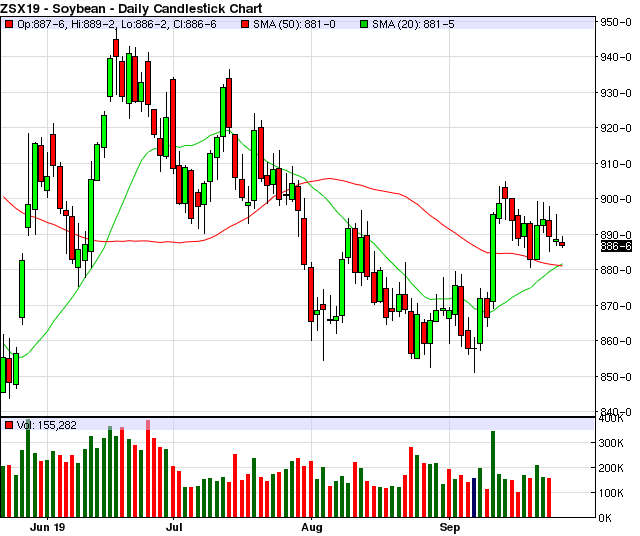 Producers looking to hedge all or a portion of their production may be rather interested in some of the options / options-futures strategies that I am currently using.
In my mind there has to be a balance. Neither technical nor fundamental analysis alone is enough to be consistent. Please give me a call for a trade recommendation, and we can put together a trade strategy tailored to your needs. Be safe!
Ted Seifried (312) 277-0113 or [email protected]
Additional charts, studies, and more of my commentary can be found at: http://markethead.com/2.0/free_trial.asp?ap=tseifrie
FOR CUSTOMERS TRADING OPTIONS, THESE FUTURES CHARTS ARE PRESENTED FOR INFORMATIONAL PURPOSES ONLY. THEY ARE INTENDED TO SHOW HOW INVESTING IN OPTIONS CAN DEPEND ON THE UNDERLYING FUTURES PRICES; SPECIFICALLY, WHETHER OR NOT AN OPTION PURCHASER IS BUYING AN IN-THE-MONEY, AT-THE-MONEY, OR OUT-OF-THE-MONEY OPTION. FURTHERMORE, THE PURCHASER WILL BE ABLE TO DETERMINE WHETHER OR NOT TO EXERCISE HIS RIGHT ON AN OPTION DEPENDING ON HOW THE OPTION'S STRIKE PRICE COMPARES TO THE UNDERLYING FUTURE'S PRICE. THE FUTURES CHARTS ARE NOT INTENDED TO IMPLY THAT OPTION PRICES MOVE IN TANDEM WITH FUTURES PRICES. IN FACT, OPTION PRICES MAY ONLY MOVE A FRACTION OF THE PRICE MOVE IN THE UNDERLYING FUTURES. IN SOME CASES, THE OPTION MAY NOT MOVE AT ALL OR EVEN MOVE IN THE OPPOSITE DIRECTION.