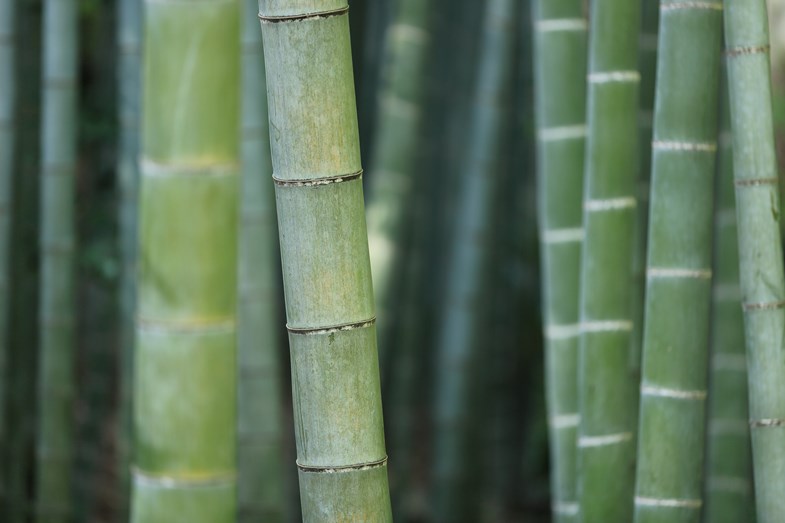 Walk out of the baking summer heat of a corn field, cross a dusty turn row, and slip beneath a 60' high canopy to feel the temperature drop a sharp 10 degrees as dense foliage cloaks a surreal microclimate. Spaced 6' apart, 6"to 8" wide towering trunks are the fingers of a living plant organism, pulling in carbon dioxide and pouring out oxygen. Far removed from Asia, bamboo is growing on farmland in the black dirt of west Alabama.
Major opportunities are aligning for bamboo production in the United States, and even a small slice of the global market could bring windfall profits to American agriculture. The U.S. is a second-class participant in the $60-billion international bamboo industry as an importer and consumer but hasn't yet entered the production side of growing and manufacturing. However, the sideline status of U.S. agriculture is rapidly changing: Bamboo is set to go big on U.S. farmland.
Bamboo, often tagged "green gold," can be used for everything from biocomposites to elegant furniture. As a regenerating perennial grass resistant to extreme weather, it is the strongest growing woody plant on Earth.
Resource Fiber, a company at the vanguard of U.S. bamboo, is preparing to contract with U.S. growers and manufacture bamboo railroad ties, joists and truck decking as well as selling its fiber to industrial companies looking for an alternative to timber and petroleum-based resources. Resource Fiber operates the largest commercial bamboo nursery in the U.S. near Eutaw, Ala., and is building a manufacturing plant in Greene County.
"Bamboo will have a huge impact in U.S. agriculture and could reach several hundred thousand acres and perhaps more," says David Knight, co-founder and CEO of Resource Fiber. "We're talking about a billion-dollar U.S. industry."
Globally, the U.S. is the top importer of bamboo products, demonstrating the massive demand in waiting. The market is established, and the infrastructure is in place. Bamboo is an extraordinarily stable fiber with a wide variety of applications into hard goods, incorporation into composites, textiles, and paper pulp. Akin to old growth wood fiber, bamboo can slip into a multiplicity of existing supply chains.
"American manufacturing companies want bamboo sourced here and that's what's going to happen," Knight says.
Roger Lewis owns Lewis Bamboo, Inc., in Oakman, Ala., and manages the Resource Fiber nursery program. There are more than 1,400 bamboo species worldwide, but Lewis says two in particular are an ideal fit for U.S. farmland: moso, the premier variety for high value wood products, and rubromarginata (rubro), a biomass bamboo grown for biochar, biocomposites and a variety of other products. Moso is exclusive to the Southeast and USDA planting zones 7-8, and rubro is less finicky, with a growing window in USDA planting zones 6-10.
Bamboo production is a combination of tree farm and row crop, explains Lewis. After planting, establishment time is 6 years for the rubro and 10 years for the moso. Once established, producers cull 25% to 33% of a standing crop each year, a harvest that stretches an astounding 50 years or more before replanting is necessary. Essentially, the near-perpetual harvest means the cost of goods sold declines each year – tempting math for any potential producer.
Moso is planted as a 4'-6' culm and 10" root mass at 109 plants per acre. Rubro is planted as a small propagule at 222 per acre.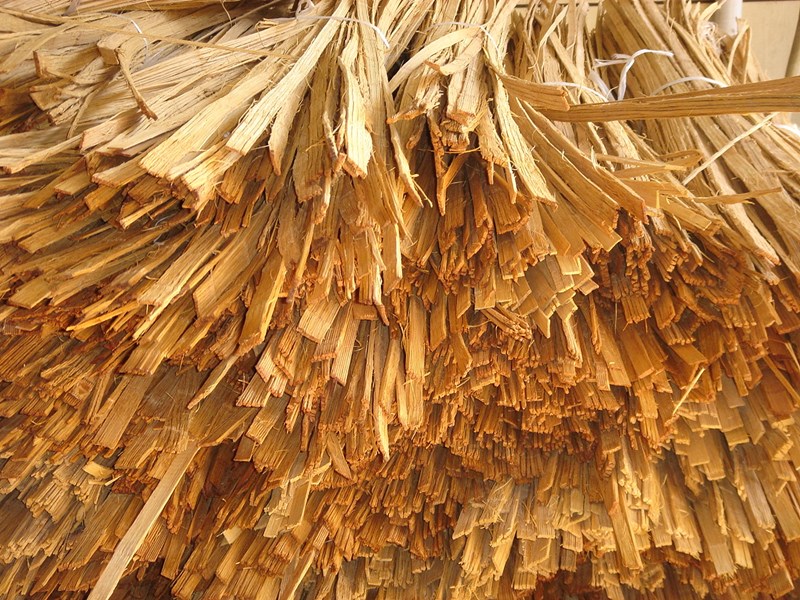 "Bamboo benefits from assistance in the first three years to make sure it gets enough water and nitrogen, but it's a very self-sufficient species," Lewis says.
During establishment and as bamboo grows taller, Lewis introduces companion and cover crops. During harvest, he reintroduces companion crops into the mix to prevent a monoculture. Culms (bamboo trunks) are cut at ground level and the stumps deteriorate, but the rhizome beneath is capable of producing hundreds of more culms.
"Bamboo is a colony plant," Lewis explains. "You see about 50% of it, and you're walking on the other 50%. It's a strange, peaceful feeling inside a bamboo canopy."
Bamboo spreads underground and care must be maintained to keep a grove from walking, but Lewis says roots are relatively easy to control with a subsoiler around a 20' buffer area twice each year. The subsoiler severs the root system and doesn't leave enough energy for residual growth.
"Bamboo is expansive, but not invasive," he notes. "It's easy and inexpensive to control,\ and won't jump all over the farm."
The biomass value of harvested rubro is projected at $400 per acre, according to Knight. With moso, the culms are essentially timber bamboo and may bring a far higher harvest value of $1,000 per acre. Chipping and culm splitting can all be done in the field for value added processing at harvest point. "When bamboo farming begins, and for decades to come, demand is going to far outstrip supply," he adds.
In 2021, Resource Fiber will begin selling bamboo plants to producers. The Eutaw nursery is expected to produce 17 million plants over the next 20 years, enough plants for 100,000 acres of farmland.
"The epicenter is Alabama, but we want to build facilities elsewhere and ideally contract with producers within a 25-mile radius," Knight says.
For a crop that requires minimal water and fertilizer, yet no pesticides, Knight says bamboo will be difficult for producers to overlook. It's annually renewable, produces 20 times more fiber than trees and captures significantly more carbon than a comparative stand of timber. Most enticing of all, according to Knight, over time the cost of goods declines while revenue grows.
"The spread is what you end up with in your pocket. The math is tough to ignore," he says.
Annie Dee produces cattle, corn and soybeans on 10,000 acres in Aliceville, Ala., and is ready to plant bamboo in 2021, particularly on less productive ground as a sustainable farming venture for the long term.
"Grow and gain. Bamboo gives me a chance as a farmer to grow something of high value and funnel it into a waiting market," she says. "I've got fields that don't get fully utilized, and that's where I can plant bamboo."
The Resource Fiber pilot manufacturing facility is up and running, and the nursery is expanding in preparation for a major bamboo push. Knight is still raising capital and the current round of funding remains open.
"Bamboo is an opportunity for folks to get involved with the establishment of a new, but proven industry. This will be a real game-changer for U.S. agriculture," he says. "We are approaching the development of the bamboo industry in a unique way - committing significant corporate resources to the development of foundational components critical to the creation of an expandable and sustainable industry."
"The bamboo industry is growing fast," Dee adds. "I'm not going to pass up opportunity just because a crop is different from the norm."
For additional information, visit Resource Fiber or contact David Knight.
For more, see:
Living the Dream: Honoring A Fallen Farmer
Blood And Dirt: A Farmer's 30-Year Fight With The Feds
Agriculture's Darkest Fraud Hidden Under Dirt and Lies
Pigs Don't Fly: Feral Hog Spread Is A Man-Made Mess
Cover Crop Bandwagon Frustrates Farmers
Frog or Foul: SCOTUS Weighs Historic ESA Case
Corn's Carbon Cowboy Busts Outstanding Yields
Jimmy Frederick Booms 163 Bu. Soybeans
Bald Eagles a Farmer's Nightmare
Who Killed the Finest Soybean Soil in the World?
When a Farmer Punches Back at the Feds
The Secret Life of Farmland Marbles
Death and Burial on an American Farm