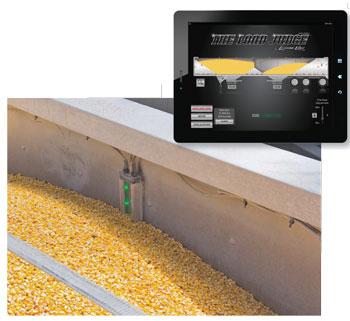 Load Judge technology offers efficiency and accuracy
Shawn Gengerke was plagued by the triune scourges of grain loading—dust, dirt and darkness. The Groton, S.D., farmer was frustrated by the grind of extra labor, failed technology and ill-health directly related to the inefficiencies of grain loading. "I woke up one morning in 2012 and said, 'Enough. I'm going to fix this problem,' " he says. 

Gengerke, a fourth-generation farmer and CEO of Leading Edge Industries, set about designing a solution. Load Judge is a grain loading system impervious to dust and darkness that offers real-time positioning.
Real-time positioning details grain movement. Operating as a group of sensors inside a grain trailer, Load Judge senses real-time positioning of grain as it's loading from a bin, auger or grain cart. In tandem, Load Judge builds graphic imagery on a tablet or smartphone and displays the grain level and flow progression. "It runs at 100% operability in dust and darkness," Gengerke says.

In addition, Load Judge builds a Wi-Fi network and runs as an app on any device. "You can be in a combine, grain cart or truck and still watch how the grain is loading in real-time. You can match the grain load to how you want to load that truck," he says.

The system features a "save load line" that draws a precise line corresponding with how a farmer wants to load a given truck. The save load line details exactly when a truck should move to maintain a consistent load 
in the hopper.  

The system also senses moisture and offers data management. "At the end of the year, we always end up with a wet bin we're blending off, and it helps to have real-time moisture data," Gengerke notes. "At harvest, the combine operator can sync on and check the moisture level inside the trailer when loading is finished. With this tool, he can manage and direct trucks according to moisture content."

Load Judge technology self-calibrates and recognizes the difference between dirt build-up and grain. It also estimates weight and bushels in the truck. Installation is user-friendly and can be completed in one hour by two people, Gengerke says. The sensors are attached with double-sided tape. "You just turn on your trailer clearance lights to power the system and then open the app."
Efficiency is a major benefit for farmers. Sheldon Herr, Herr Farms operator, Bristol, S.D., began using Load Judge in spring 2014. "We no longer need cameras or an extra person to help move the truck during loading, and we don't even need a scale to make sure a truck isn't overweight," he says.

Leading Edge offers a two-year warranty with Load Judge, but Gengerke emphasizes he's been using his prototypes for more than four years and they continue to work flawlessly. 

Ultimately, he adds, Load Judge is not about the product's integrated bushel estimator or moisture sensor. "Those are excellent tools to have, but Load Judge is truly about real-time positioning while loading."