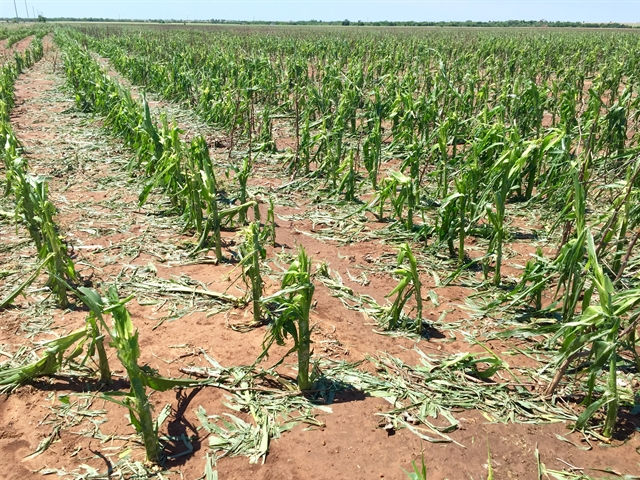 Oh, hail.
Getting hit with this weather woe leads to some tough choices – especially this time of year, according to three University of Minnesota Extension researchers.
"In June, assessing hail damage and making replant decisions can be difficult, with many variables to consider on your way to making a final decision to replant or maintain the existing stand," write Jeff Coulter, Seth Naeve and Jeff Gunsolus in the June 23 edition of Minnesota Crop News.
Namely, should you replant – and if you don't, how much of your crop's yield potential is left? Let the following math equation/estimation be your guide, the U of M agronomists suggest.
"Yield potential of hail-damaged corn depends primarily on the number of remaining plants per acre with healthy growing points that will recover, the amount of leaf area lost on these plants, and the growth stage at which the crop was damaged," they note.
It's a little more complicated than that, however, they admit – especially when there is whorl damage to corn. If leaves are tightly bound in the whorl, they will sometimes break free after a week of growth, but sometimes they aren't able to recover at all.
"This makes it difficult to assess final plant population within just a few days after hail," they write.
Hail damage on early season soybeans could be a bit less worrisome, according to Angie Peltier, Extension educator with the University of Illinois. Even "shocking" hail damage has a fighting chance to recover, she says.
"Soybeans we grow have an indeterminate growth habit, meaning that they continue to add new leaves for some weeks after flowers have begun to appear," Peltier says. "Even early planted soybeans have only 15 or 20% of their final leaf area now, so most leaf area is still to come."
Lost foliage will set back plant development, Peltier adds. And, soybeans aren't immune to death, either, so when hail damage has lowered plant stands to less than 100,000 plants per acre, it may not be able to develop a full canopy.
What about applying a foliar fungicide to ward off disease damage following a hail storm? Dean Malvick, University of Minnesota Extension plant pathologist, warns against the promise of a miracle fix.
"The published results that I have seen indicate no significant benefit to application of fungicides to hail-damaged corn," he says. "Also, crop consultants and producers have reported to me that when they applied fungicides to corn following hail damage in west central and south central Minnesota, there was no notable decrease in disease or increase in yield with the fungicide applications."
That's because Malvick says that the corn diseases that are most likely to increase after hail damage are  not controlled effectively with fungicide applications. These include common smut, Goss's leaf blight and possibly stalk rots.
Malvick wants to connect farmers who have applied fungicides to hail-damaged fields so researchers can learn more about the effects of this practice.